Likes:
Nimble city car
Available cabriolet model
Low entry-level price
10-year battery assurance program (BAP)
Dislikes:
Extremely limited cargo space
Not comfortable outside of city limits
Competition does it better
The smart fortwo electric drive (ED) is a zero-emission visual oddity that carries on the spirit of smart. Based on the quirky and cute smart fortwo, the new third generation smart fortwo electric drive has the smallest footprint of any car on the U.S. roads and represents a key step in sustainable transportation.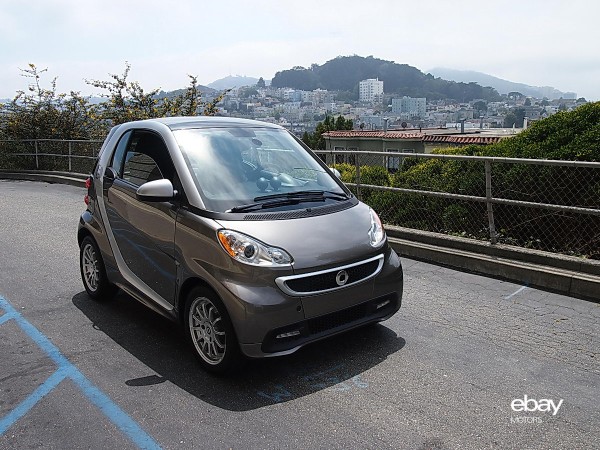 In place of the three-cylinder engine driving the rear wheels through an automated manual transmission is a 74-hp electric motor and single-speed gearbox, drawing energy from a 17.6-kilowatt-hour lithium-ion battery.
Performance with the new powertrain isn't much improved, however, with zero-to-60 mph still taking upward of 11.5 seconds. This is faster than the gas-powered version — believe it or not. Both the Fiat 500e and Chevrolet Spark EV could easily leave it at the starting line in a stoplight drag race.
The fortwo ED has an official city range of 76 miles and a recharge time of about six hours on a 240-volt Level 2 charging system. Plug it in to a household 110-volt outlet and it'll take about 14 hours from empty to full or about 10 hours to go from a 20% to an 80% charge. Level 3 DC fast charging is not an option on the fortwo ED.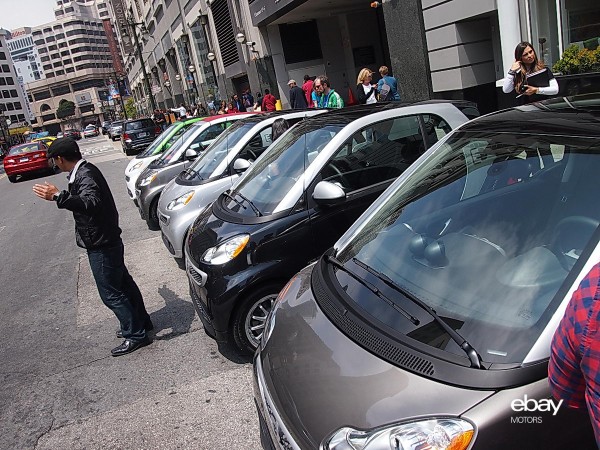 Aside from these changes, the Smart fortwo ED isn't much different than the standard model. The interior is largely the same funky-styled little two-seat environment with some extra EV-related gauges and almost no cargo capacity. It is decently comfortable, has all the bells and whistles one could want in a commuter car and even has an optional navigation system.
The driving experience isn't all bad if you stay within city limits. There is a smooth flow of torque and motion when you press the accelerator. At speeds up to 30 mph or so, in urban stop-and-go traffic for instance, the ED feels reasonably quick. But get out of that environment or find yourself trying to keep up with faster traffic, and you'll quickly discover the ED is still a slow donkey.
The electric power steering feels unusually heavy for a tiny city car. Unlike competitors like the Fiat 500e, the fortwo ED does not feel light and nimble, but rather ponderous and slow to react to directional input. Brakes feel completely artificial with a high-effort pedal that seems golf-cart-like.
The smart fortwo ED revealed more of its weaknesses by how poorly it tackled uneven roads. On smoother surfaces the Smart EV is buttery, on bumpier roads its small frame soaks up imperfections like a jack-hammer.
What's the upside? Two things: It's not expensive, and you can get one as a convertible. This is the world's only EV droptop. And it's amazing how much you can forgive when you can go topless on a warm, sunny day.
The bean counters at smart car are being generous with the introduction of the next generation electric drive model and priced it to sell. Smart is offering some nicely incentivized leases as well as a service called Battery Assurance Plus. The optional subscription program essentially "rents" you the vehicle's battery along with a host of performance and defect coverage. Sign up for the 36-month lease at $139 a month, plus an $80/month BAP subscription, and you'll never have to worry about the battery losing its overall charge capacity over time. The convertible is a little bit more and starts at $199 a month. Both leases require $1,999 down.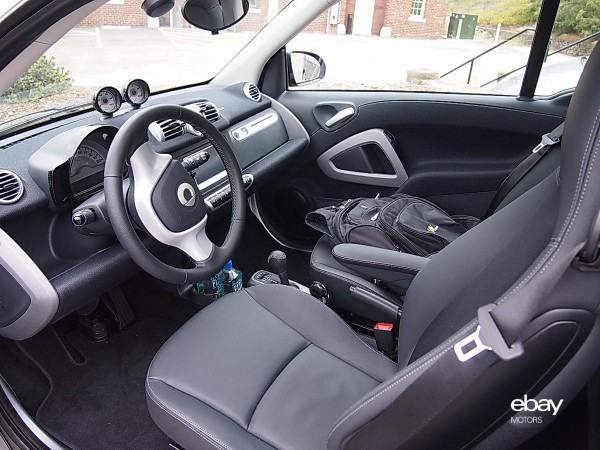 But purchasing one might be even more of a stunning bargain, depending on where you live. The ED is currently only available in eight "zero emissions vehicle" states, but will be rolling out nationwide early next year. The purchase price for a basic coupe is $19,990 before tax incentives; the cabrio model starts at $22,990.
The federal government will offer you a $7,500 income tax credit (not officially a rebate, but we'll include it here for net pricing purposes), California will kick in $2,500, the San Joaquin Valley has a program that cuts up to another $3,000 on top of that, and if by some chance you work for Sony Pictures in Southern California, you could get another $5,000 on top of that. Smart is also offering $2,000 dealer cash for purchases. Add it up to potentially take $20,000 off the price of the $25,750 electric car.
3rd Generation smart electric drive
Power: 47 hp /peak level 74 hp
Top speed: 78 mph
Acceleration: 4.8 seconds (0 – 37 mph), 11.5 seconds (0 – 60 mph)
Range (US EPA): 76 miles (city)
MPGe: 107 MPGe (combined)
Capacity: 17.6 kWh
Level 2 (240V) charging: approximately 6 hours for 100% charge