Driving Impressions – Fusion Hybrid, Fusion Titanium, Fusion SE
Competition in the bread and butter family sedan segment is as hot as ever. New versions of the Accord, Altima, and Malibu are set to arrive in 2013, and of course you also have current best sellers like the Camry and Sonata.
Luckily for Ford, the new 2013 Fusion should make everyone else more than a little nervous. From the dramatically re-styled exterior, to a completely new array of powertrain options, the new Fusion looks ready to charge to the head of the mid-size pack.
After our first look at the sleek all-new 2013 Fusion, we recently had the opportunity to drive three of the new Fusion models in busy downtown San Francisco. Although we could only take the cars out for a short spin, we were able to gather a pretty good first impression of what Ford believes will be a class-leading vehicle.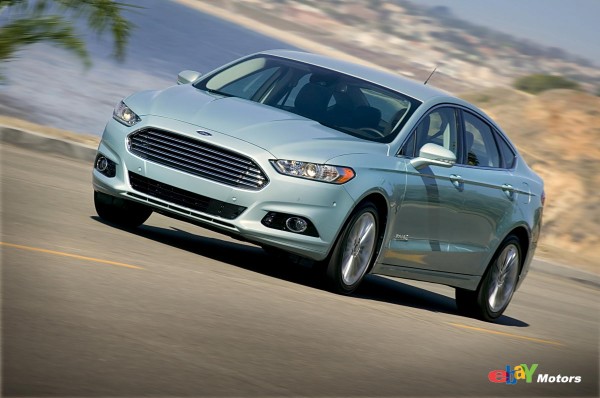 Our first drive was in the new Fusion Hybrid. Under the hood is Ford's 3rd generation hybrid technology, which will also be the basis for a plug-in hybrid dubbed the Fusion Energi, available in early 2013. Compared to the existing Fusion Hybrid, the engine has been downsized to 2.0-liter, the battery is a more compact lithium-ion unit, and the software has been completely re-worked, now allowing for coasting speeds up to 62 mph. The result is class leading mileage, an impressive 47 mpg for both city and highway, according to EPA estimates.
From a driver's perspective, the new Fusion Hybrid is smooth, quiet, and generally doesn't make you think that you're driving a hybrid. Acceleration isn't exactly head snapping, but if you step on it there is some pep as the electric motor kicks in with full torque. Our short spin didn't give us the opportunity to examine the mileage claim, but if it's anything close to 47 mpg in the real world, than this could be the potential Prius-killer that everyone is trying to build.
After returning the Fusion Hybrid, we hopped in a more pedestrian Fusion SE, although to our surprise this one was equipped with a 1.6-liter EcoBoost engine and a 6-speed manual transmission. Seeing a mid-sized sedan with a turbocharged engine and a manual transmission put a big smile on our faces, as the mid-sized segment is generally full of plain 4-cylinder engines mated to boring CVTs.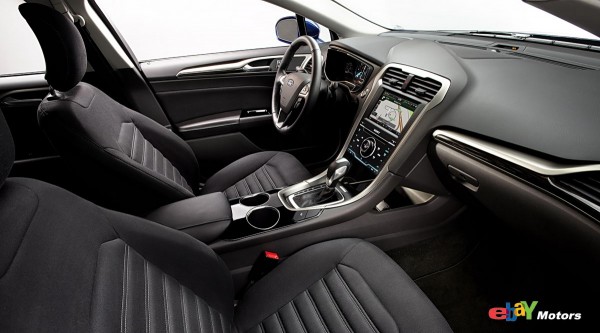 The good news is that this tiny engine provides for a surprising amount of go, even up San Francisco's numerous steep hills. Unfortunately, clutch pickup is rather vague, making it easy to stall the engine when stuck in traffic on a hill, and the shift lever could also use a slightly shorter throw. Still, driving a peppy car with a manual is always fun, and this one also gets good mileage, up to 37 mpg on the highway.
Our final drive of the day would be in the top-level Fusion Titanium, equipped with a 2.0-liter EcoBoost engine, 6-speed automatic, and all-wheel drive. With a larger turbocharged engine, and power going to all four wheels, we couldn't help but exercise our right foot vigorously while charging up and down the San Francisco streets. Acceleration is strong, although we expected perhaps a bit more oomph, given that 240 hp and 270 lb ft of torque are on tap. In fact, the little 1.6 L engine is such an overachiever that we can see a lot of people opting for the smaller EcoBoost, especially given the mileage benefits.
All three Fusion models exhibited a nicely buttoned-down ride, with none of the floaty suspension motions that you still sometimes get in this class. The new interior is also very well executed, with quality materials and all the latest in tech and infotainment.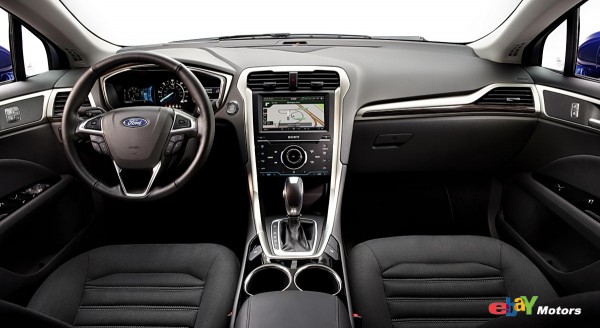 What might set the Fusion apart the most from its peers is an impressive amount of available safety technology. With features like adaptive cruise control, blind spot warning, and active park assist, the Fusion helps create what Ford calls the "Democratization of technology." Basically, you don't have to be rich and buy a luxury car to get the latest safety tech.
Ford has been proving itself with compelling new models for several years now, and the new Fusion is perhaps its strongest new entry yet. Pricing for the SE starts at $23,495, the SE Hybrid at $27,495, and the Titanium at $29,995.