A large family wagon in the age of SUVs
Likes:
Spacious, comfortable interior
Handles well for such a large car
Plenty of available technology, including active park assist
Good fuel efficiency for a 7-passenger vehicle
Dislikes:
3.5L V6 engine has some pep, but needs more torque
Gets pricey when you start adding options
Boxy exterior style is still polarizing
The large family station wagon was once a staple in the American car market. With enough room to haul the kids around, and the road manners of a regular sedan, station wagons could be seen up and down suburban driveways. Unfortunately, the SUV craze of the late 90s stole many would be wagon customers, leading to fewer and fewer available models. Even now shoppers looking for a big car are more likely to buy a large crossover than a large sedan or wagon.
It's not surprising, then, that Ford classifies the Flex as a crossover, even though Ford sells another almost equally large crossover SUV in the form of the Explorer. Which is unfortunate, because the Flex truly is a large wagon, and should be appreciated as such.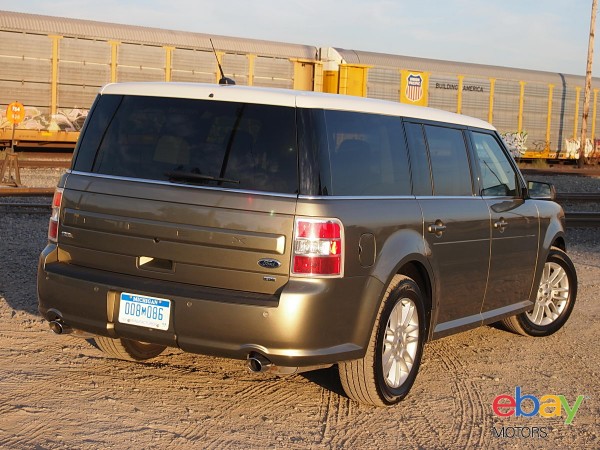 For 2013, Ford has tweaked the exterior styling to keep the model looking fresh. The main change is at the front, where a more understated grill replaces the previous 3-bar chrome design. The result is a slightly more mature appearance, but the overall boxy design is still likely to polarize potential customers. You either love it or hate it, and most probably don't love it, as sales have been rather sluggish.
Behind the wheel the Flex still shines, especially compared to more typical SUV-like crossovers. The Flex sits nice and low, and feels planted in the corners. Standard all-season tires means you can't get too crazy, but there is none of that I'm about to tip over feel that still afflicts many SUVs.
Powertrain options remain the same for 2013, which means you have a choice of 3.5L V6 engines, regular or turbocharged, both of which are paired with a 6-speed automatic transmission. Our test car featured the regular V6, which now makes 287 hp and is generally eager to comply with whatever request your right foot makes. Unfortunately, torque is a more modest 254 lb-ft, which means you really need to rev the engine to get going, especially when loaded up with passengers or cargo. On the plus side, fuel efficiency is quite good for a large car, and we were easily able to average over 20 mpg.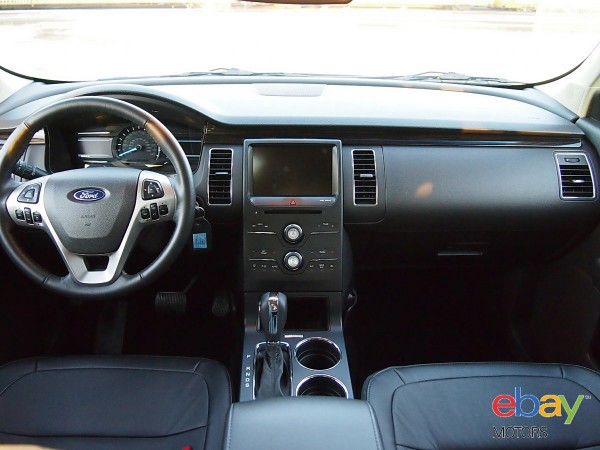 Ford has been heavily pushing technology for the past few years, and the Flex can be equipped with some of the latest tech features, whether safety or entertainment. Some notable options include active park assist and adaptive cruise control, features normally only found on luxury cars. Strangely, though, our SEL test car didn't feature Navigation, which is rather odd given the almost $40,000 MSRP.
What others are saying about the 2013 Ford Flex:
Autoblog admires the Flex's impressive interior room: "Second row occupants may have it best of all, with an absolutely ridiculous 44.3 inches of legroom. That's over seven inches more than the GMC Acadia, and more than five inches better than an Acura MDX."
We completely agree. Many SUVs are actually quite disappointing when it comes to interior roominess, but like the big station wagons of the past, the Flex offers more than enough space for even large families.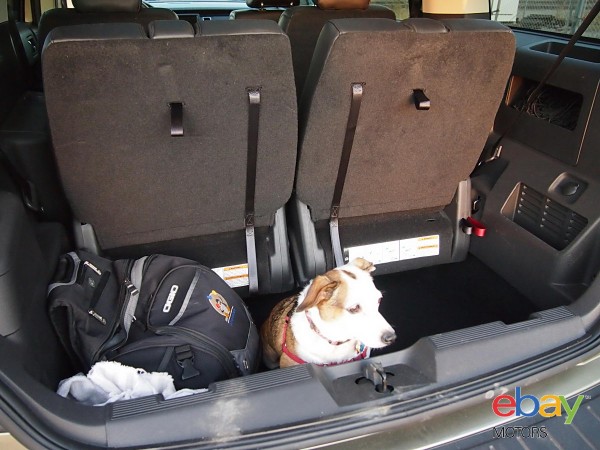 The folks at AutoGuide.com feel that the revised My Ford Touch system available on the Flex still needs work. "The use of touch-sensitive buttons instead of actual buttons did prove to be annoying. Using these "buttons" or the touch-sensitive screen to adjust settings like the climate control was difficult and distracting."
We also found the My Ford Touch system to remain a bit frustrating, although the improvements from the first generation do make it easier to work with.
To sum up why car buyers should consider the Flex, we'll turn it over to Bengt Halvorson of The Car Connection: "The boxy 2013 Ford Flex wagon isn't just fashionable; it's one of the better picks for a cross-country trip; and for carrying six adults out for the evening; and for busy moms; and for all of an afternoon's ill-advised IKEA purchases."