By Nathan Sacco
Likes:
Stunning good looks and fantastic 20-inch wheels
Loaded with the latest technology and options
Spacious and luxurious interior
Dislikes:
Sports car good looks don't translate into sporty performance
Electronic assists needed to compensate for massive blind spots
The 2013 Ford Explorer Sport is a gorgeous car. At first glance, you might even mistake it for the Land Rover Evoque with its sloping grill and windshield and extended roofline. Looking like the epitome of what a luxury, sport SUV should be, our test car arrived in Ruby Red, black accents and matching 20-inch black and silver aluminum wheels. Inside, the Explorer didn't disappoint either. The interior is truly luxurious with heated and cooled leather seats, and a large touch screen display in the center console to control the advanced Ford MyTouch/SYNC system. This is not the Ford Explorer you are used to and it just might have import, luxury SUV buyers beating a path to their Ford dealer.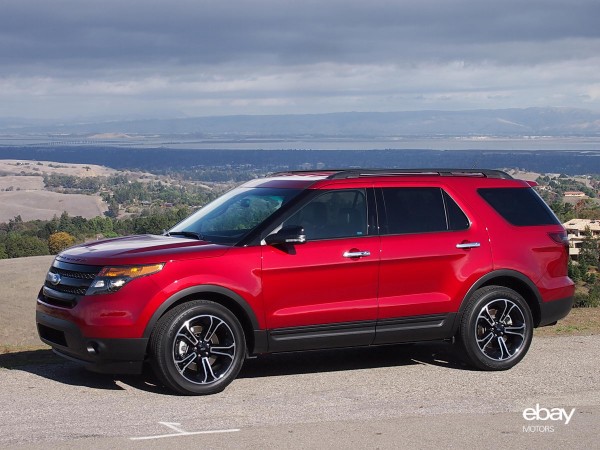 Driving Impressions
Driving the Explorer is a pleasure thanks to fantastic front seats that felt like heaven settling into them. The perforated leather seats have heating AND cooling options, a feature that is sometimes found in more upscale cars and SUVs. Dual climate control is on hand for front passengers who run hot and cold at different times. Passengers in the two rows of seats in the rear also have their own climate control. The total experience felt closer to a more expensive vehicle.
The leather wrapped, multi-function steering wheel has a host of buttons for cruise control and for accessing many options that appear on the configurable in-dash display. Since this was the Sport version of the Explorer, the steering wheel also had paddle shifters. While these were a nice touch, we don't think anyone will really need them with a 0-60 time of over 8 seconds. The Explorer is just too big and heavy to truly be sporty.
So just how big is it you say? Well we put two kids in the third row seats and we could barely even see or hear them they were so far away. The rear view mirror is nearly worthless since the rear window is a mile away and headrests on the seats block the view. If it wasn't for the rear view camera we would have never been able to make it out of the driveway without crashing into trees or other cars.
And out on the road, the Explorer's massive blind spots make for some interesting merges. Thankfully Ford included something they call BLIS (Blind Spot Information System) with Cross Traffic Alert. This system alerts the driver to the presence of other cars nearby. If there is a car in the blind spot, an orange warning light appears in the appropriate side mirror until it is safe to change lanes. When reversing out of a parking space, the system can detect a car approaching from the side. We wouldn't even consider driving an Explorer without the BLIS option installed.
If we had to summarize the Explorer in just a few words, they would be loaded, luxurious and massive.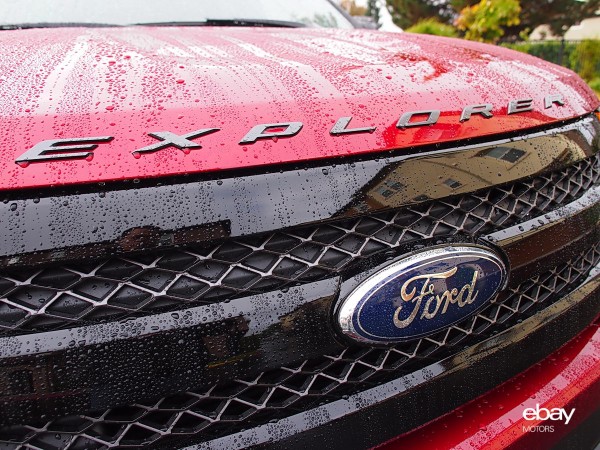 The technology package on the Explorer is based on the latest version of Ford's My Touch / SYNC system and also includes just about every bell and whistle you could ever want. A large touch screen display dominates the center console and provides access to myriad functions and options. Without reading the manual, we quickly paired our iPhone 5 and were wirelessly streaming audio from the phone to the stereo system over Bluetooth. It's a great feature since you don't have to worry about cables (especially since Apple just changed their connectors) and let's you play audio from apps on your phone like Pandora. There is no shortage of connection options though with a media hub with two USB ports, an SD card reader, audio / video input jacks, and four 12V powerpoints to keep everything running. Plus you have HD radio and SiriusXM satellite radio options.
We found the touch and voice controlled navigation system fairly easy to use but it does have a bit of a learning curve. The turn-by-turn directions we got were spot-on although the real time traffic data for one of our trips showed us a huge traffic jam and delay that wasn't actually there.
Overall, we had a great time with the Explorer Sport. We loved the modern, sporty look and luxurious interior even if the Explorer feels like it's a mile long. When combined with its laundry list of technology options and amenities it stacks up very well against any import, luxury SUV. And when you consider the price the Explorer just gets more attractive.
What others are saying about the 2013 Ford Explorer
Michael Karesh of TheTruthAboutCars.com likes the exterior styling of the Explorer Sport, especially when you paint it black.
You can slap "Sport" on just about anything. When you really mean it, you paint everything black: grille, mirrors, window trim, wheels, luggage rack. Though the wheels might be a bit much (more attractive dubs are available on the 2013 Limited), overall the sport treatment suits the Explorer's clean, muscular shape. It's a handsome beast.
We agree with our colleagues at AutoGuide. The 2013 Ford Explorer exemplifies good value and a worthy set of strengths. They like the Explorer's quiet interior, excellent ride quality, world-class safety features, good value, and surprisingly good gas mileage with the EcoBoost engine.