Ford has been quite good at staying ahead of the curve when it comes to automotive buying trends. Just when the SUV craze started to wane, Ford revamped its small and mid-size car offerings, with the new Focus, Fiesta, and Fusion earning strong praise. When higher gas prices became the new norm, Ford was quick to respond with turbocharged EcoBoost engines across the lineup. And now that the market for hybrids, compact SUVs, wagons, and other more practical and efficient vehicles seems here to stay, Ford is responding with a completely revised Escape compact SUV, and the brand new C-MAX Hybrid compact wagon.
As the current owner of a 2009 Escape Hybrid, I was very curious to drive these new models and see how they compare. Both cars are based on the compact Focus platform, but offer increased practicality and more sophisticated powertrains when compared to your average small car. The new Escape gets the EcoBoost treatment, with two available turbocharged engines, while the C-MAX is all hybrid, offering both standard and plug-in versions.
We had a chance to drive both cars back to back, over hundreds of miles and in a variety of driving conditions. Although each model occupies a separate niche, they compare quite well in price, practicality, and performance. Ford even promises a high fun-to-drive factor for both of these models, which is largely missing from the competition. Which would prove more compelling, the hybrid compact wagon or the turbocharged small SUV? Our conclusion just might surprise you.

2013 FORD ESCAPE ECOBOOST AWD

2013 Ford C-MAX HYBRID

Likes:

New exterior design ditches old boxy SUV look
Class leading handling makes for a sporty small crossover
2.0L turbocharged engine produces a healthy 240hp and 270 lb-ft of torque
Lots of available high-tech options, including active park assist, BLIS with cross-traffic alert

Likes:

3rd generation hybrid powertrain is even more seamless and refined
Impressive fuel efficiency, so long as you drive carefully
Solid handling and performance, although calling it sporty would be a stretch
Also available with a host of options, including a nifty automatic lift gate that you can activate by waving your foot

Dislikes:

Acceleration is less peppy than you'd expect given the horsepower rating
Fuel efficiency also disappoints, with mileage hovering in the low 20s
Price with options easily vaults over $30,000

Dislikes:

Achieving the 47 mpg combined EPA rating requires a careful right foot
A hefty curb weight dampens the fun-factor, especially when cornering
Disappointingly small cargo area limits practicality
2013 Ford Escape EcoBoost AWD
The 2013 Escape is a complete departure from the popular outgoing model. Gone is the traditional boxy SUV shape, and in its place we have a more modern, rounded design that looks like a larger version of the Focus hatchback on which it is based. The interior is also new and much more modern, borrowing heavily from the Focus once again.
The changes continue under the hood, where you won't find the V6 and hybrid options previously available. Instead, pair of small turbocharged engines are the more upscale choices, while a 168 horsepower 2.5L 4-cylinder engine carries over as the base engine. Our Titanium test car came equipped with the larger of the two turbo engines, a 2.0L motor that produces an impressive 240 hp and 170 lb-ft torque. Power is routed to the wheels through a 6-speed automatic transmission and Ford's Intelligent 4WD system.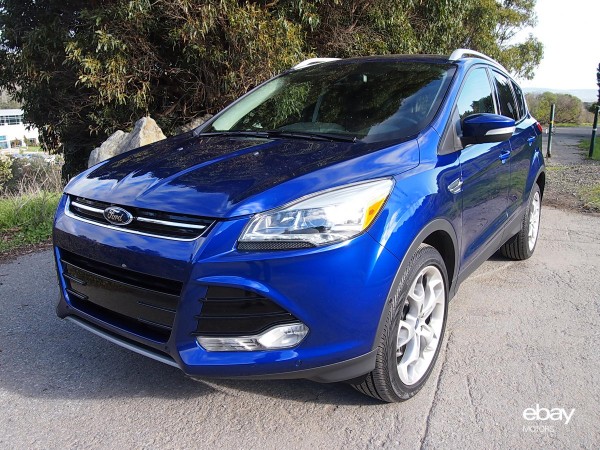 For daily driving there is more than adequate pep, but the Escape never felt as fast as the engine's numbers would suggest. One of our reviewers even called it "lackluster," which might be a bit harsh, but there definitely wasn't the kind of acceleration that you'd expect from such a high output engine. A likely culprit is a hefty curb weight of close to 3,800 pounds, which is substantially more than a small sedan, and enough to act as an anchor on what is really a spitfire of an engine.
Given the somewhat disappointing performance, we had high hopes for the fuel efficiency that the EcoBoost engine would provide. With a 28 mpg highway rating, would this small engine be less thirsty than a typical V6? Unfortunately, our testing showed this to be a very optimistic figure. Even including a road trip from the San Francisco Bay Area to Los Angeles and back, we still only averaged a bit over 22 mpg, hardly much better than a more conventional V6. MPG conscious buyers can opt for the smaller 1.6L EcoBoost engine, which earns a 33 mpg highway rating from the EPA, but given our experience with the 2.0L engine, we're doubtful that drivers will see that kind of mileage in real world driving.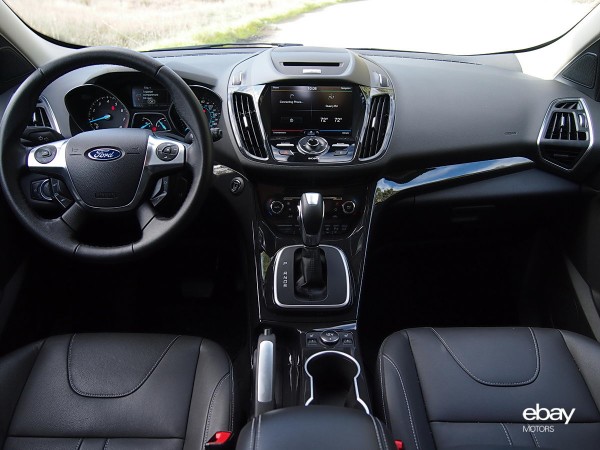 Handling, on the other hand, is quite good. Steering feedback is excellent, especially for an crossover/SUV, and you always feel firmly in control. In tighter corners the Escape does feel a little tipsy, which isn't surprising given that it sits higher off the ground, but the 19-inch low profile tires provide plenty of grip, enough to make this one of the sportier small crossovers on the market.
Ford has added a bunch of attractive options to the Escape to entice buyers, including technology like automatic parallel parking, an automatic liftgate that you can activate with a swipe of your foot, and Ford's MyTouch system for infotainment and connectivity. Such options do cause the price to swell quite dramatically, but they offer a touch of sophistication and class often missing in this segment.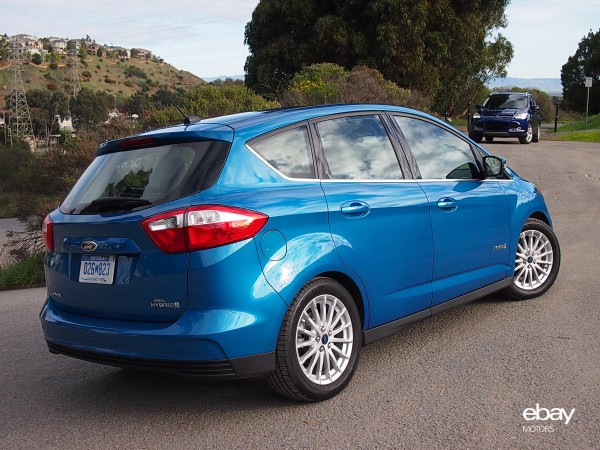 2013 Ford C-MAX Hybrid
Although the Escape Hybrid has sadly been discontinued (at least for now), Ford is counting on the C-MAX to fill the niche for more practical hybrid transportation. The C-MAX has been on sale for number of years in Europe, and Ford is hoping its popularity will translate to the U.S. with this new hybrid-only version.
Under the hood of the C-MAX you'll find the 3rd generation of Ford's hybrid technology, now based on a 2.0L Atkinson Cycle 4-cylinder engine. Combined system power is a rather healthy 188 hp, which is considerably more than the comparable Prius V, as Ford has been proudly advertising. Acceleration is decent, but like in the Escape, a portly curb weight prevents the C-MAX from being anything close to sporty.
Electric only propulsion is now available for speeds up to 62 mph, and the C-MAX definitely spends more time cruising in EV mode than the old Escape Hybrid. A plug-in Energi model is even available for folks looking to really minimize trips to the pump, although the considerable extra price makes it a somewhat questionable value. The hybrid system is also even more refined than before; when the motor kicks on and off you truly hardly notice it.
The main benefits of spending so much time with the engine off is improved fuel efficiency, and the C-MAX earns a very impressive 47mpg combined EPA rating. During our testing we found this difficult to achieve, as we averaged closer to 40 mpg during normal use. More cautious drivers should be able to squeeze out those last few mpg without too much trouble, as we did average 46.5 mpg during one 50 mile trip.
Out on the road, the C-MAX handles itself quite well. The car feels very planted and sits low to the ground, and the suspension is on the firmer side, but still quite balanced. Low rolling resistance tires and hefty curb weight means that understeer sets in quickly when you really push it, but overall this is one of the growing number of hybrids that doesn't embarrass itself trying to navigate a turn.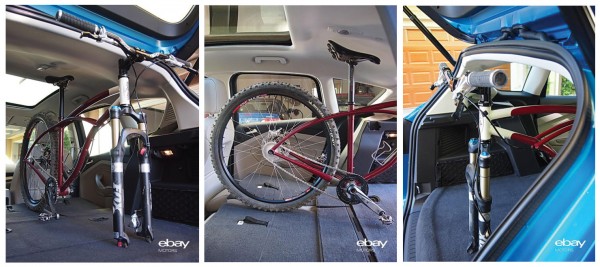 On the inside, the C-MAX closely resembles the Focus and Escape, from the dash to the seats to the available options. Unfortunately, trunk space is more limited than the larger Escape. Anyone looking for something larger and more practical than a hatchback will be a bit disappointed with the C-MAX.
So far, C-MAX sales have been very successful, although some controversy has erupted regarding the lofty MPG ratings. Disappointed with real world mileage in the 35-40 mpg range, some owners have even filed a class-action lawsuit. Ford has responded that mileage depends greatly on how the car is driven, and our experience with the C-MAX shows that 47mpg is achievable, but definitely challenging.
Compact SUV or Wagon?
Two small practical cars, neither of which is a plain boring sedan, and both of which provide new technology that claims to increase efficiency and performance. And both have a blue oval on the hood. Is this an example of unnecessary duplication, or clever market segmentation?
In the case of the new Escape and C-MAX, perhaps a bit of both. By only offering the C-MAX as a hybrid, Ford is hoping to mimic the success of the Prius by creating its own hybrid only platform. Yet, anyone who looks closely will see the resemblance of the C-MAX to both the Escape and Focus, especially in the interior.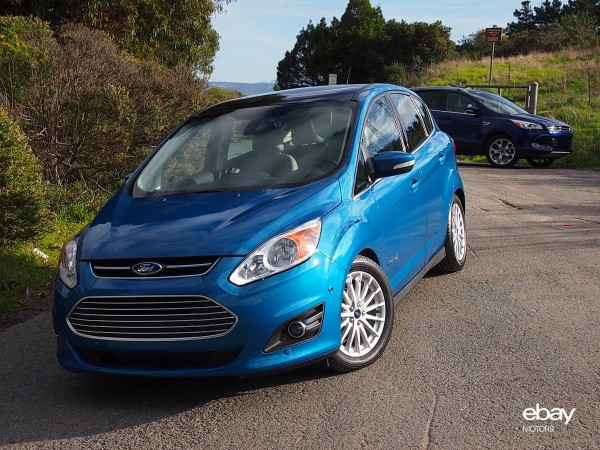 Now that the Escape has shed its boxy exterior and any pretense of being a rough and ready SUV, it would seem to accomplish many of the same goals as the C-MAX, just without the eco-prestige of being a hybrid. Unfortunately, given that the EcoBoost engines seem to be a bit shy on both the Eco and the Boost, the Escape falls short on performance and especially efficiency.
Although we wish Ford would offer the new Escape with a hybrid powertrain, even if just for the larger trunk and snappier exterior design, for most buyers the C-MAX should fit the bill for practical and efficient transportation. With mileage that almost doubles that of the Escape, a similar interior, and respectable performance, the C-MAX should convince more than a few Prius shoppers to buy American.