Likes:
EV mode is great for saving fuel and the environment
Seamless and almost imperceptible transition between hybrid and EV modes
Parallel parking assist works brilliantly
Brake training and eco-scoring feedback displays are fun to watch
Natural light from panoramic glass roof
Dislikes:
Wide turning radius
Battery and EV technology consumes valuable cargo space
User controls were a little overwhelming and sometimes not intuitive.
Ford expands its fuel-sipping line-up this year with the C-MAX Energi plug-in hybrid which is capable of working like a pure electric car for up to 20 miles. Beyond that, Ford produces some of the most fuel-efficient hybrids available today.
With seating for five and some extra cargo space, the C-MAX Energi is a viable alternative to the Chevy Volt and Plug-in Prius. Offering up 20 miles of all-electric driving and 620 miles total range, the C-MAX Energi will require fewer visits to the gas station.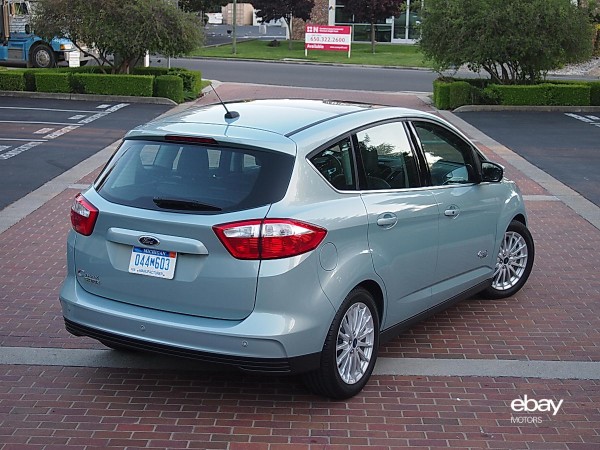 Driving Impressions
During our time with the C-MAX Energi, we test drove it 330 miles, recorded 47.7 mpg, consumed only 6.9 gallons of gas, and still had a potential range of 255 miles if left unplugged. That put a smile on our eco-minded faces.
One of the keys to keeping gas mileage high on the C-Max is keeping the car plugged in as much as possible. A full recharge using a 240-Volt Level 2 charging station takes about two and a half hours. Daily commuters who have charging stations at their place of work now have another reason to look at EV or PHEV cars (plug-in electric vehicle).
Our eBay Green Driving Center and Motors blog editor, Brad Berman, looked at the overall range for the three leading PHEVs – Toyota Prius, Chevrolet Volt, and Ford C-MAX Energi – and discovered that the C-MAX Energi had the farthest overall range.
The US Environmental Protection Agency rated the overall range for Ford's plug-in hybrid C-Max Energi at 620 miles. The Toyota Prius plug-in trails the C-MAX Energi by 80 miles at 540 miles of overall range, and the Chevrolet Volt comes further behind at 380 miles.
C-MAX Energi and the less-electrified C-MAX Hybrid are the first Ford models to employ the third-generation version of Ford's hybrid system. They also mark Ford's first integration of lithium-ion battery technology in a hybrid.
The interesting thing about driving the C-MAX Energi is that you really don't notice it's a EV, or even a hybrid, until you see all the active displays coaching you to drive conservatively. It drives like a regular gasoline-powered crossover and you really don't feel liker there is a power compromise. The C-MAX Energi delivers 188hp total system power and 129 lb-ft of torque. The ride is smooth, quiet, and comfortable. Transition between the hybrid and EV drive systems, which are constantly changing and reacting to driving conditions and available battery power, are barely noticeable.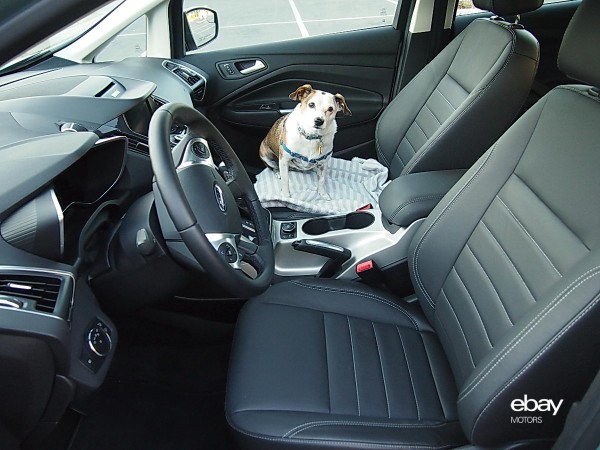 Who knew an electric car could be so loud? At wide-open-throttle everything kicks in with a wild caterwauling. Both the hybrid and EV drivetrains go full out to produce momentary peak power of 195hp, but the whole system is stressed to the max — and it makes an awful noise in protest.
Exterior design elements of the C-MAX crossover add up to compact dimensions and excellent outward visibility. Getting into a parking space is easy, except for the wide turning radius. Our favorite optional feature: Ford's Active Park Assist. It uses an ultrasonic-based sensing system and Electric Power Assist Steering (EPAS) to position the vehicle for parallel parking. Making parallel parking simple and free of curb rash to the wheels. After parking the C-MAX Energi, distance between wheels and curb is about 8 inches. Compared to Toyota's Intelligent Parking Assist, Ford's Active Park Assist parks the car closer to the curb, gets you into the parking space quicker, and is easier to use.
Interior
The 2013 C-MAX (Energi and Hybrid) offer a much roomier interior than the Prius in favor of taller drivers. The C-MAX, though marginally shorter than then Prius V, is taller and features more passenger volume front, rear and especially overhead in the back seat.
Saving fuel at the pump is not without cost. And we're talking about loss of cargo space. The C-MAX Energi lithium-ion battery pack is placed in the rear cargo area and makes the cargo space awkward. The second-row 60/40 split seat folds flat for added storage with the C-MAX Hybrid, but it does not fold flat for the C-MAX Energi.  The space used by the batteries is substantial as the photos below illustrate.  The hatch opening is 32.5 inches high.  The distance from the cargo floor (top of the batteries) to the roof at the hatch is 23 inches.  The cargo floor is raised for the battery 9.5 inches at the hatch and 7.5 inches from the top of the folded rear passenger seats. The reduced cargo space and uneven floor with the rear seats folded could be a big factor when considering the hybrid over the Energi.
Capacities
C-MAX Hybrid
C-MAX Energi
Prius V
Chevy Volt
Seating Capacity
5
5
5
4
Passenger Volume (cu. ft.)
99.7
99.7
97.2
90.3
Cargo Volume behind 2nd row
(cu. ft.)
24.5
19.2
34.3
10.6
Cargo Volume behind 1st row
(cu. ft.)
52.6
42.8
N/A
N/A
There are all sorts of clever digital readouts on the active instrument display to let you know how your charge is holding up, and how efficient you have been in braking to recharge the batteries. We found it's easy to be in the 98% efficiency zone if you let off the gas a bit before a stoplight and lightly touch the brake pedal.
We like the edgy gauge pod with its next-generation SmartGauge® and EcoGuide. Standard equipment with the C-MAX Energi includes SYNC with Myford Touch — an integrated touchscreen interface that controls a premium audio system, navigation, rearview camera, and hands-free technology.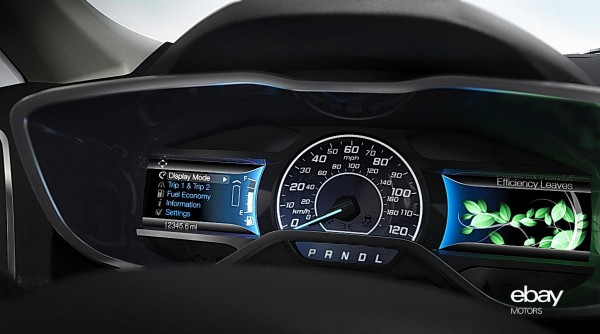 User controls on the center console stack were a little overwhelming and sometimes not intuitive. Everything seemed to be controlled by both physical buttons and the touchscreen, but the interface wasn't great for either. Our navigation experience was an absolute fail in trying to get directions to Chic-fil-A and we experienced a lot of inconsistent behavior with the Microsoft Sync system. Sometimes technology can be more frustrating than helpful.
Ford's Prius Fighter
Regardless of which C-MAX you choose — hybrid, or Energi — you get a surprisingly roomy interior, excellent outward visibility, and relatively crisp steering in a tidy, easy to maneuver package that gets better than 40 mpg. On the flip-side, MyFord Touch continues to be a bear to use and the exceptionally wide turning radius will make you do more multipoint turns just to get into the Starbucks drive-thru.
2013 Ford C-MAX Energi
Engine type: 2.0L Atkinson-Cycle I-4 hybrid engine
Power: 141 hp @ 6000 rpm 188hp (total system power)
Torque: 129 lb-ft @ 4000 rpm
Transmission: eCVT (electronically controlled continuously variable transmission)
EPA estimated fuel economy (mpg): 47 city / 47 hwy / 46 observed MPGe
Electric Motor: permanent magnet AC synchronous motor
Battery: 7.6kWh Li-ion
Battery peak power – charge sustain mode: 35 kW
Battery peak power – charge depletion mode: 68kW
EV range: 21 miles (15 – 18 miles observed)
Projected Miles per Gallon Equivalent (MPGe): 108 city / 92 hwy / 100 combined
Shop for a new Ford C-MAX on eBay Motors now