2013 Dodge Challenger SRT8 392 vs. Modified 2010 Challenger SRT8
Likes:
Fast and fun to drive
Rip-roaring sounds that only a V8 HEMI can produce
Cylinder deactivation enables the big V8 to run on four cylinders and attain a 14 city/23 hwy mpg rating
Dislikes:
Stiff suspension and harsh ride makes for a difficult daily driver
Carving corners in this big beast is requires a lot of work and expertise
Challenger's limited rear visibility makes it awkward whenever you have too look backwards
The 2013 Dodge Challenger SRT8 392, with its asphalt tearing 6.4L HEMI V8 engine, is a force of reckoning. Now with 470hp and 470 lb-ft of torque, a jump of 45hp and 90 lb-ft respectively relative to the models with the 6.1L HEMI V8, the Challenger SRT8 will make any tree-hugging Prius driver scuttle for  public transportation or find themselves booted into the highway shrubbery.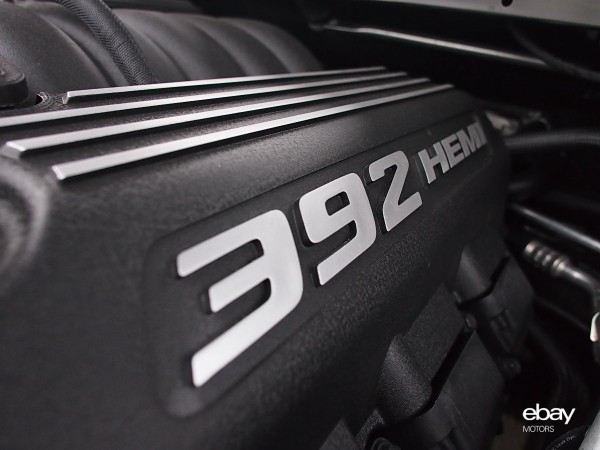 According to Dodge, the 2013 Challenger SRT8 392 accelerates from 0-60 mph in the high 4-second range; runs the quarter mile in high-12-second range with the manual (mid-12-second range with the automatic); goes from 0-100-0 mph in the low 15s, reaches a top speed of 182 mph with the manual transmission (175 mph with the automatic) and stops from 60-0 mph in just 117 feet.
The torque band is extremely flat allowing for strong standing starts and improved straight-line performance throughout the rpm range. An advanced active intake manifold along with high-lift cam with phasing provides maximum low-end torque and high-end power while still delivering up to 23 miles per gallon on the highway with the standard manual transmission. Our week with the SRT8 was spent stomping on the go-pedal at every opportune moment. So read our 16 mpg combined fuel economy numbers with a grain of salt.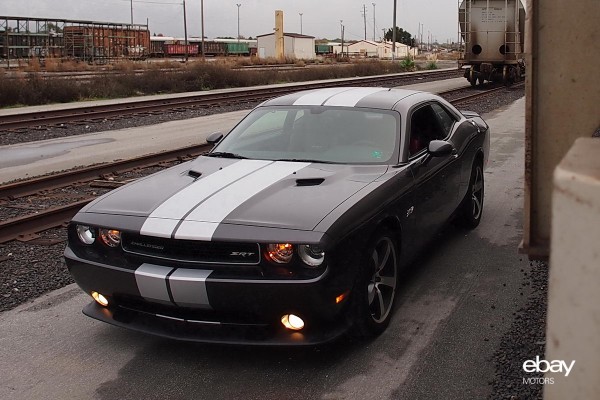 The Challenger remains reasonably quiet at speed, with little road or wind noise, and offers an comfortable highway ride regardless. On twisty roads, the Challenger feels big and heavy, which isn't surprising considering the car's 2-ton curb weight. But the SRT8, which has optional suspension upgrades over the lower trim models, still does a respectable job of keeping that mass under control.
Exterior styling of the 2013 Dodge Challenger SRT8 392 remains unmistakably Dodge, with proportions that continue to evoke a bold, instantly recognizable performance coupe that has a wide, stable stance on the road.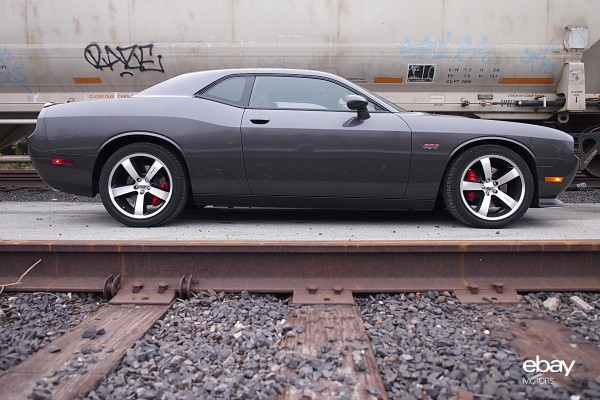 The large front splitter and integrated front fender spats and body color rear decklid spoiler provide stable high-speed aerodynamics and overall balance while the front fascia chin spoiler also improves aerodynamics and is accented in black for a more aggressive look. The front grille features a bright grille surround.
The race-inspired interior begins with a new, leather wrapped, heated, SRT-exclusive steering wheel that features a unique satin chrome rim section with a flattened bottom surface that showcases the SRT logo. The optional automatic transmission includes paddle shift controls on both sides of the new contoured palm rests. All audio and Electronic Vehicle Information Center (EVIC) controls are accessible from the horizontal spokes on the steering wheel.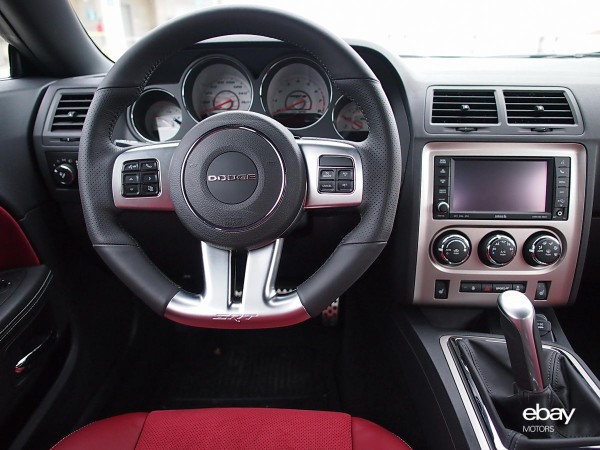 The trapezoidal instrument panel features a four-bomb gauge cluster with chromed accent rings and unique SRT graphics. Inside the cluster, the SRT-exclusive Electronic Vehicle Information Center (EVIC) with performance pages provides the driver with trip information, multimedia information from the Media Center radio, along with instant feedback on 0-60 mph time, 60-0 mph braking, G-forces, one-eighth mile and quarter-mile times.
We were curious as to how our test car measured against the factory ratings, so we rumbled over to Goodies Speed Shop in San Jose for a dyno test. In the past we found the factory ratings to be conservative compared to real world testing and we were not disappointed. Our best pull clocked in at 448hp and 449 lb-ft torque at the wheels. Accounting for a 15% loss through the drivetrain, the 6.4L HEMI V8 can easily crank out 515 bhp – significantly higher than the 470hp and 470 lb-ft factory specs Chrysler publishes.

The day we brought in our Challenger for dyno testing, we spied 49er Vernon Davis' 2010 Challenger SRT8 on the lift. Performance upgrades were minimal before the Goodies mechanics got their hands on the car and installed a Kenne Bell liquid cooled supercharger to the 6.1L HEMI V8, a smaller pulley for 10 PSI of boost, and a Flowmaster exhaust system. After a little ECU tuning, Davis' Challenger tested at the wheels 516hp @ 5500 rpm and 550 lb-ft torque @ 3000 rpm equating to approximately 610 block horsepower. A huge leap over the factory specs of 425hp @ 6200 rpm and 250 lb-ft @ 3800 rpm.
With these specs up front, would you go for stock 2013 Challenger SRT8 with a bigger motor and factory warranty or get a slightly older model with 6.1L HEMI and install a supercharger for more outrageous performance?