The All-Electric Toyota RAV4 EV Returns After a 10 Year Hiatus
Likes:
More room to carry cargo
Lots of details to improve efficiency and reduce range anxiety
Crossover qualities with electric car efficiency
Dislikes:
High cost of entry with a price tag $49,800
Only sold in California
Yes Virginia, there is a Toyota RAV4 EV. The first generation RAV4 EV (XA10) was discontinued after 2003. Toyota revives the RAV4 EV platform and got it developed in less than two years through collaboration by teams from both Toyota and Tesla. Born from an idea of bringing back the RAV EV, the new model was built around the third generation body style with some special design considerations to reduce aerodynamic drag and decrease noise.
The front fascia was redesigned and the underbody was reworked for smoother airflow and lower coefficient of drag (cD). Front, rear, and driving lights were changed to LED because they output more light with less power consumption. Shapes of the headlight lenses and rear spoiler were optimized for air flow and reduced drag. Deleting the roof rack and downsizing the side view mirrors further reduces drag.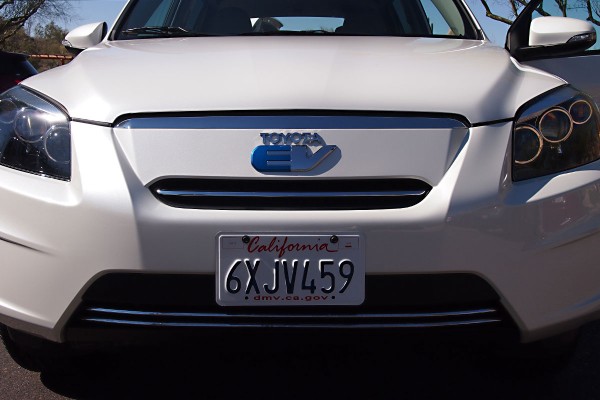 After its facelift, the RAV4 EV now has a cD of 0.30. For comparison the cD for a 2010 Prius with 17-inch wheels is 0.30 and the third gen RAV4 has a cD of 0.38. (source: Chevy Volt cD is 0.28, Beats Prius and Insight)
"It's all about blending the best of two worlds," said Bob Carter, group vice president and general manager of the Toyota division. "The all-new RAV4 EV marries the efficiency of an EV with the versatility of a small SUV – in fact, it is the only all-electric SUV on the market."
The RAV4 boasts a maximum cargo capacity of 73 cubic feet with the second rows seats folded flat. The Prius can carry a lot things inside the cabin, but it only has a maximum cargo capacity of 39.6 cubic feet.
The 2013 RAV4 EV combines a Tesla designed and produced battery and electric powertrain with Toyota's most popular SUV model. Power output is equivalent to 154hp (115kW) with a 0-60 time of 8.6 seconds and maximum speed of 85 mph in normal mode. Reach for the Sport mode button and performance wakes up with a 0-60 time of 7.0 seconds and maximum speed of 100 mph.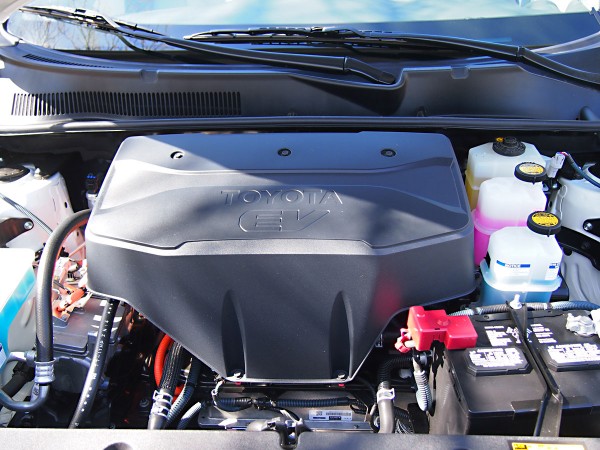 Battery capacity is 35.0 kWh with an extended range option of kicking it up to 41.8 kWh.
With the lithium-ion battery pack adding 845 pounds to the complete package, the RAV4 underwent a weight trimming exercise. The outside spare tire and scissor jack were removed. In its place is a battery powered compressor and a bottle of tire sealant. Resulting a net savings of 120 pounds.
Liquid cooled/heated Lithium-ion batteries, located in the floor pan, are use to power the RAV4 EV. A thermal management system keeps the batteries at optimum temperatures because electrons are fussy about transmitting electricity. With the battery pack located in the floor pan, cargo space was not sacrificed. The RAV4 EV has the same 73.0 cubic feet of cargo space as its non-EV cousin and still retains its underfloor bin in the rear cargo area.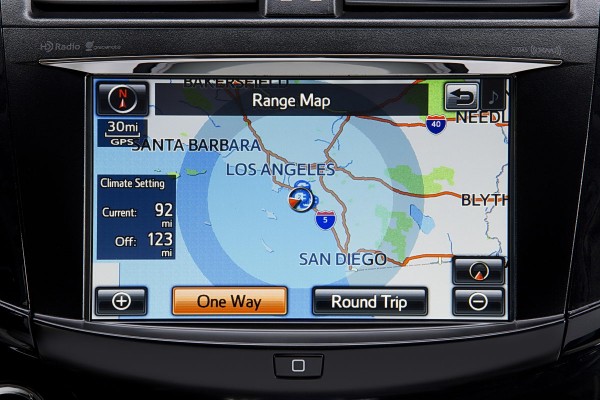 Effective range is around 103 miles under optimum conditions. Turn on the lights, A/C and other creature comforts that require power reduces the RAV4's driving range. With a 240V/40A charger, charging time is approximately 5 hours for an 80 percent charge. Pity the person who only has access to 110V because charging time could take up to 11 hours to get back to at least 80 percent charge capacity.
Range anxiety is always the primary concern when considering an electric vehicle. There are several aids to help ease range anxiety, both integrated into the 8-inch hi-res information display and available as an app for your smartphone. One is a map the driver can call upon that shows the radius of how far the EV can travel on its current charge, with options to show the RAV4's range as a one-way trip or a round-trip.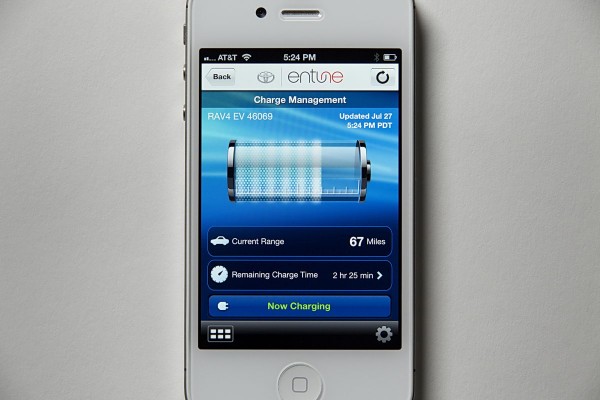 Other aids integrated into the RAV4 EV system are an efficiency monitor, ECO coach, and auxiliary power monitor. The primary instrument display in front of the driver shows both optimal range and a range indicator based on the current driving mode.
The smartphone app shows the availability of charging stations in the area so you can plan your trip accordingly.
Driving an all-electric vehicle is not for everyone, which is part of the reason why sales of the RAV4 EV will be limited to California only, beginning with the San Francisco Bay Area, Los Angeles/Orange County and San Diego. California typically has a good population of early adopters and has more of an infrastructure to support EVs. Production will be limited to 2,600 units during the first three years.
It has been nearly a decade since the original RAV4 EV was discontinued. Will the next generation RAV4 EV make a comeback and give Toyota a reason to produce more than 2,600 units?
AutoGuide video review of Toyota RAV4 EV
TOYOTA RAV4 EV SPECS
Electric Motor

Motor Type

AC induction motor with fixed-gear open-differential transaxle; gear ratio: 9.73; two drive modes;: Normal and Sport

Power Output

154 hp (115 kW) maximum

Maximum Torque (Normal/Sport)

218 lb.-ft. / 273 lb.-ft.

Maxium Speed (Normal/Sport)

85 mph / 100 mph
Battery
Lithium-ion (Li-ion)

Battery Capacity

35.0 / 41.8 kWh

Power Output

129.0 kW

Battery Weight (lb.)

845.5
Onboard Charger
10 kW input

SAE J1772 connector

240V / 40A input

Emission Rating
Zero Emissions Vehicle (ZEV)
Brakes
Power assisted ventilated front disc brakes

solid rear disc brakes and Star Safety System

Overall Height/Width/Length (inches)
66.3 / 71.5 /180.1
Wheelbase (inches)
104.7
Coefficient of Drag (Cd)
0.30
Curb Weight (lb.)
1032
Cargo Volume (cubic feet)
73.0 behind front row /36.4 behind second row
Mileage Estimates (MPGe)
78 city / 74 hwy / 76 combined
EPA-Rated Driving Range
103 miles
Charging Time

(normal / Extended charge modes)

120V / 12A: 44 hrs / 52 hrs

240V / 16A: 12 hrs / 15 hrs

240V / 30A: 6.5 hrs / 8 hrs

240V / 40A: 5 hrs / 6 hrs

Price
$49,800 before federal and state tax incentives