Bigger, but still a MINI
Pros:
MINI's trademark go-kart-like handling is still there
Gutsy little turbo engine is up to the task of hauling this bigger MINI around
All-wheel drive makes for foolproof all weather performance
Unmistakable MINI styling, in a larger size
Cons:
MINI's retro interior styling is an acquired taste
Interior plastics seem awfully cheap for an almost $30k car
For a larger MINI, the trunk is still quite small and impractical
Price with options easily escalates into large car territory
If you have a car that is larger and more practical, can you still call it a MINI? If you style it just right and make sure it still zips around corners, then the answer is definitely, "yes."
Now in its second year, the MINI Cooper Countryman is an answer to requests for more capacity and retain its unique qualities. With five doors, available all-wheel drive and a useable rear seat, the Countryman takes MINI's unique retro style and applies it to a car that a small family would consider buying.
Despite being noticeably bigger, taller, and over six hundred pounds heavier than a two-door MINI, the Countryman fortunately still drives like a MINI. The steering is responsive and nicely weighted, making you want to throw the car into some tight turns. Our test car featured optional 18-inch wheels and sticky Goodyear tires, which added even more confidence when testing the handling limits.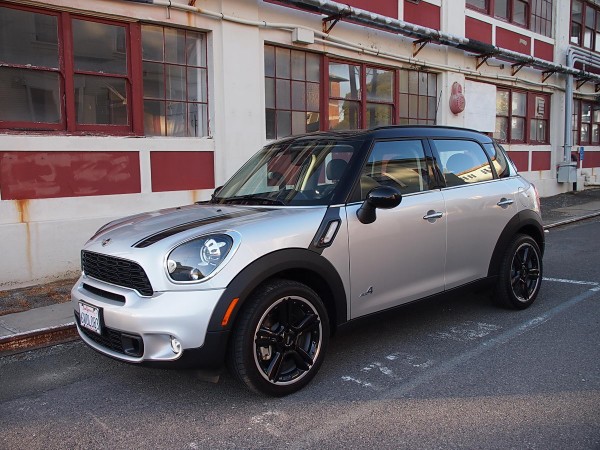 Despite being saddled with the same powertrain options as other MINI models, the Countryman is no slouch when it comes to acceleration, especially in turbocharged Cooper S trim. The gutsy little 1.6 L engine makes 181 hp, which is more than enough to hustle the car around. The ample mid-range torque available from the turbo also helps, as the engine pulls strongly even in top gear.
Although we like how the exterior styling translates to this larger size, we haven't really grown on MINI's rather cartoonish interior, with its large speedometer in the center of the dash and retro-themed buttons and switches. Interior materials also appear quite chintzy and cheap, especially for a car that stickers close to $30k.
What others are saying about the MINI Cooper S Countryman All4:
The Truth About Cars shares our appreciation for how MINI was able to retain the classic MINI look in a larger vehicle: "From the perky round headlights to the signature hood scoop and the optional sport stripes, nobody will confuse the Countryman for anything-but a MINI."
Over at cars.com, Joe Wiesenfelder praises the Countryman for its ride quality, but is a bit disappointed in the handling, and feels that the increase in size does matter: "You can make a large vehicle more sporty or less sporty, but intrinsic sportiness decreases as size increases. The Countryman reflects this."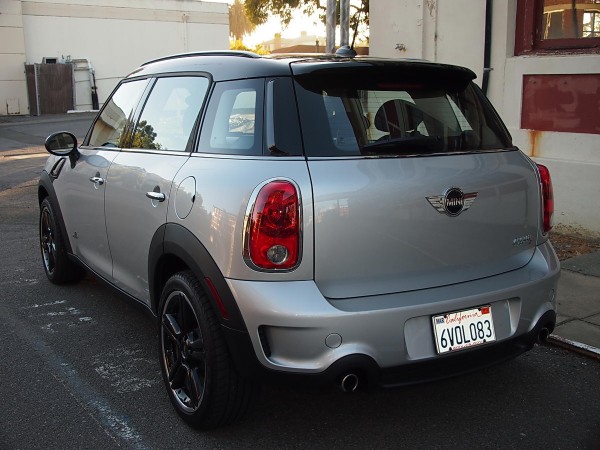 Although we agree that the Countryman loses some zippiness when compared to the smaller coupe, we were actually quite impressed with how well the Countryman retains the spirited handling of smaller MINIs. Whether dancing through a twisty section of mountain road, or just taking the local cloverleaf exit, the Countryman is an eager driving companion.
One positive aspect of the increased size is greater practicality. Steve Purdy from TheAutoChannel.com took the Countryman on an extended road trip across Wisconsin, something most people wouldn't consider doing in a regular MINI. After adjusting to some of the interior quirks, the Countryman turned out to be a surprisingly good travel car: "We loved our time with the MINI Countryman… With exceptional handling and all-wheel drive, brash retro styling on a bulldog stance, and all the conveniences we could want, the road tripability score for the MINI Countryman is high."