The Baby Bentley Gets Redesigned for 2012
Likes:
Refined 5.7L Hemi V8 power: 363 HP + 394 LB-FT of torque
Distinct badass styling
Understated luxury and performance
Dislikes:
The SRT8 Hemi is more powerful but gets the same MPG ratings
High beltline restricts visibility
Rear legroom is less than ideal
With available options the 300C pushes over $40,000. Depending on your viewpoint, that makes the 300C either a bargain luxury sedan or an overpriced wannabe luxury car. If you like American muscle with a bit of European luxury flair thrown in and seats five people fairly comfortably, and you like your car to look badass and say something about you, then the 300C is tough to beat.
Things have changed quite a bit for Chrysler since the days when the first modern 300 series came out as 2005 model year car. It is still controlled by Europeans except these are Italians instead of Germans now, and its finances are facing brighter prospects with increasing sales. Instead of old Mercedes-Benz E Class underpinnings, the second-generation 300C shares a platform with the new Lancia Thema, which previously used to share a platform with a Saab. Strange world we live in.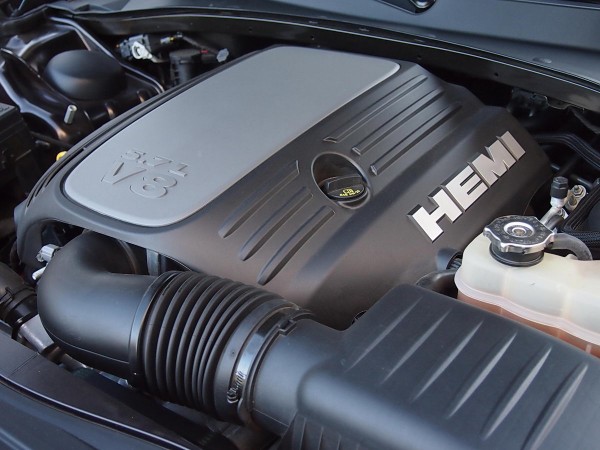 The base 300 comes with a 3.6 L V6 that puts out 292 hp and 260 lb-ft of torque and will cost you under $30,000. The SRT8 version will set you back about $20,000 more depending on the options, but you get 178 more horses and 210 lb-ft more torque.
The 300C slots in nicely in the middle both in price and in specs, starting at a MSRP of just under $39,000 with 363 hp and 394 lb-ft of torque from a 5.7L  HEMI® V8 with Variable Valve Timing. Surprisingly both the 5.7L and the 6.4L  HEMI V8 engines are rated at 16 city/25 highway, probably due to the SRT8's Fuel Saver Technology.
Driving Impressions
One word comes to mind while driving the 300C, smooth. This Chrysler is smooth. It doesn't feel sluggish by any means, but it doesn't feel as if the engine is overflowing with power like the SRT8 either.
Acceleration is very satisfying, very much in control, and its cornering and handling are both excellent despite its size. You are always confident that there's lots of reserve power to draw from should you need to accelerate quickly out of a jam, but at highway cruising speeds the engine is not working that hard. You won't beat the Mustang GT to the next red light but you look badass doing it.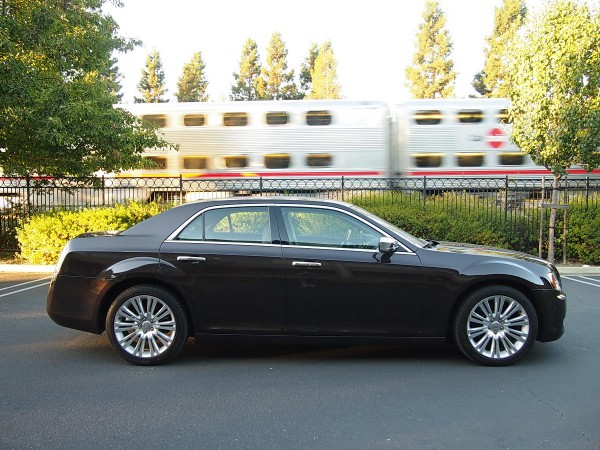 The 300C feels substantial, but light on its feet, kind of like a heavyweight boxer who is quick on his feet. You know, float like a butterfly, sting like a bee like Muhammad Ali. Al Haas, who wrote a review of the 300C for Philly.com, was surprised by the comfort level. "Even with the sporty suspension, the rode well."
Wes Raynal of AutoWeek likes everything about the 2012 Chrysler 300C. Not quite in agreement we had a few complaints to point out. The beltline is fairly high on this car and visibility is a bit constrained as a result. I found it hard to adjust the steering wheel and seat to find a perfectly comfortable driving position. It's not for a shortage of adjustable positions for the steering wheel or driver's seat but rather a hard-to-find sweet spot. Sometimes I try to look cool and drive with my left elbow over the door, but that's impossible to do on the 300 since my elbow would be at my ear's height. Not so cool.