Going into the 2013 North American International Auto Show in Detroit, Lexus faces increasing pressure from its competitors in the luxury market. Following the success of the long-awaited LFA hypercar, enthusiasts have been keeping an eye on its influence as it trickles down through the LF-LC and LF-CC concepts. With the world premiere of the all-new 2014 IS Sport Sedan at this year's Detroit Auto Show, we now see how cues from the LFA will translate into Lexus' standard lineup. Let's look the all-new 2014 Lexus IS line:
2014 Lexus IS: Lexus has put forth a concerted effort to make this new IS a performance car. IS 250 models will be powered by a 2.5-liter V6 gas engine, while the IS 350 will get a 3.5-liter V6. Lexus' Drive Mode Select system gives IS drivers three modes to choose from—Eco, Normal, and Sport. The IS 350 gets a fourth mode, Sport+, along with the eight-speed automatic transmission from the IS-F. In both 250 and 350 trim, the 2014 IS incorporates G Force Artificial Intelligence control. Active during Sport mode, G-AI selects and holds gears through downshifts in accordance with G Forces detected; when driving through a sharp corner, for example. The multi-link rear suspension and steering box from the GS go toward increased grip and steering response in the new 2014 IS.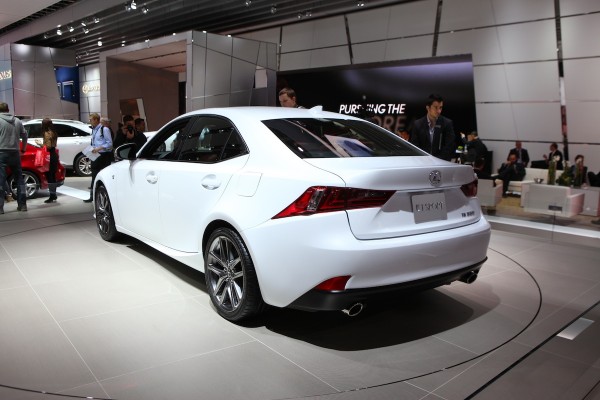 The F-Sport option includes an Adaptive Variable Suspension system for all models, with the IS 350 F-Sport getting Variable Gear Ratio Steering. F-Sport models will be identifiable by their bolder spindle grills and 18-inch wheels inspired by the ones on the LFA. The LFA cues continue on the interior of F-Sport IS models, with a center ring in the instrument cluster that looks straight out of the LFA.
In a market segment featuring big guns such as the BMW 3 Series, Audi A4, and Mercedes-Benz C-Class, it's just not enough for a luxury sedan to be comfortable and packed full of the latest-and-greatest technology anymore. Reliability is important, but it isn't as sexy as performance; Lexus is hoping it has found the right combination of the two with the 2014 IS. We'll all see how the public responds when the 2014 IS goes on sale sometime in mid-2013.