The Coca-Cola 600 capped off nine days of racing and race related events at Charlotte Motor Speedway on Sunday night. Kasey Kahne posted his first win of 2012 after leading the race for 96 laps. This is Kasey's is 300th Sprint Cup start, his first win of 2012, and the 13th of his career in the Coca-Cola 600 at Charlotte.
Saturday's main attraction was the Nationwide Series History 300 race won by Brad Kaselowski, his first victory and sixth top-10 finish in 2012. Penske Racing engines in the Dodge cars excel at being more fuel efficient over other builders. This strength allowed Brad to stretch his fuel during the race and secure his second victory and ninth top-10 finish in 12 races at Charlotte Motor Speedway (CMS).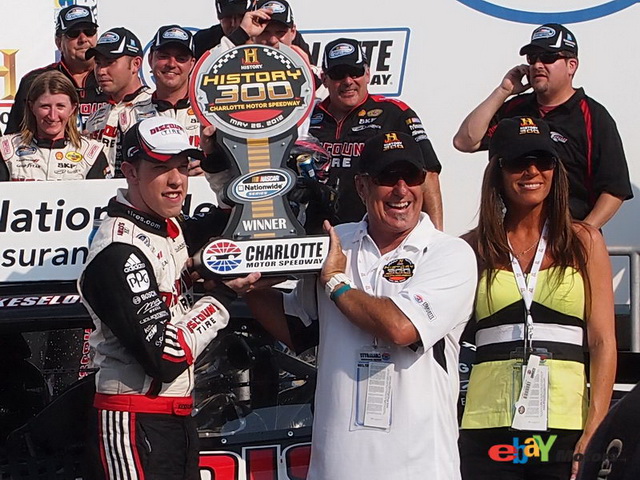 Saturday night's excitement did not end with Brad's victory. Global Rallycross racing came to Charlotte Motor Speedway for the first time, adding to the mayhem on the track with high intensity heats and eliminations. Names normally associated with the X-Games – Ken Block Tanner Foust, Dave Mirra, Travis Pastrana – tore up the tarmac and crashed into barriers with their 650 hp Subarus, Ford Fiestas, and Hyundai Velosters. These cars are deadly fast and can launch from zero to 60 in 1.9 seconds.
The race heats are short and fierce, and includes a mandatory shortcut which shortens lap times by 10 seconds. But each racer is only allowed to use  the shortcut once per heat. Ten racers advanced to the final 8-lap heat after three 6-lap elimination heats. Marcus Grönholm, driving the No. 3 Best Buy Mobile/OMSE Ford Fiesta, used the shortcut on the first lap and held onto the lead all the way to the end.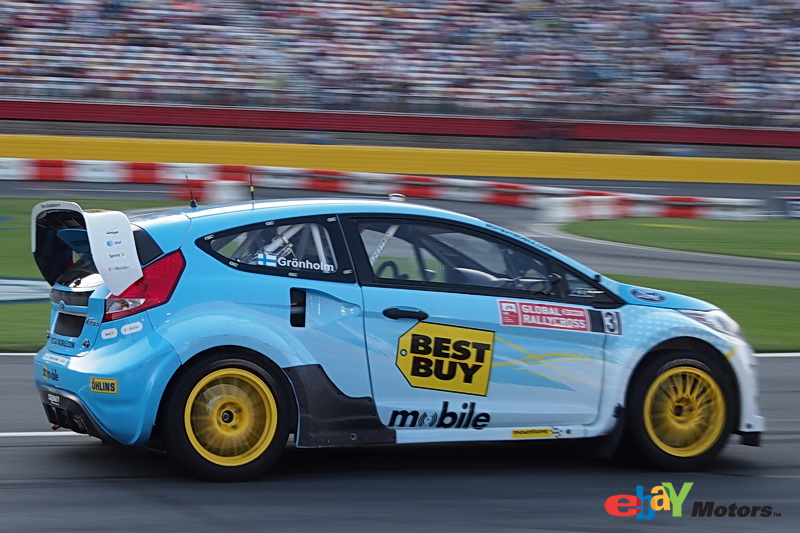 Race fans continued to party off the track at the Food Lion Speed Street fair. Live bands, driver appearances, food booths, and family activities turn Charlotte into its own Mardi Gras party. The free festival entertained an estimated 400,000 fans over three days.
NASCAR fans who were at CMS last Saturday watched Jimmie Johnson win the All-Star Sprint Cup race. Carrying over the energy and having a good pit stall position, courtesy of the team winning the Pit Crew Challenge the previous night, Jimmie Johnson won the first sprint heat and stayed in the back and out of trouble for the remaining qualifying heats. The strategy paid off and Jimmie won the final sprint race unchallenged and took home a $1 million pay check.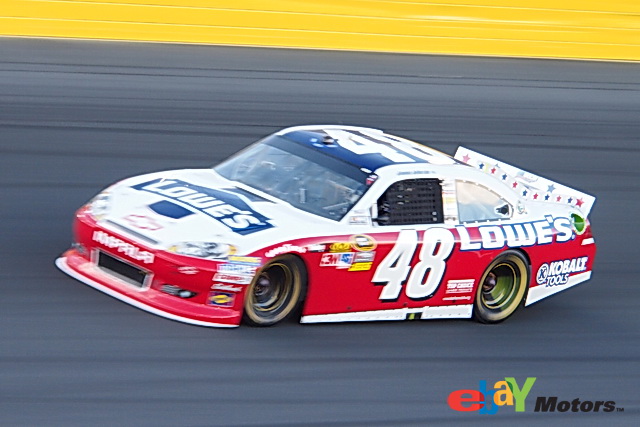 With a check that size, Jimmie could host his own nine day party.
NASCAR racing has its own celebrities in addition to attracting celebrities outside of the racing world. Brooklyn Decker (from the movie Battleship) and Rutledge Wood visited Charlotte to experience NASCAR mania. Photos of Brooklyn and Rutledge are in our Facebook photo album, along with recognizable racing favorites Danica Patrick, Richard Petty, and Tony Martin.
Link to eBay Motors photo albums: http://www.facebook.com/ebaymotors/photos