A very special Ford Mustang GT that was featured at SEMA last week is up for bid on eBay Motors right now. The Powered By Women Mustang GT was built under the direction of the SEMA Businesswomen's Network (SBN) by SBN members. The ladies of the SBN did a great job for a great cause; the final sale price of the 2013 Ford Mustang GT Powered By Women will go toward the SEMA Memorial Scholarship Fund which seeks to help educate the next generation of auto industry employees.
The Powered By Women Mustang GT, named "High Gear", was built from a design by Ford's Jennifer Seely and was chosen in an online poll out of three contenders. High Gear features a gorgeous L&G Enterprises custom 3dCarbon body kit with a Liquid Black Satin Candy paint job set off by the Creations 'N' Chrome custom Rose Gold Chrome wheels and accents. The interior continues the Rose Gold accents with trim pieces such as the shifter knob, along with decadent quilted suede leather-wrapped seats and interior door panels. Seely's design integrates modern luxury touches into the classic Mustang, making for a pony car that is instantly recognizable yet different.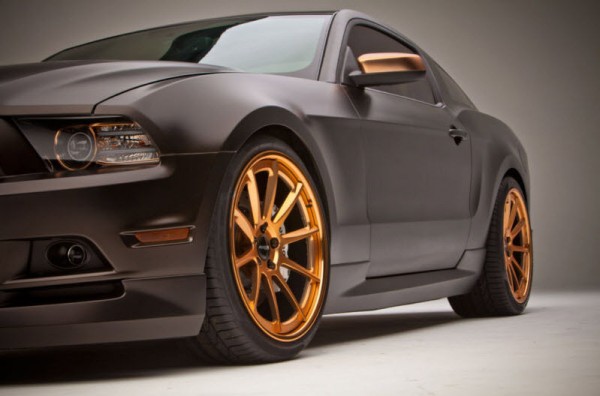 High Gear's customization isn't only skin deep, however. The 5.0-liter Coyote V8 sports an Edelbrock E-Force supercharger and MagnaFlow exhaust with custom black tips. The Advanced Clutch Technology (ACT) Heavy Duty Clutch Kit and XACT ProLite Flywheel give the proper six-speed manual the heft needed to handle all that power.
The High Gear build is a historic one, being the first all-female built car featured at SEMA. The SBN crew deserves all the praise in the world for showing all the boys (and girls) how to turn out one excellent Mustang. Place your bid to not only help a worthy cause but land yourself a heck of a car in the process!
Click to view the auction listing before it ends: Powered by Women High Gear 2013 Ford Mustang GT