eBay Listing: Extreme Polar Tacoma Truck used to smash world record to South Pole for sale on eBay
Using a state-of-the-art, specialized vehicle, a team crossed 700 miles of ice to smash a Guinness World Record. Learn about the journey, and bid on the truck that set a new world record.
Nearly two years ago a three-man team of adventurers headed to the South Pole in an attempt to beat the current world overland record of 2 days, 21 hours and 21 minutes. That historic journey also marked the 100-year anniversary of the first conquest by the Norwegian team led by Roald Amundsen, who successfully completed the epic mission on December 14, 1911. It was a 57-day trek to battle their dog sleighs over the Antarctic tundra.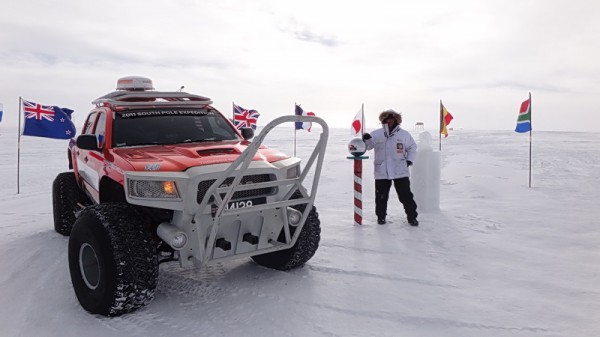 To date, less than 300 people have followed in Amundsen's footsteps, but Jason de Carteret led an elite team in a highly modified Toyota Tacoma carrying a crew of three: Kieron Bradley, a British engineer who works for Group Lotus, and Jason Thomas, a Canadian copywriter who won an online competition to fill the third seat.
The truck for this South Pole expedition was designed by UK transport design company Ian Nisbett Design Ltd and built by one of the expedition crew members who also happens to be a Formula 1 Engineer — Keiron Bradley. The design goal was to build a vehicle that will "help define a new era in faster and more flexible Polar travel". The lucky buyer gets a copy of the world record certificates and a copy of the Discovery Channel documentary on DVD.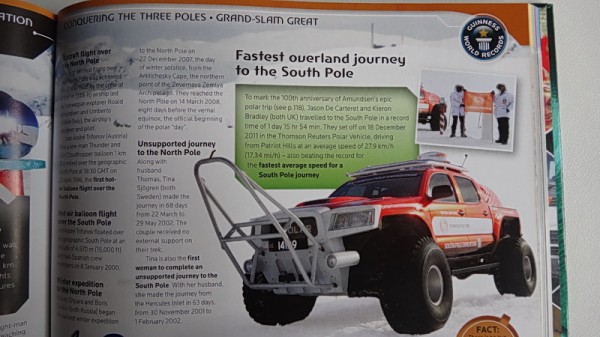 More importantly, the sale includes driver training for two days that covers operation of the vehicle's installed hardware and instruction how drive the vehicle.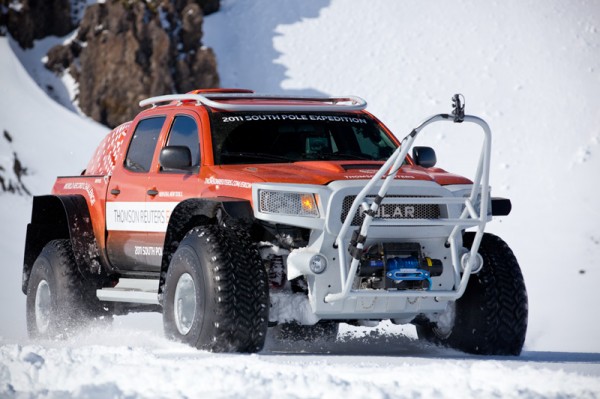 2010 Toyota Tacoma Truck modified for sub-zero journey to Antarctica
Mileage: 11,000
380 bhp supercharged 4.0L V6 engine
44-inch wheels and purpose designed suspension
1,200 liters fuel capacity
Race seats and race harnesses
Designed by vehicle architect Ian Nesbit
Built by F1 engineers and off-road specialists
Insulated cab with roll cage
Up-rated prop shafts and rear differential
Four custom fitted HD cameras
Twin air compressors
Twin batteries
Solar power
Satellite communication port
9-ton electric winch can be fitted front and back
Webasto engine heater
Custom roof rack
Exterior Color: Orange
Interior Color: Black
VIN: 3TMLU4EN3AM047504
Title: Clear
Watch or bid on the Polar truck before the auction listing ends on July 20 at 7 PM (PT): Polar – Guinness World Record Breaking Vehicle
Polar Truck field test before ensuing on Antarctic expedition

Jason de Cateret shows off the Polar truck to kids at Bentfield Primary School