Photo credit: Norman Woo
SEMA turns Las Vegas into Gearhead Heaven every October, and I was lucky enough to stumble upon an unassuming little 1971 Datsun 510 parked outside of the Las Vegas Convention Center.
The green car looked very clean and original — pretty much like the econobox, grocery-getter it was born to be, but it was really a sleeper.
First, a Chevrolet 350-ci engine was crammed into that tiny engine compartment. Second, the owner and builder is the famous Peter Brock. Yes, that Peter Brock — the guy who developed the original Corvette Sting Ray race car, the ultra-famous Shelby Daytona race car and the guy who originally turned Datsun's modest 510 coupes into world-beating SCCA TransAm race cars. BMWs and Alfa Romeos couldn't keep up to the Brock's 510s. Brock is also a world-famous car designer.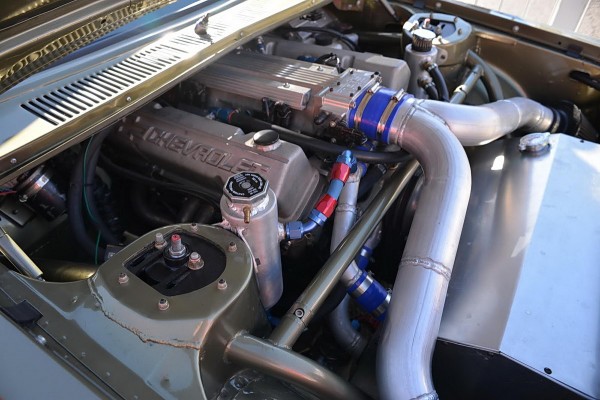 It appears that, after all these years, Brock still loves 510s.
"It started as a father-son project, but my son lost interest," Brock said with a laugh. "So, I just made it kind of a sleeper."
That 350 engine, much like the ones you can so easily find on eBay cranks out 300 horsepower, which really makes the light 510 scoot.
Brock installed a Braille Lithium battery, which is a lightweight racing battery that weighs less than 10 pounds, which is much lighter than the stock battery, which weighs 41 pounds.
"It's expensive, but it makes a big difference to a racer," Brock said.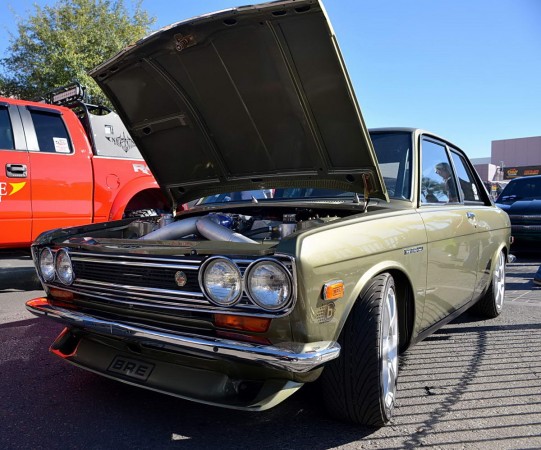 A front end from a 280Z also is in the car.
Brock's company, the famous Brock Racing Enterprises, which is based in Henderson, NV, built that sleeper of a 510. But if you look closely, you can see two big exhaust pipes under the car. And, when that 350 Chevrolet engine wakes up, everyone knows that car isn't a grocery-getter anymore.
Now might be the time to hunt down a 510 — whether you want a good economy car that made history — or you want to build a sleeper of your own.
"There used to be lots and lots of them, but they're getting hard to find," Brock said.