There's no doubting that on the second weekend of August, the place to see, smell, hear, drive, and appreciate the finest automobiles mankind has ever produced is California's Monterey peninsula. The centerpiece event is the Pebble Beach Concours d'Elegance, which was first conducted in 1950, but there is now an entire constellation of stellar shows, tours, and auctions crowded into the week leading up to the grand finale on Sunday to accommodate the hundreds of spectacular cars vying for the attention of thousands of eager enthusiasts.
Come along for a virtual tour of the sights and sounds of Monterey 2013 by clicking any of the images below.
Monday, August 12
The Quail Rally 2013 (Aug 12 – 14)
About: Launched in 1997, The Quail Rally is a three‐day drive preceding The Quail, A Motorsports Gathering. Comprised of 30 vintage automobiles from different car collectors, it is a good drive, with good friends, for a good cause. Participation is by invitation only.
Tuesday, August 13
Carmel's Concours on the Avenue
About: 18 blocks of downtown Carmel-by-the-Sea will showcase over 175 domestic and foreign collector cars. The event will focus on vehicles not usually seen during the 10 days of Pebble Beach motoring fun. These will include luxury cars, muscle cars, hot rods, and sporting cars.
Location: Ocean Avenue, Carmel-by-the-Sea
Time: 10:00 am – 5:00 pm
Wednesday, August 14
Pebble Beach Motoring Classic
Arrival in Pebble Beach and Exhibition
Little Car Show
About: Lighthouse Avenue in Pacific Grove lines up all sorts of tiny vehicles during Pebble Beach auto week. The 4th annual show this year will feature French vehicles, but expect to see fossil fuel powered micro, mini, and arcane vehicles under 1601cc and all-electric vehicles.
Location: On Lighthouse Avenue between Fountain and 16th Street.
Time: 12:00 pm – 5:00 pm
Gordon McCall's Motorworks Revival 2013
About: Gordon McCall's Motorworks Revival at the Monterey Jet Center is one of the most exclusive lifestyle events of its kind in the country. The one night event privately kicks off the World-Class automobile week held each August on the Monterey Peninsula. With an "A-List" of VIP guests from Hollywood celebrities to Captains of Industry, this "Jet Set" crowd arrives in first-class style, to feast on the latest offerings from some of the world's top luxury brands in a relaxed and elegant party setting.
Location: Monterey Jet Center
Time: 5:00 pm – 10:00 pm
Thursday, August 15
Pebble Beach Tour d'Elegance
About: Spectators on roads around Pebble Beach and Carmel-by-the-Sea will be transported back to the past as classic cars participating in the Pebble Beach Tour d'Elegance drive by on Thursday, August 15. The tour will depart Pebble Beach at 8 am and follow 17-Mile Drive and Highway One to Mazda Raceway Laguna Seca and ending at Ocean Avenue in Carmel-by-the-Sea. The cars will be displayed from noon to 2pm on Ocean Avenue, and then will return to Pebble Beach. For some of these vehicles, successful completion of the Tour will be their key to a win in Sunday's Concours.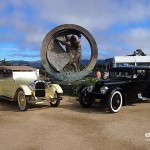 Pebble Beach:  Fabulous Firsts – gathering of the first production Lamborghini, a pair of Duesenberg Model A, and notable Porsche 901/911 sports cars marked a fine start to the weekend of automotive regalia ahead.
Friday, August 16
The Quail, A Motorsports Gathering 2013
About: The Quail, A Motorsports Gathering has combined a lush setting on a golf course nestled against the Santa Lucia mountain range with exceptional cuisine and the finest examples of vintage sporting automobiles seen during the week. Sponsors provide today's cream-of-the-crop luxury cars to be sampled by guests on local roads, and those who wish can also test their mettle on the Land Rover Experience Driving School off-road course.
Location: Quail Lodge & Golf Club, Carmel, Calif.
Time: 10:00 am – 4:00 pm
Concorso Italiano
About: The 28th annual Concorso will again honor Italian vehicles and style with everything great from Italy including cars, fashion, food and wine. This year's Concorso Italiano celebrates the 50th anniversary of Lamborghini. Festivities include a gathering of Lamborghinis in record numbers on the Concorso fairways with a special centerpiece display featuring every model.
Location: Laguna Seca Golf Ranch, Monterey, Calif.
Time: 9:00 am – 5:00 pm
Legends of the Autobahn
About: the fifth annual Legends Of The Autobahn concours d'elegance and show features German enthusiast marquees — beautiful BMWs of all ages, as well as entrants from Porsche, Mercedes-Benz, (and for the first time) Audi clubs.
Location: Rancho Cañada in Monterey (Carmel Valley)
Time: 9:00 am – 3:00 pm
Info: Legends of the Autobahn

Rolex Monterey Motorsports Reunion (Aug 16 – 18)
About: Recognizing the power, performance and durability that has made Corvette America's beloved sports car, Chevrolet has assembled a collection of Corvettes that have remarkable pedigrees for a special exhibition at the Rolex Monterey Motorsports Reunion August 16-18. The annual event on the Monterey Peninsula this year celebrates the rich 60-year history of the Chevrolet Corvette, widely hailed as America's Sports Car.
Location: Mazda Raceway Laguna Seca
Saturday, August 17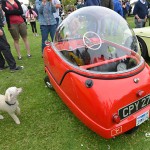 Concours d'LeMons
Sponsored by Hagerty Insurance, the Concours d'LeMons is a celebration of the oddball, mundane and truly awful of the automotive world.
Location: Laguna Grande Park in Seaside, CA
Time: 8:00 am – 1:00 pm
Info: Concours d'LeMons
Sunday, August 18
Pebble Beach Concours d'Elegance
Location: 18th Fairway at Pebble Beach
Time: Dawn – 5:00 p.m.
Auctions
Visitors with deep pockets who want to do more than look at the cars can attend auctions throughout the week.
Mecum Muscle Cars and More
The Hyatt Regency Monterey hosts muscle cars, motorcycles and more during the Mecum Auction. The general public is invited to view items up for sale August 15-17.
Bonhams & Butterfields Auction
One of the largest and oldest auctions take place at Quail Lodge Golf Club on August 16. Spectators can view and bid on rare automobiles, fine art and antique pieces.
RM Auctions' Sports & Classics of Monterey
Fine classic cars and unique sports cars, including a dedicated Ford-themed auction, will be auctioned at RM Auctions' Sport & Classics of Monterey at the Portola Hotel & Spa, August 16-17. In total, over 200 investment cars will be auctioned off. Preview passes are $50; a $300 bidder registration includes two preview passes, two auction passes and includes an auction catalog.
Russo and Steele
"Sports and Muscle in Monterey" by Russo and Steele takes over the waterfront of Old Fisherman's Wharf August 15-17. Previews open on Thursday, August 16th and the auctions will be held August 16th and 17th.
Pebble Beach Auctions Presented by Gooding & Company
The Pebble Beach Auction is one of the premier automotive auctions in the world and has set many world records. The auction itself takes place on August 17 and 18, but window-shoppers can admire the breathtaking displays of automotive magic beginning on August 14th.
Art and Accessories
Seaside's Embassy Suites hosts Automobilia Monterey, an exhibition of original vintage posters, hood ornaments, signs, scale models, and much more, all connected to the history of the automobile on August 13 and 14. Many items will be for sale; there will also be a silent auction.
Visitors to Pebble Beach can enjoy Pebble Beach RetroAuto, an exhibit showing not only automobiles from the past, but photos, tools, and other objects associated with automobiles of yore. The RetroAuto pavilion is open from 10am to 5pm on Friday, August 16 and Saturday, August 17th and 8am to 6pm on Concours Sunday, August 18.