For this year's Rolex Monterey Historics, I brought one of my favorite new vintage race cars, Paul Newman's 300zx 2+2 turbo. I've only driven this car once, to get the feel of it at a rich white guy track day at Laguna Seca earlier in the year. Before this event, though, the car hadn't been raced since Paul Newman himself drove it in 1988.
This event is incredible. As many others have said, the Monterey Historics is like an automotive museum, except the cars get fired up, and then they get driven hard. From the Stutz Bearcat chitty-chitty bang-bangers to the outlandish '70s Can-Am cars to the blindingly fast almost modern GTP cars, there are experienced drivers behind the wheel and they are getting it on.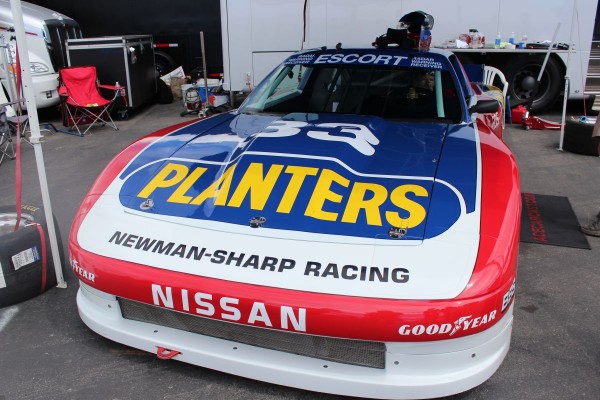 When I ran this car at Winter Speed Days, I had driven it with the original Paul Newman body. We had a nearly complete extra set of panels for the car, so I had the spare body repainted and re-badged. I have to give a tip of the hat to Les Cannaday of Classic Datsun, who made sure the body came out flawless, right down to the last decal. He even made some new fiberglass panels for the front fenders. It looked amazing with fresh paint and stickers.
As perfect as the new body had come out, I was, of course, obsessed with how dusty the inside of the car had gotten at the body shop. Paint and body guys never cover your car, so a ton of dust and overspray always finds its way inside—especially in a race car with no side windows. To be fair to me, keeping dust out of my race car has always been a point of contention. So, being a proactive kind of guy, I brought along a little cordless vacuum from home. I even went out and bought a Swiffer duster to go in our trackside kit. I was determined that the inside of this car would stay as clean as an operating room. Can you guess where this story is going?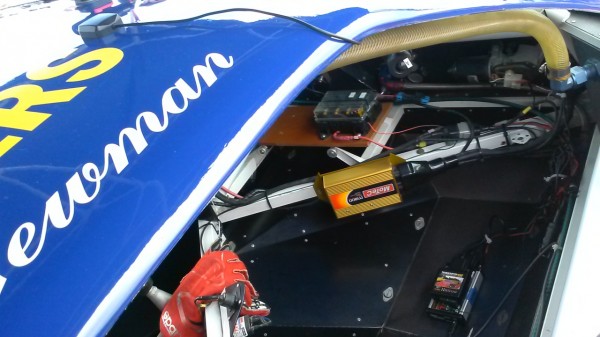 I actually did the practice run for once, because I wanted to try out my heel-toe technique. It proved impossible to do, since the brake pedal wasn't lined up with the accelerator anymore. We had moved the brake and clutch pedals back so that I could fit in the car, but we weren't able to move the accelerator. That was a letdown, but truth be told, it was one less thing to think about.
I felt confident and qualified in the top 15 of a huge class of something like 46 cars. There were monster cars in my class, like that DeKon Monza, a 935 Porsche, a couple of BWM M1 pro cars, and gigantic, wide-body Corvettes. I was never going to beat them, but at least I didn't feel wildly underpowered against them anymore.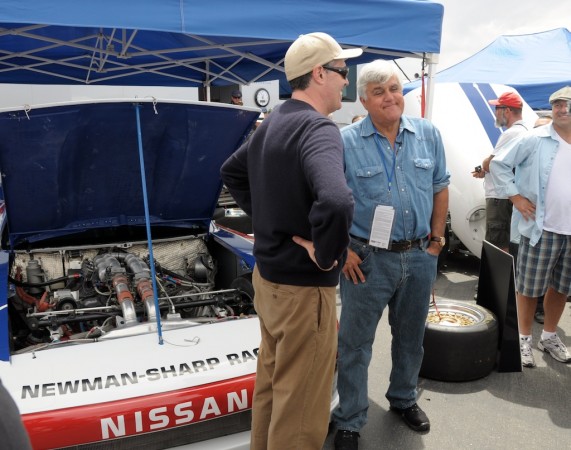 Watch the race video below for all of the action and my play-by-play analysis. Spoiler alert: I wind up in the dirt trying to avoid hitting a Porsche 914/6, ironically the least expensive car in the run group. The 914/6 drove his line and I'll chalk up my spin out to driver's error on my part. But somewhere around lap eight, when you're down about 400 hp and you're racing against nobody but yourself, maybe you should keep your eyes in the rear view mirror just a little more.
The worst part isn't even that my car got into the dirt, but how much of the dirt got into my car. An army of dust busters couldn't clean out the interior after that spin-out. We literally swept out a 5 gallon shop bucket of dirt.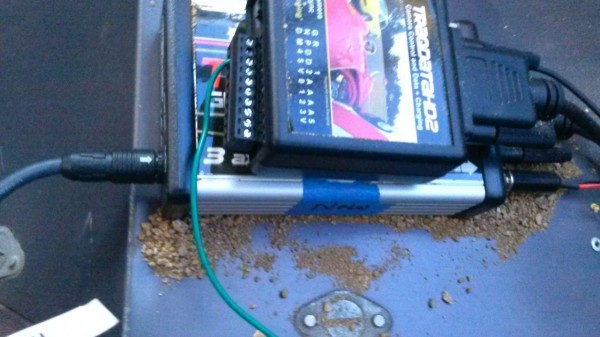 It makes for good video footage at least. My loss might as well be your gain. Thanks to ReplayXD for their great bullet cams and we've added a super-cool, new feature with race data right in the video, courtesy of our friends at Traqmate.com.
---
Hear more from Adam Carolla by subscribing to CarCast on iTunes or visit CarCastShow.com