Likes:
Improved fuel economy
More torque available at lower revs equates to better off-the-line acceleration
Significant engineering achievement decreasing weight and reducing emissions
Minimal turbo-lag
Dislikes:
Mild horsepower rating equates to mid-speed acceleration (40 – 60 mph) that is weak
Not a good match with heavier cars such as the VW CC
Still a little raspy sounding before the engine reaches full operating temperature
Challenged with stricter emissions regulations and higher CAFE fuel economy standards, Volkswagen engineers have been working hard to update their small displacement engines knowing the tried-and-true gasoline engine still has some potential left in it.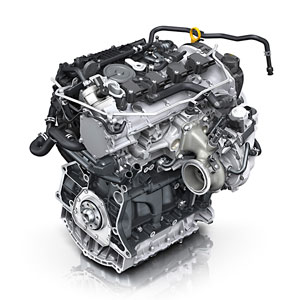 Available as standard equipment with the Jetta, Passat, Golf, Beetle, CC and Jetta Sportwagen, the most common engine variations offered by Volkswagen Group of America have been its 2.0L 4-cylinder (normally aspirated and turbocharged) and 2.5L inline 5-cylinder engines –. The normally aspirated 2.0L I4 makes 115 hp and 125 lb-ft of torque offered in the base model of the Jetta is simply pathetic; the 2.0L turbocharged version is much better, produces 200 horsepower, and is offered in the CC, Eos, GTI and Tiguan. The normally aspirated 2.5L I5 engine is good for 170 hp and 177 lb-ft torque are available engine choices for the Jetta, Jetta Sportwagen, Passat, Golf and Beetle.
Enter a New Era
Recently Volkswagen has introduced the Group's third-generation EA888 1.8-liter TSI four-cylinder engine in the 2014 Jetta and Passat, followed by the 2014 Beetle. The 1.8-liter unit produces 170 hp and 184 lb-ft of torque as early as 1,500 rpm. The 1.8L TSI engine is widely believed to be the ideal solution for the U.S. market's aging 2.5-liter four-cylinder units. Remarkably, the horsepower is the same as the outgoing 5-cylinder 2.5-liter engine, but it delivers 7 lb-ft more torque at 2,750 fewer revs and better fuel economy. The 2.0-liter turbocharged version of this engine already made its debut in the 2013 Beetle and Jetta GLI, boasting a 10 horsepower improvement for an output of 210 hp.
Mated to an automatic or a manual transmission, the new EA888 offers up to a 17% decrease in fuel consumption while providing even better acceleration. While the actual fuel economy varies by model, the Jetta equipped with the 1.8T and a six-speed automatic transmission now gets 36 mpg on the highway, up from 31 mpg for the 2.5-liter engine. At the same time, the city mileage improves from 24 to 25 mpg, and the overall EPA estimated combined fuel economy is now 29 mpg compared with 26 on the outgoing 5-cylinder engine.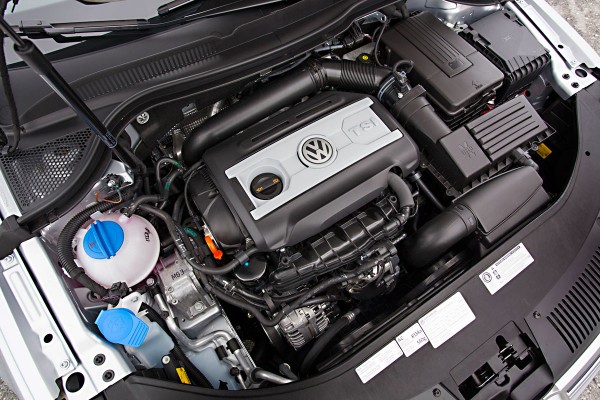 As well as offering better fuel economy, the new engine's additional low-speed torque has enhanced the performance of the cars fitted with the engine: the manual transmission Jetta 1.8T now goes from 0 to 60 mph in a manufacturer estimated 7.3 seconds, an improvement of 0.7 seconds over the 2.5-liter model.
Designed to be lighter and more efficient, the new EA888 Gen 3 turbocharged and direct-injection four-cylinder powerplant has a number of significant improvements, including a unique cylinder-head-integrated exhaust manifold with exhaust gas cooling. This is the first implementation of such a system in a turbocharged direct-injection four-cylinder gasoline engine.
The new engine design incorporates an integrated cylinder head and water-cooled exhaust manifold, which further reduces heat under full load. This new design eliminates the need to enrich the air/fuel mixture under full load, resulting in a reduction in fuel consumption of approximately 20 percent when driving at highway speeds.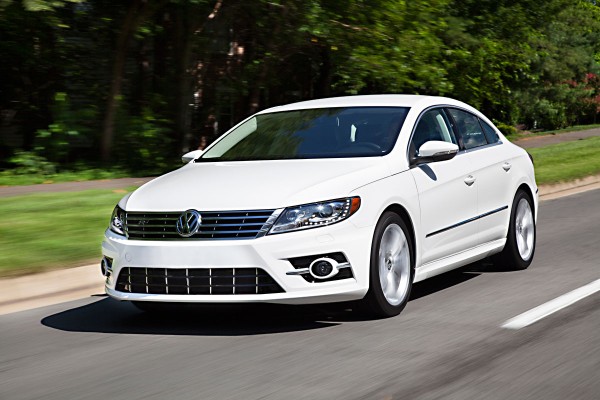 Several more innovations contributed to improved performance and fuel economy such as reducing engine weight, lowering the amount of internal friction, and redesigning the turbocharger to withstand higher pressures and exhaust temperatures. A new electric wastegate adjusts the boost pressure, when power is not needed, to help reduced fuel consumption.
Driving Impressions
We test drove the 2014 Passat and 2014 Jetta outfitted with the 1.8L turbocharged engine and noted the torque curve is strong and flat from 1,800 to 4,750 rpm. According to VW, peak power is supposed to be available as soon as 1,500 rpm, but we really began to detect the Jetta and Passat pull stronger starting closer to 1,800 rpm.
Volkswagen TSI engines are widespread across Volkswagen passenger cars, Audi, Skoda and a few other applications. The benefits are obvious: high specific torque available at much lower revs and maintained across a broad rpm range. After sampling the new generation EA888 engine in the Passat, Jetta, CC, and Beetle, we could easily see the cars were much more lively at lower revs, which in turn makes them more economical and cleaner.