2015 Volkswagen Golf R: VW's Best Golf Yet…But is That Enough?
Volkswagen recently revealed official plans for the next generation Golf R, and while the new Golf R looks a heck of a lot like the old Golf R, there's more here than meets the eye. The new design is more powerful and more fuel efficient than any Golf R (or R32) in history.
In the last week of August, VW shared some details on the Euro-spec Golf R, and these specs will mostly carry over to the U.S. model. The big items:
For 2015, the Golf R will get a 40 horsepower boost, coming in at 296 hp, as well as a 37 lb-ft torque increase to 280 lb-ft of torque
The next-gen Golf R will feature the electronically controlled Haldex AWD system that will also be found in the 2015 GTI
The next-gen Golf R is also lighter than the outgoing model – about 100 pounds lighter. This might not seem like much, but it's good for a 1-2 percent improvement in fuel economy as well as slightly improved lap times.
Basically, the Golf R will be a sportier version of the GTI, with more power, a slightly lower center of gravity, more aggressive styling, and of course a higher price tag (no word yet on MSRP, but it will likely be close to the current Golf R's $37k asking price).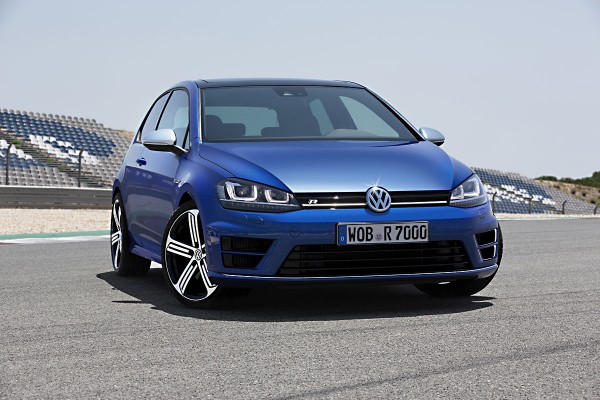 Exciting New Mechanicals
Powering this next generation Golf R is the EA888 turbocharged 2.0L introduced into VW's 2014 line-up. With direct injection and port injection, variable valve timing on both sides of the head (intake and exhaust), and variable valve lift, the EA888 is anything but a simple 4-banger. Add on the turbocharger – which can produce slightly more than 17 pounds of boost at sea level – and you end up with a high-tech motor that generates nearly 150 horsepower per liter of displacement.
What's more, VW claims that the Golf R's torque curve will be flat from 1,800 rpm all the way up to 5500 rpm. Flat torque curves make for driving fun, as you've got full power no matter what gear you're in (at least once you're rolling, anyways).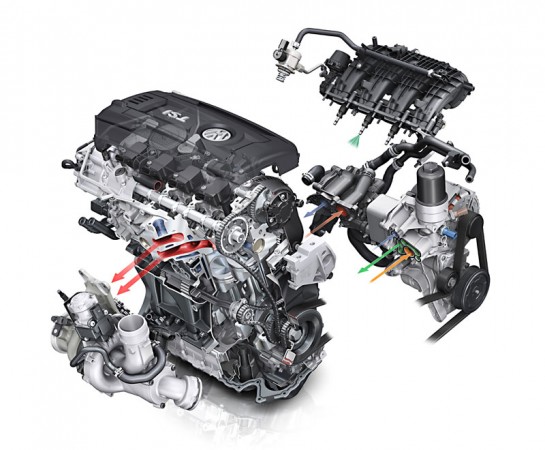 However, what makes this Golf R even more exciting is the electronically controlled Haldex differentials paired with an AWD system. While you'll have to head to the track to notice it, this system's ability to electronically vector thrust to improve handling is a modern automotive marvel.
With a lower curb weight, substantially more horsepower, and all-wheel-drive, VW promises that the Golf R will lay down an impressive 0-62 mph in 5.3 seconds. That's in the same basic performance range as the current 2013 Subaru WRX STi (4.9 seconds), Genesis .38 R-spec (5.3 seconds), Mustang V6 (5.6 seconds), as well as the Ford Focus ST (5.9 seconds). It's not known which transmission will be offered on the US-spec R when it arrives next year, but it's likely to be a relatively simple 6-speed manual transmission.
Finally, the new Golf R is also going to burn less gas. VW estimates the new Golf R is about 18 percent more efficient than the current model, with Car & Driver pegging the Golf R's EPA ratings at 33mpg on the highway and 22-23 mpg in the city. This is another big benefit for Golf R buyers – a top rating of 33mpg is likely to be the best available for a car with this kind of performance.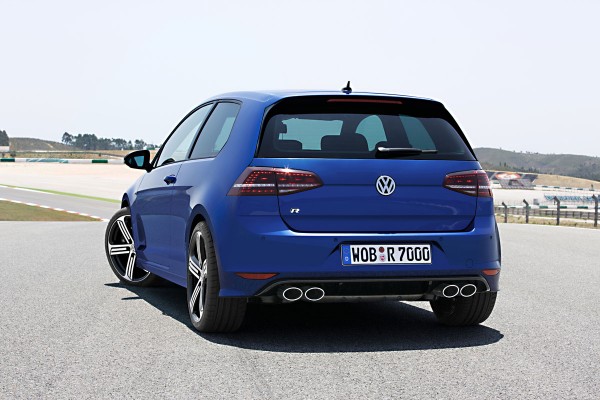 Will The New Golf R Separate Itself From the Competition?
There are quite a few performance cars available to you if you have $40,000 to spend. In addition to the new Golf R, you can look at:
Subaru WRX STi, which offers 2 more doors, 10 more horsepower (a 2013 is rated at 305hp), Brembo brakes, and a giant hood scoop for about the same price.
Mitsubishi Lancer EVO GSR, which boasts more torque (300 lb-ft), similar horsepower, and styling that screams "TUNER!" for the same $35k (or so) MSRP.
Ford Focus ST, which isn't nearly as powerful (252hp) or as fast (5.9 second 0-60), but is also about $10k less.
A new Ford Mustang GT, Camaro SS, Hyundai Genesis 3.8 R-Spec, and a half a dozen other sporty cars that aren't directly comparable yet similarly priced.
This list isn't meant to suggest that the Golf R isn't special or unique – the Golf is consistently praised for it's styling (inside and out), refinement, and practicality. The point here is that there are LOTS of options available for the same asking price as the Golf R.
In my opinion, that's always been the problem with the GTI and Golf R – they're great looking, they're finely tuned, and they're pricey. Any sort of dollars per horsepower type of analysis inevitably leads a potential buyer to a rival product. While "bang for the buck" analysis overlooks the Golf R's combination of poise, performance, and oh-so-Euro styling, it's easy to understand why someone might look past a $37,000 Golf R when a similarly-performing Focus ST is available for nearly $10,000 less.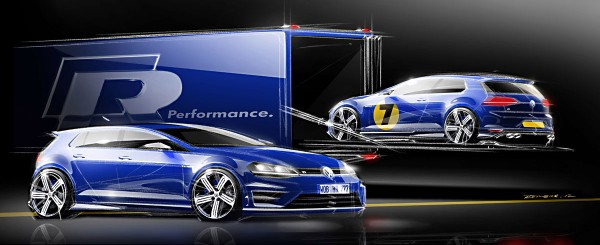 Therefore, it seems safe to assume that the Golf R will remain a niche model with limited appeal. While the car offers an excellent array of features, lower priced rivals will always be available. What's more, the 2015 Golf R will be sharing the stage with an upgraded WRX, the 2015 Mustang, and whatever else captures the imagination of the public in the coming year. It's a great car – the best Golf R yet, in fact – but it's going to need a price reduction if it's going to stand out from the crowd.
# # #
Author Jason Lancaster is the editor of AccurateAutoAdvice.com, a website that helps consumers navigate vehicle purchase and ownership. Jason is a long-time automotive enthusiast, amateur racing fan, and has worked in the auto industry for more than 15 years.