Getting Back in My Element
"You look like someone who is finally home after being away for a while," said Dave Muscarella (aka @DaveMuscarella via twitter).

It felt exactly like that and more. It was like the saying "just like riding a bike", except with a brand new cushion seat, new shoes, a new paint job, some extra motor power and perfect weather.
It would be my first race in two years; my first ever stock car race; my first time doing pit stops, and the longest race of my career (200 laps). I would be hard-pressed not to look at it as "my shot" to take things to the next level in my career.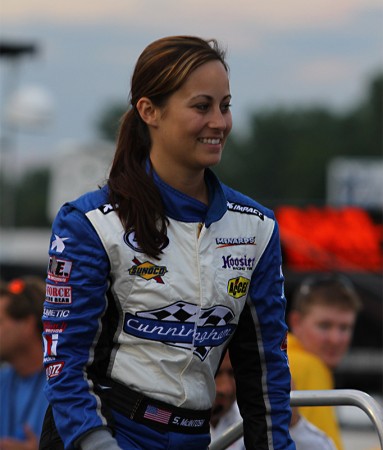 The time was finally here and I felt prepared mentally and physically. I got to the track around 10 AM and it was nonstop after that. First, I was to attend the rookie driver's meeting where one other new ARCA driver and I got the run-down for the day. Then, it was on to the official driver's meeting where I would stand side-by-side and most definitely a couple feet shorter than the vast majority. Finally it was time to get ready for practice.
I was calm and ready. We went out for the first run and it felt good. We had a little push on exit and made multiple changes throughout the first session. It was really helpful for me to see the pace everyone was at and to run side-by-side with other stock cars for the first time. We made more changes and ended the first session 15th out of 26 cars with a good idea of where we wanted to go with the car and boy, it was fun!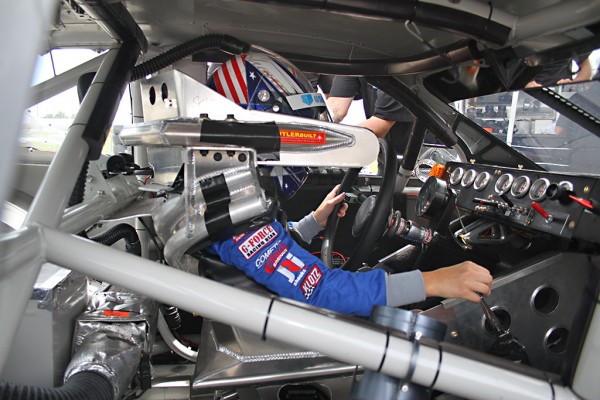 45 minutes seems like a good amount of time but when you're in and out of pit road trying to find the sweet spot as fast as possible in practice, the sessions go by quick! Our second practice was very busy with changes but we found what we wanted towards the end. The guys got everything tightened up with a few minutes left in the session and it was out of pit lane as quick as possible. We were able to get one lap in for a mock qualifying attempt before the second practice was over.
When I returned to the pits, I talked to my crew chief, Paul Andrews, and my spotter, Kevin Hamlin, about the car and qualifying.
I would be 5th in line for qualifying. Unfortunately, I didn't get enough heat in the tires out of pit lane coming to green and made a mistake off Turn 2 getting sideways. I wasn't able to save it but fortunately kept it out of the wall. Our qualifying session was done and I was unable to log a time so that put us at the back of the field for the race. The beauty of this incident is that you don't know the true limit of a car until you step over it, and I learned what I've got to work on for next time.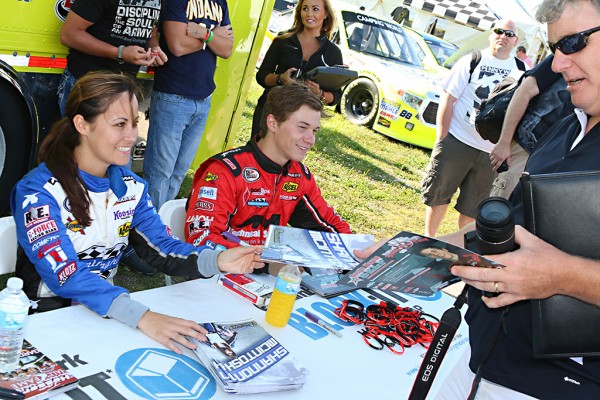 Fortunately, I didn't have much time to harp on qualifications because the autograph session was next on the schedule. Autograph sessions are always uplifting because I have so much love and appreciation for our sport's fans. Without them, racing wouldn't exist. I was also able to see many of my family and friends who came from my hometown of Miamisburg, Ohio, which was really cool and humbling for me!
Before I knew it, it was time for driver introductions and I very well may have had the loudest fans in the stands! The sun was setting and we were rolling off pit lane in position for the start of the race. After a few pace laps, it was time to go green.
We were very loose at the start of the race, so I got on the radio about 15 laps into the race and I told my crew chief what the car was doing. About 50 laps into the race, we had our first caution and time for my first pit stop. Fortunately, our pit box was the first one in pit lane, but unfortunately, it was dark and very hard to see. I cruised right into the box and dang, the pit crew seems even faster from inside the car! Tires, gas, mechanical changes, and I was off again.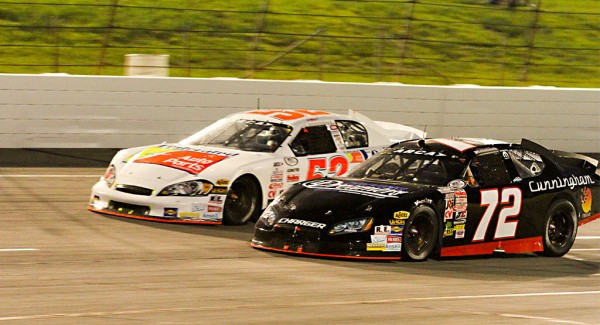 Thankfully, we were able to pit under caution. At this point, I was hopeful the car would feel better and I had the opportunity to take a breath and refocus on what I came to do: progress, learn and keep the car in one piece. From that point, things started to really come together. The car felt better right away and I started to find my rhythm and pick up positions.
Towards the end of the race and after our third pit stop, things really started to click and I was running the same times as the leaders. When learning a new car and discipline, sometimes you just need "laps" to figure things out. The best part was when I started passing other cars and doing what I love most about racing; head to head fighting for position. I was able to pass several cars towards the end of the race and finally felt in my element again. As Dr. Pat Sullivan (NASCAR, INDYCAR and USAC announcer) once said, "What Shannon can do – and I do not say this facetiously – is pass cars."
Although I thought 200 laps was going to feel like forever, it flew by and the checkered flag was thrown. I finished the race 15th of 32 cars after starting 29th. I had a great team and have to thank my guys for working so hard all day.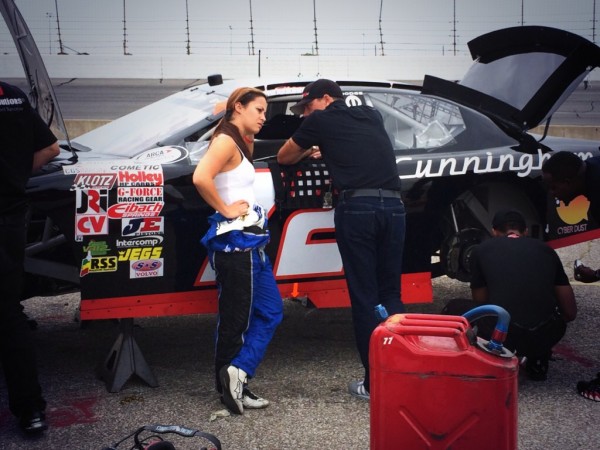 I try to look at things positively to take something good out of everything, and I can say that I am truly happy with the entire race day. Even though qualifying didn't go as planned and it was a not so great start to the race, perseverance paid off, once again. It was really great to have someone like Kevin Hamlin (former Ganassi development driver) spotting for me because as a former driver, he gave great guidance and feedback.
The next morning, I got a call from Cunningham Motorsports co-owner Kerry Scherer. Kerry is a businessman and someone who loves to win. He knows the sport and has helped build one of the most successful teams in the ARCA series. To be honest, it always makes me a little nervous and anxious to see his name pop up on my phone!
We had a GREAT conversation and Kerry was impressed and proud of my performance. I can't tell you how good it feels to hear that your team owner is happy with you and continues to believe in your future!
Several very important people made this race possible. I am so thankful and forever indebted to Cunningham Motorsports' owner, Briggs Cunningham for giving me the chance. Of course, I have to thank Cunningham Motorsports co-owner Kerry Scherer for believing in me from the first time I called him in 2010. These days, opportunities like this are extremely rare and there are no words to describe my appreciation.
I want to thank Mark Cuban and Cyber Dust for being a partner. It was really cool to have Cyber Dust on the car. Also, a huge thanks to the ARCA Racing Series presented by Menards for being so welcoming in my first race. Here is a great news article from ARCA that came out after the race: Three Top 15 Finishes at LOR is Good News for Cunningham Motorsports