Updated: June 13, 2013
American Muscle. That statement brings to mind so many great cars from the mid-sixties until somewhere in the early seventies. For 'Mopar fans it couldn't have gotten much better from 1966 till 1974. Names like Charger, Challenger, Roadrunner, Superbee, Superbird, Dart, Daytona, Duster, Demon, and of course 'Cuda (short for Barracuda) all were competing in a seemingly flooded marketplace for glory on the streets and racetracks across the country. While the 426 Street Hemi V8 engine is a monster, some have said that the 440 V8 was a bit more livable on a daily basis with comparable power. We wouldn't touch that argument with a ten-foot pole because someone is bound to have another opinion. We will say that we always loved the old adage, "there's no replacement for displacement." And, that being said both of those engines were and are monsters in their own right.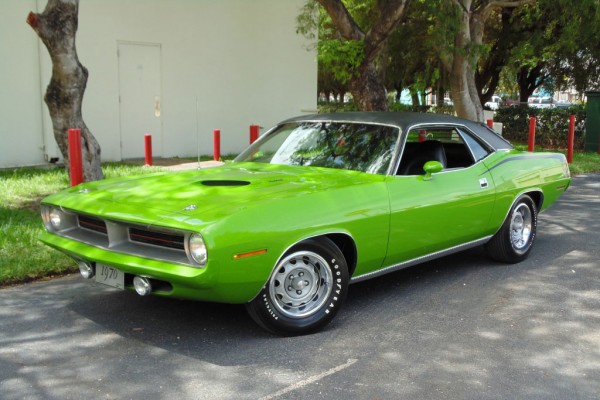 In 1970 Mopar was a tad late to the Pony car race but they got their act together and brought out the redesigned Plymouth Barracuda that bore a striking resemblance to another Mopar, the Dodge Challenger. The cars being produced by the other two big manufacturers were similar with a short rear deck, a long hood, and housing massive engines. Depending on the year of production, the Plymouth Barracuda was offered with engines as basic as a 225 C.I slant six format, all the way up the range topping 440 six pack and 426 Hemi V8.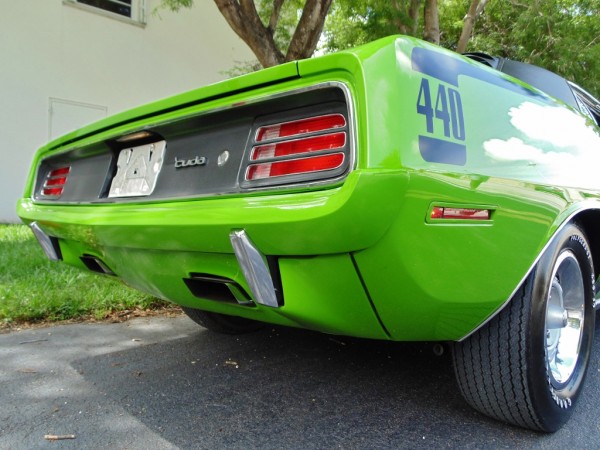 The car being featured today is a heavily documented number matching 1970 Plymouth 'Cuda in Sassy Grass Green that uses a 440 V8 to melt the tires. If our source is correct, only 618 units were made that had a 4-barrel carb'd 440 V8 and automatic transmission.
According to the seller, this 'Cuda was rotisserie restored, which means it was disassembled and put on a turning rotisserie to ensure every inch has been looked over. The paintwork and attention to detail on this 'Cuda appear immaculate, and the pictorial representation second to none. The numerous options include – power front disk brakes and steering, a Rally Dash tachometer and gauges, a slap stick shifter, bucket seats, a console, fender mounted turn signals, factory fog lights, and 15-inch rally wheels. Ride setup consists of a Hemi firm ride suspension, Hemi Skid plate, firm ride shock absorbers, and heavy-duty leaf springs in the rear. Finally, the green machine sports a Dana 60 track pack rear end with 3.54 gears from the factory.
American Muscle. As it was in the 'Beginning,' is now, and will be the 'End,' — it doesn't get much better than that.