On January 28th, six students and one teacher converged at Moto Shop to begin the Engine Rebuild Class. They were divided into two teams and given a motorcycle that had unknown engine problems. One was a 2005 Suzuki SV650, the other a 2000 Yamaha R6. Their engine rebuilding adventure was about to begin, attending 3-4 hour sessions every Thursday evening for the next two months.
Very little was known about these bikes, so the first step in the process was diagnostics. With the help of their instructor, the students performed compression and leak-down tests to help clue them in to what was wrong with each engine. They were able to determine that the R6 had some serious head problems, with air leaking past many exhaust and intake valves. The SV650 had more promising results as far as compression went, but there was still the awful knocking sound when the engine was run.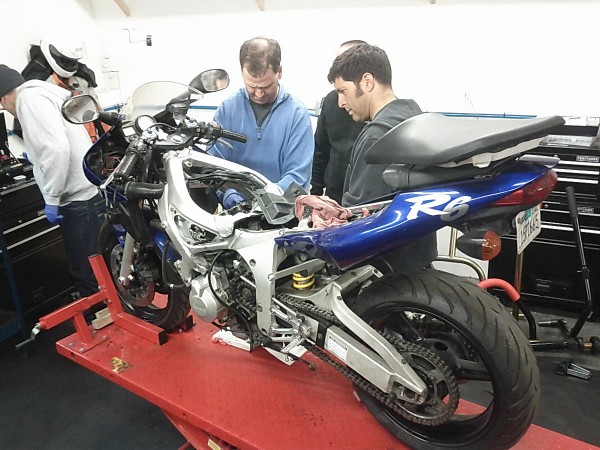 With a shop manual in hand and the right tools, each team set out removing the engine from their bike, and then proceeded to disassemble it. Each student paid close attention to the other's actions, knowing full well that in a few weeks they would have to put it all back together again. Dubious notes were taken, parts were put into labeled bags and bins, and an occasional photo was snapped. Thanks their instructor, Amir Avneri, who had vast experience in building motorcycle engines, the students always had an expert to rely on when they needed.
It was determined that rebuilding the R6 cylinder head would take too long, therefore a replacement was the best solution. A new head was out of the question, so the search began for a used cylinder head on eBay. Luckily there were quite a few available from all corners of the globe, and after comparing them all in terms of location, price, and most important compatibility, a used head was on its way. Several new parts were also required, such as gaskets and a new piston, and orders were placed for these as well.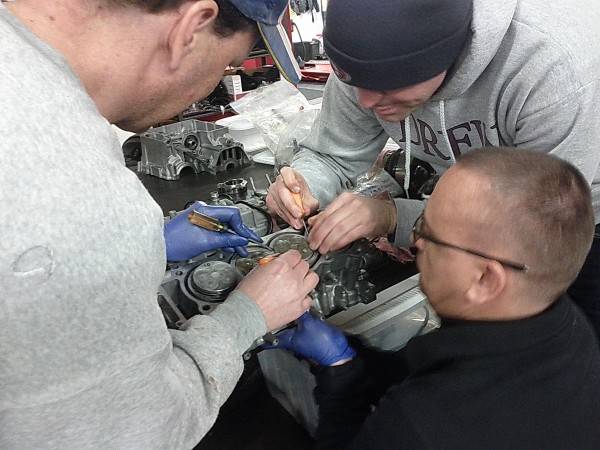 The SV650 team ran into a problem when they couldn't find a used crankshaft available for their bike. Luckily the eBay Motors fitment tool had been used by one seller, and that helped them determine that a DL650 (V-Strom) crankshaft had the exact same part number and could be used. They found one in good shape and placed the order.
Over the next few meetings, the students worked together cleaning and organizing parts, and finally reassembling everything back together. The engine cases they disassembled are in fact more than just an engine – most motorcycles have the engine, clutch, and even the transmission housed in one unit, making for a very complex assembly. But with the guidance of their instructor and the factory service manuals, all went back together relatively trouble free.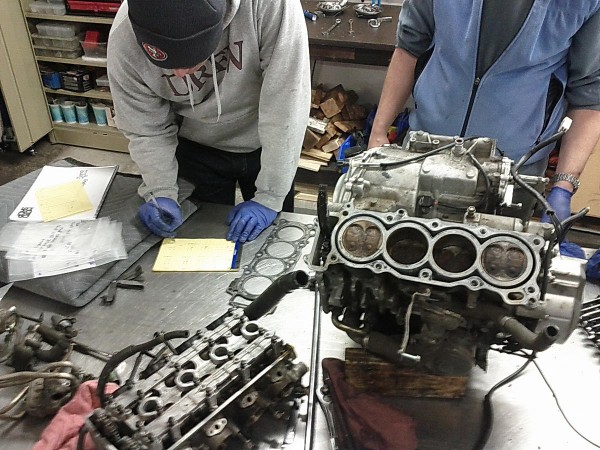 When it came to the final evening, all the students had the same question on their minds: would this complicated collection of parts actually run? The newly rebuilt engines were installed into the motorcycles, hoses and wires reconnected, carburetors and throttle bodies installed, oil filled, and gas lines connected. The keys were turned to on, clutches held in, chokes set, and starter buttons pressed…there were a couple hiccups and sputters, and then to everyone's amazement…. VROOOOM! Both bikes fired right up, and they sounded great!
# # #
About Amir Avneri
Amir has fourteen years of motorcycle repair, tuning and race preparation experience. His professional motorcycle career started many years ago when he graduated Top 5 in his class from the Motorcycle Mechanic Institute in Phoenix, AZ. After working as a line mechanic at Fun Bike Center, the largest motorcycle dealership in San Diego, he took a job as the head mechanic at Pacific Motorsports in Oceanside, CA. The shop owned a Dyno Jet dynamometer, which was a rare piece of equipment in those days. Enjoying the capabilities afforded by the Dyno, Amir quickly gained a reputation as a performance tuner and engine builder, and began road racing at local race tracks himself.
About Moto Shop
This is a different kind of motorcycle shop – it's a place where anyone can come and work on their motorcycle (street, dirt, or scooter), with or without help. You have all the tools you need and the space to do it, for a very reasonable cost. They offer reservable work stations with lifts and tools you'll need to perform maintenance and repair on your motorcycle.
For those not comfortable working on their own bike but interested in learning, attend one of their workshops and learn how. Workshops are hands-on and will teach you to perform the various tasks required to maintain your motorcycle. Students work on their own motorcycles during each workshop, while a mechanic leads the way.
Moto Shop
325 South Maple #20
South San Francisco, CA 94080
(650) 873-1600
http://www.motoshopsf.com
https://www.facebook.com/MotoShopSF