America's Best Road Trip — exploring the Lost Coast and a scenic drive along Avenue of the Giants
One day, my friend Armin asked me if I wanted to head up north for a weekend road trip to ride some incredible stretches of California highway. Coming from the south, I imagine the scenery is a lot different from the low lands, old buildings, and cracked streets of my home town of New Orleans. And being a relatively new rider from Louisiana, I couldn't say no.
You could say I'm new to the sport since I've only been riding for two years, and that's about the same amount of time I've been living in California. I quickly learned that Northern California has an abundance of roads perfect for exploring on two wheels. People hyped up highway 1 and 36, because they were the most smooth and twisty roads around. As a two-wheeled enthusiast, I made it a point to visit these roads and experience for myself what everyone was talking about.

View Larger Map
I ride a Suzuki GSX-R 750, so not the best road touring bike, therefore I had to make sure I packed as light as possible (yes, for some women, this CAN be done). Armin also invited his friend Mark to join us on the trip. They were also riding sport bikes: Armin on a BMW S 1000 RR and Mark on a Kawasaki Ninja 250. So we had a good little mix.
We headed out towards highway 20 after breakfast on Saturday. The roads were perfect. They were wide open, twisty and smooth as promised. Though it was nice, it wasn't anything compared to the most scenic part of the trip, the "Avenue of the Giants" where highway 1 and 101 run side by side.
Even as I write this now, I can't get over the view! I can pretty much describe it one word: stunning. It seemed like going through an enchanted forest you would find in a fairytale. There was nothing but lush trees surrounding us as we rode on the open curvy roads for miles. It was definitely my favorite part of the ride that day.
We continued on Highway 1, high into the mountains, and enjoyed the site of the California coast and the spectacular mountains. There was a bit of fog that followed us until mid-afternoon, but thankfully it eventually cleared out.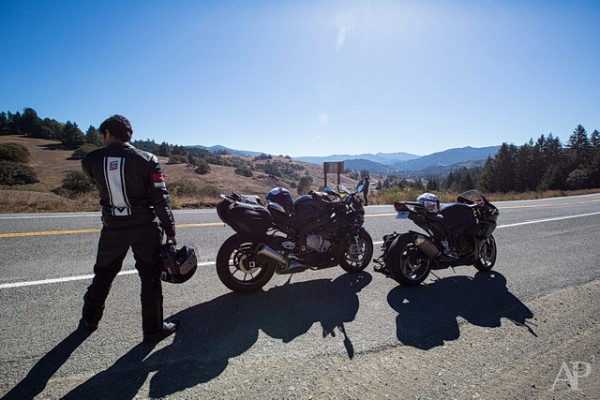 Photo credit: Armin Pelkmann
When we hit the end of Highway 1, we decided to go to Drive-thru Tree Park. The biggest redwood there had a narrow tunnel in the trunk of the tree. It's a tight squeeze, and of course, we were able to coast on through, but don't try it if you drive a large SUV. Overall, it was a nice break to simply hang out, take pictures, and hydrate before we hopped back on the 101 to Eureka to call it a night.
The following morning was the day to explore the entire 140 miles of Highway 36 heading into Red Bluff. As far as I'm concerned, it really did live up to the hype! The first half was similar to the prior day's routes: pretty twisty and scenic. There were also certain areas where we had to be more cautious. For example, we experienced narrow roads where two-way traffic was allowed, but no lines to separate the two. This can be a challenge, since I didn't want to take a corner and collide head on into a car. Extra caution was required after experiencing some wet spots that caused my back tire to almost slip out from under me. Thank goodness I managed to keep the bike up!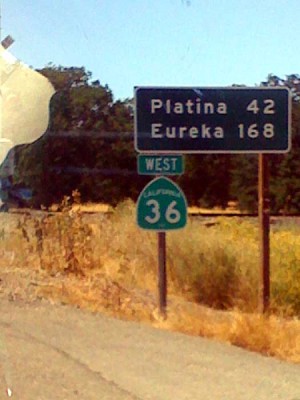 Well into the ride both Armin and I noticed we were running low on gas and luckily found some before going empty in a town called Plantina, located in what seemed like the middle of nowhere. There, we ran into a man, who looked to be in his mid 70s, and he said it was alright to mix a gallon of 87 (only gas available) with 91 fuel until the next gas station, which was about 40 miles or so away. He was interesting because he said he retired to Plantina, and for the past 13 years, he rides Highway 36 every single day into Red Bluff. Without argument it was the best road he's ever ridden.
He wasn't kidding when it came to the last portion of 36. Not only was the pavement smooth and twisty, but also comprised of small hills. The best way I can describe it is this: it felt exactly like riding a rollercoaster. There were also barely any cars on the road, which in my mind, the made riding the road more liberating.
I was constantly going up and down. It's blind while going up the hills, so you don't know whether you will turn right, left, or continue straight until reaching the top crest of the hill. And while going down, it was a sudden drop, where butterflies emerged in the pit of my stomach. There was also a few times where my butt came off the seat, the suspension fully unloading and then fully compressing as I hit the bottom. I couldn't help by giggle like a little kid the whole 40 miles. The last leg of Highway 36 was, hands down, my most favorite of the entire trip.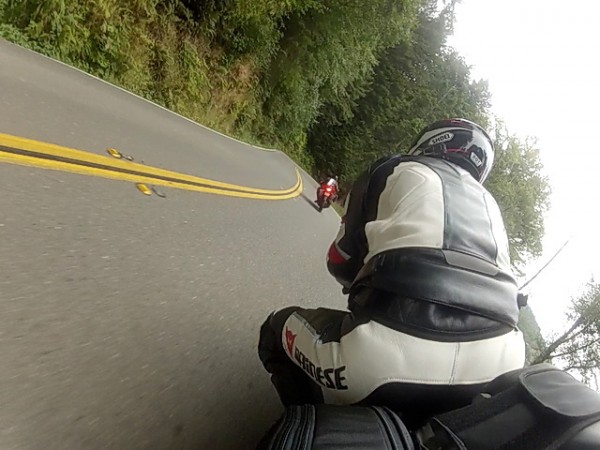 After about four hours on the road, we made it into Red Bluff exhilarated! We stopped on Main Street to discuss where we wanted to grab something to eat and talk about our amazing trip. While we chatted, we heard a motorcycle approaching — it was the old man we met in Plantina, who zoomed on by and waved on his Ducati Monster. One thing I do know is that he has the right idea when it comes to what to do with my free time when I retire.