Willows is a small Northern California town with a population of about 6,000, and it's one of my favorite cities in the US.
Why?
This small town is home to one of my favorite racetracks: Thunderhill Raceway Park. This 2.86 miles of track composed of 15 turns is considered a fast track with a few fun technical turns. Thunderhill Raceway decided to make it even more fun and technical by building a brand new track called Thunderhill West. It includes an extra 1.9 miles and 10 more turns, bringing the grand total mileage to 4.8, officially making it one of North America's longest race tracks.
The weekend of June 13th was pretty epic for motorcycle track riders and enthusiasts. It was the first weekend Thunderhill introduced the entire course exclusively to motorcycle riders. Additionally, Zoom Zoom (Z2) Track Days — a Norcal motorcycle track day provider — held its annual Women's VIP day on Sunday June 15th. Of course, I signed up since I've never been to a women's VIP event at a track and also wanted to be one of the first to ride Thunderhill West.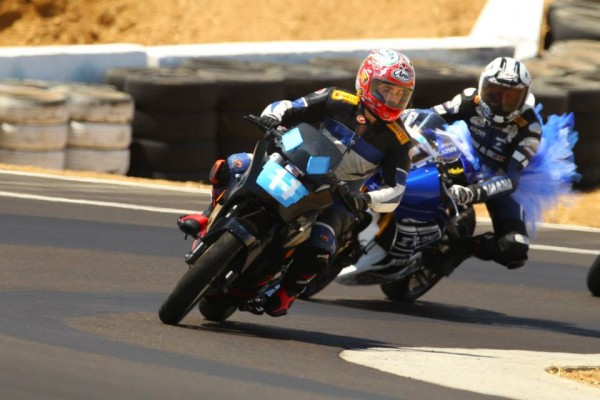 On the morning of the track day, I checked in and received a t-shirt, a raffle ticket and wrist band for the free catered lunch. So far, the treatment was nothing short of VIP status. Then it was time to get my moto, a Kawasaki Ninja 250R, registered.
Most track day providers hold three groups: expert (A group), intermediate (B group), and novice (C group). There was a "W" group incorporated that day, which was combined with C group. Doing this allowed women more track time. So for example, I'm usually a B group rider and was able to do a couple of sessions in B and then go out again in C/W. More track time= ultimate VIP status!
Z2 owner Kathy Reilly along with owners Shawn Reilly and David Ben-Jamin created the all-women's VIP day back in 2007. That year, they had about 50 women attend the event and since its inception, they have an average of 30 women attending the event.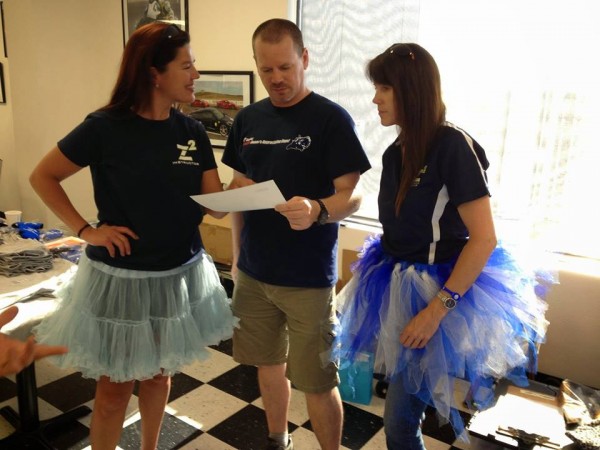 "We knew it would be hard to do an entire full day with just women, so we just decided let's try it with one group and see how that goes," said Kathy Reilly.
Z2 also offers classroom-style seminars throughout the day for those who want to learn more about track riding. Classroom topics include track overview, throttle management and braking, reference points and body positioning.
"What we offer, with all the instruction and really helping you learn, makes this event sort of different. I've been to a few [women's exclusive track events] where it wasn't really focusing on your skills. This helps women improve their riding and helps them get faster on the track," Reilly added.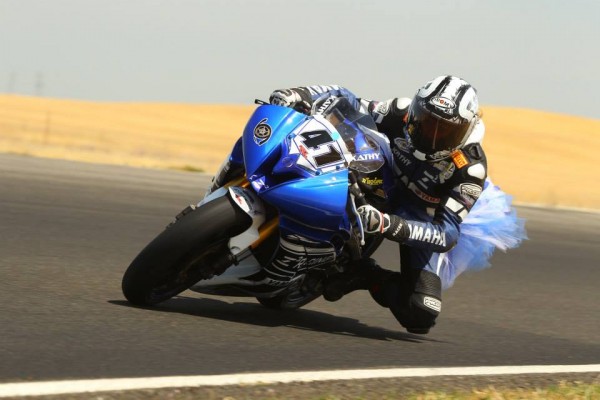 After the riders meeting that morning, it was time to finally explore Thunderhill West. The entire track configuration that day was having turn 9 from the old track as the entry way onto the new track. Instead of turning left (old configuration), you would now turn right, then an immediate sharp left, and then a slight right heading straight down a pretty steep hill before taking a left turn. Like the old track, there were mainly left turns that were definitely more technical than the ones on the older one. One main turn that comes to mind is an 11-degree banked sweeper that will certainly take a few more trips to the track in order for me to feel somewhat comfortable.
While exiting Thunderhill west, a sweeping right hander sets you up to take the old turn 10 and continue to doing the remaining older turns. After just three laps I was wiped out both mentally and physically. These were 20-minute sessions and there are only so many laps you can do on a Ninja 250R on a five-mile track!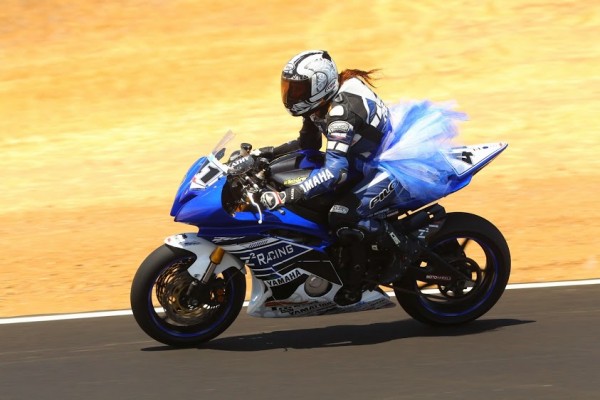 After lunch (which again was VIP since it was included when you paid and signed up for the track day), they held the raffle where every gal won something— whether it was a t-shirt, motion pro tools or a free track day. I was also able to chat with some of the gals who ran the day. It was great meeting other women who enjoyed motorcycles and doing track days as much as I do, so the sense of camaraderie was great.
At the end of all this I can definitely say I had a blast, felt like a VIP, and learned something new, as I always do when participating in track days. The goal is to have fun in a safe, controlled environment. That way, I can take all my new skills and apply them to my street riding, which makes me an overall better, smoother and safer rider.
Photo credit: Dito Milan / GotBlueMilk Motorsports Photography