Meet Randy and Kelly of Kalamazoo, Michigan, our 2012 People's Picks Winners!
At our eBay Motors booth at SEMA, we had the pleasure to catch up with Randy and Kelly to learn about their background, find out how they won, and what winning the 2012 People's Picks sweepstakes has meant to them. In hearing their excitement, learning about being no stranger to the auto industry and discovering they have been using eBay ever since they have had internet access, we quickly realized their kind of dedication and loyalty puts them among the most engaged within our eBay Motors community.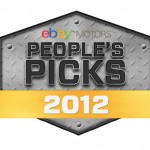 Launched three years ago, our People's Picks competition gives you, our eBay Motors community a platform to voice your opinions on the very best from vehicles to parts and accessories. In addition to ensuring your favorite brands are victorious, you are entered for a chance to win $10,000, a trip to the Specialty Equipment Market Association (SEMA) Show in Las Vegas, and weekly cash and prize drawings!
We can't say it enough, but we are proud to share their experience with you here and welcome them to be part of our extended family here within the eBay Motors community for all time!
Watch the video and chime in the comments below to formally welcome Randy and Kelly into our community.