While the McLaren P1 has lately been generating a lot of press, with its extra electric engine, to our minds the MP4 12C McLaren is still the tops. So imagine our happiness when not just one but TWO McLaren MP4 12C's were on display at a local car show in Scottsdale, Arizona. Then we were even happier to later see that same Black 2012 McLaren was actually for sale on eBay!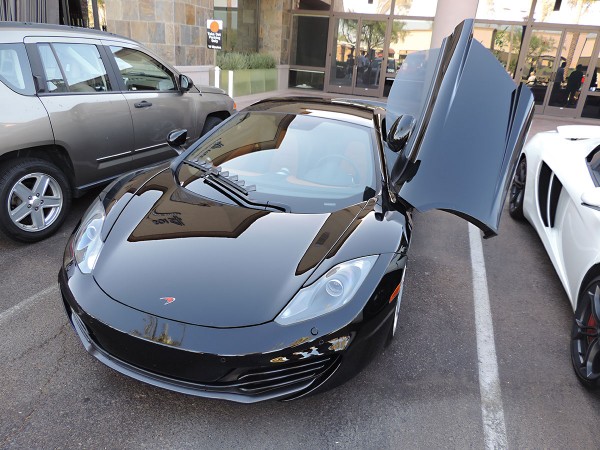 There are many sites across the country that label their local car meetings "Cars and Coffee". The Scuderia Southwest Club sponsors a monthly low key event on the first Saturday of the month. Even the hot weather in June doesn't detour enthusiasts from displaying their cars; they just show up earlier! The show is held at The Shops Gainey Village, a local shopping center in Scottsdale, Arizona. Cars range the gamut from European supercars to classic Detroit muscle cars. Even a large set of Ducati motorcycles showed up this month.
Parked next to each other, were two stylish McLarens; one white and one black. Our eyes naturally focused on the Carbon Black beauty, which was complimented with a saddle tan interior. The car was nicely optioned with heated, memory seats; Meridian Surround Sound system, parking sensors and lots of carbon fiber. The carbon fiber rear air foil used for braking is pure eye candy.
The MP4 12C's came out in 2011 and regrettably recently ended production. After the 2012 model year, the car was only referred to as the 12C model. The V8 engine displaces 3.8 liters and the twin turbos produce over 600 horsepower, linked to a dual clutch seven speed transmission. 0-60 MPH in around three seconds and a listed top speed of 207 MPH will snap a few necks.
The McLaren is not often seen by car enthusiasts. This one for being two years old, must have generally stayed under wraps, as it only has 2,714 miles on the odometer. You can see more details on the eBay offering HERE.
---
| | |
| --- | --- |
| | From overviews of trends in the automotive industry to penetrating looks at car shows, auctions and classic car trends we offer readers a unique perspective with a mix of irreverence and off the wall humor. Check out other articles at Route66PubCo.com. |