It's hard to talk about the Aventador in comparison to any kind of normal driving or car ownership experience. A supercar or hypercar (or whatever they're calling them these days) is so different in every way from even the nicest of production cars, that I don't know how they can both be called cars. Sure, they both have four wheels and an engine, but so does a lawn mower.
For example, my daily driver is a supercharged Jaguar. It's near the top of the pyramid in terms of price, luxury and performance. But I can still pull into a parking lot relatively incognito. On the other hand, the first thing that you notice about the Aventador is that it's impossible not to notice the Aventador. The one I drove was a color called "Blue Nepthuns," which was somewhat electric, but still wildly subdued as far as the Lamborghini color pallette goes. And it still made people stop and stare.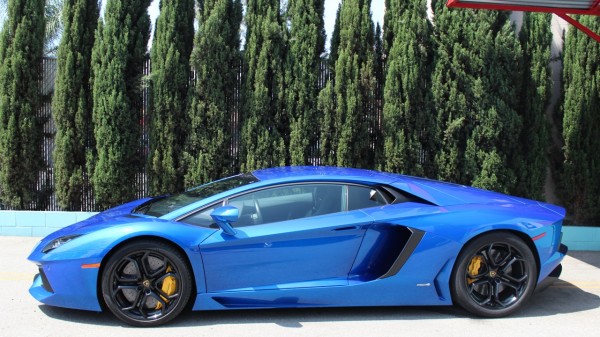 The good news is that the looks of this car cannot be ignored in a good way. The styling is great. Some of the supercar set get just a little too angular or a little too sharp. Others get a tad too slab-sided and they lose me. The Aventador hits the sweet spot of super-aggressive and stops just short of exploding with roid rage.
The rear end is very Batmobile, especially with the louvered rear glass over the engine. Which, by the way, is a worthwhile $7,550 option. That might sound like a lot of money, but remember that you're working on a whole different economic scale with a Lamborghini. This car's sticker price is $434k, about 14 times as much as a new Camry. Relative to its sticker price, that upgrade equals about $540 worth options on a Toyota. (Make sure your wife is a little tipsy before you try to get her to buy into this line of reasoning. It'll help.)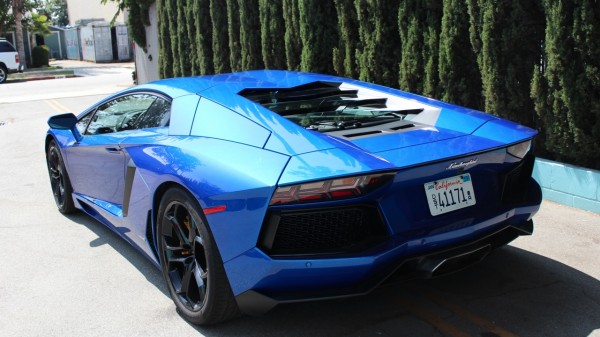 The glass louvers are also a must-have if you fork out for the color-keyed horizontal suspension. Yes, you can get the suspension to match the brake calipers and the wildly contrasted stitching on the interior. Only Lamborghini designers could figure out how to make all of that work.
Once you get comfortable with the whole world staring at you, it's time to enjoy the Aventador's performance. And it does not disappoint. It's got a 6.5L V12 with four electronically-adjusted valves per cylinder. It makes 690hp without the help of a turbo or supercharger. It pulls hard well into 8,000 rpm. The engine makes tons of torque, which gets to the ground via full-time four wheel drive. And the giant, carbon-ceramic brakes make it stop just as quickly.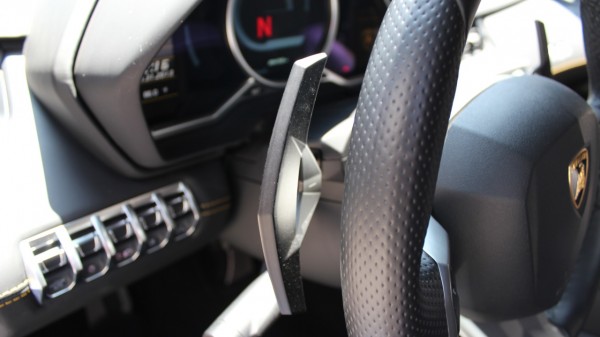 It has a single-clutch automatic transmission, so the acceleration can be a little jerky. Other than that, considering the performance of this car, it was surprisingly well-mannered and effortless to drive. Lamborghini has a long history of making great cars with poor visibility. Changing lanes on the highway in a Miura is truly an act of blind faith. You just stomp on the gas and hope for the best. The Aventador, on the other hand, has nice, big mirrors and no blind spots.
Then again, the gawk factor is a built-in safety feature in this car. Who needs mirrors when everyone else on the road is already looking at you?
Lamborghini Aventador on CarCast With Adam Carolla

---
Hear more from Adam Carolla by subscribing to CarCast on iTunes or visit CarCastShow.com