Hello everyone, I'm excited to write to you for the first time on the eBay Motors blog! Let me first say, I'm honored to have eBay Motors as my sponsor this year and represent them in the world of professional drifting with the Formula Drift National Championship. This is officially, my first time ever blogging, so I'm stoked to share with all the eBay racing fans!
I was originally born in Kumasi Ghana, West Africa and raised in Colorado near a small town called Lafayette (20 minutes east of Boulder). Basically, I lived in Colorado from the age of 1 to 24 and have always been a gearhead growing up. I wasn't born into racing, but passionately followed motorsports by watching it on TV and jumped into it feet first by autocrossing my mom's Honda Civic at SCCA events.
Mom wasn't totally keen on me flogging the family car, but she actually got behind the wheel a few times and learned some skills. My mom had some co-workers who were into spec series road racing, so they were my first real exposure to sanctioned racing at a race track. I would play with autocrossing for a couple years until I graduated college and moved west in 1999.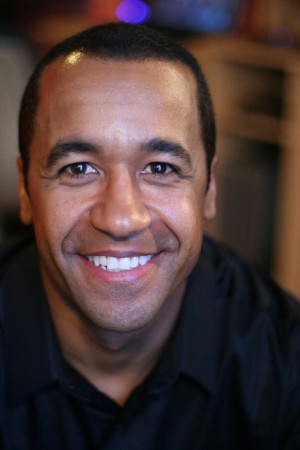 It was in '99 that I discovered the well regarded Jim Russell Racing School in Sonoma, CA and the racing bug bit hard. I was hooked! I went through all their open-wheel beginning and advanced classes. I entered their annual scholarship run-offs and did well enough to win some seat time in their Formula Mazda racing series. As a result, I competed in the Formula Mazda series over the next four years.
After achieving a few victories and several top five finishes in the Jim Russell Open-Wheel Formula Mazda Championship, I progressed into kart racing, winning the Yokohama Karting Championship Series' 2004 "Rookie of The Year" and finishing second in the overall championship.
Since 2004, I have been a competitor in the Formula Drift National Championship, campaigning an 800 horsepower Ford Mustang and managing the team's operations. I've battled inside the top 10 during the 2009 Championship, and was the Top Privateer beating many factory supported drivers and teams. In 2010, I partnered with a new team, Top Cover Racing (TCR).
TCR has the distinction of having ties with the famous Tuskegee Airmen. An honor I carry forward by raising awareness and educating fans on the historical significance of the first "all black" fighter squadron of World War II.
Away from the race track, I am a lead instructor with Jim Russell Racing School featuring the new open-wheel F3 Lola and with Audi Sportscar Experience featuring the Audi R8 V10 at Sonoma Raceway.  I've had the pleasure of working with Kevin Buckler and coaching his drivers with The Racers Group. I also provide private coaching to drivers who campaign their Porsche and Ferrari race cars in the American Le Mans, Rolex Sports Cars Series, and Ferrari Challenge Series.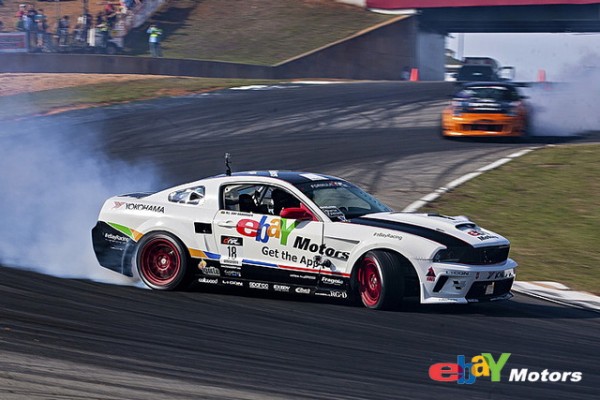 As a member of the most well-known and experienced stunt driving organization in Hollywood –Drivers Inc.,(www.driversinc.com) — I've had the good fortune of working as a film/TV stunt driver.
Did you see me stunt driving double for rap artist Bow Wow in "The Fast and the Furious: Tokyo Drift" movie? Recently I just wrapped on a movie with Tom Cruise called "One Shot filmed in Pittsburgh, PA. Tom was amazing to work with and really wanted to be perfect behind the wheel for all his driving scenes!
Moving forward with the 2012 Formula D racing season, I'm excited to have eBay Motors as a sponsor helping me move to the next level and take aim at the championship.
This year I have the meanest Mustang in the series and one of the most powerful cars outright with 1,000 crank horsepower! Throughout the season we have worked out the bugs and now we are really showing what the car can do. For Round 3 in Florida, we had a 7th place qualifying position , which was better than the top 5 drivers in the championship.
Moving into the second half of the season, I look forward to putting more pressure on the other drivers/teams and fighting for wins on the track.
Follow us July 20 – 21 as I head into Round 5 at Evergreen Speedway in Monroe, Washington. I will be posting updates and photos of practice and other things we are working on as the action unfolds over race weekend.
Round 6 will be in Las Vegas, NV @ Las Vegas Motor Speedway on August 23rd & 24th
Round 7 will be in Irwindale, CA @ Irwindale Speedway on October 12th and 13th.
Follow Tony on Twitter and his live socialcast page for real-time updates:
tonybracing.bumebox.com
twitter @brakohiapa
www.tonybracing.com
Follow the link below to read the Mustang's complete vehicle specs listed in eBay Motors Garage:
2006 Ford Mustang "eBay Motors Formula Drift Mustang" Vehicle specs