If you know anything about vintage Volkswagen restoration, you've heard of Lenny Copp of West Coast Classic Restorations. Basically, West Coast Classic Restorations (WCCR) can transform a rusted out vintage Beetle into a show winning, trophy car.
Founded by Lenny Copp in 1986, WCCR has been churning out expertly crafted turnkey restos for nearly two decades and has roughly 700 completed restorations to its credit. When asked about the company's model for success, Copp replied "Integrity above all else. If we had a company motto that's how it would read. Also, never cut corners. We build every car as if it was our own and we wouldn't have it any other way. Period."
It was an honor to sync up with him, and talk a bit about how WCCR started. A huge Thanks to Timm Eubanks for his photography skills and time.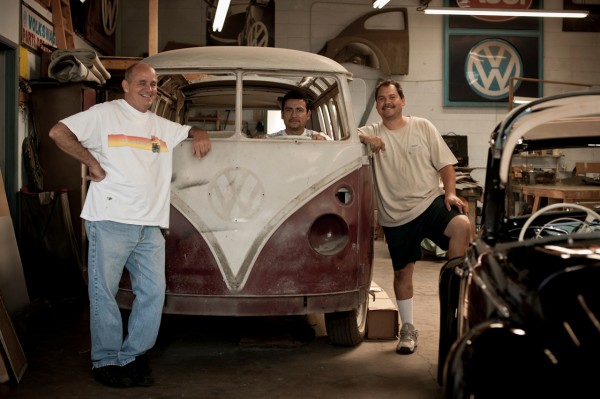 Lenny, please tell us a little about yourself, your background, and how you got into Vintage VWs.
My background started in 1972. I was 23 at the time. I had my first mechanics job after graduating from a 6-month auto mechanics school in New Hampshire. I tried all the different dealers like Chevrolet, Ford, etc., and when I went the local VW dealer, they hired me as a trainee. While there for two years, I learned a lot about repairing VWs. My other talent, so to speak, was cooking in restaurants. As a young man, I learned that working in restaurants was good because you always had food to eat. So, between 1972 and 1978, I worked on cars, and I cooked in restaurants. I was a full time cook and was "Bingo the Clown" every Sunday from 1 to 4pm at a Ground Round Restaurant. Yikes!! (I have pictures on request). In 1979, I bought a new black Kawasaki 1000 LTD. My girlfriend and I sold everything we owned and took off into the sunset. We landed in Florida, and since it was September, we decided to stay there. Only thing was my son Benny was conceived on that trip. So, after a few months, we bought a car and drove back to Peterborough, NH to settle down.
In 1980, I started a VW repair service garage in Peterborough. Only one big problem — there were no air cooled VWs anymore. They had all gone to VW heaven. So, I was forced to work on all foreign cars like Hondas, Datsuns, etc. After 2 years, I closed my business. I found myself working at a Exxon station for little money. I was depressed and finally went home and told my family that we were moving to California. No one argued with me, and we were all very excited. However, we had one slight problem — we only had about $2,800.00 for the trip. That did not stop us.
This featured article from 1967beetle.com was first published in 2011. The following link will take you to the entire interview on 1967beetle.com — Continue reading…