Infiniti comes to the 2013 North American International Auto Show in Detroit with a new flagship sports sedan that heralds not only the design aesthetic of its next-generation line, but its intent to gain a greater market share of younger drivers. With an emphasis on a wider, lower stance and athletic styling, Infiniti's new Q50 has attention-grabbing looks in its segment and a driver-centric interior concept that gives passengers impressive space and comfort. Let's take a quick look at the new Q50.
2014 Infiniti Q50: Drawing from the Essence concept Infiniti debuted back in 2009, the 2014 Q50 has dramatic bodylines that emanate from its double-arched grill; the rolling hills, swells, and bulges that rise from the hood and along the sides of the Q50 can be just shy of obscene from certain angles. The collective aesthetic effect of the bodywork is to give the 2014 Q50 a sense of skin, taut over musculature; whether or not the look appeals is all in the eye of the beholder of course, but it can't be said that the Q50 doesn't stand out.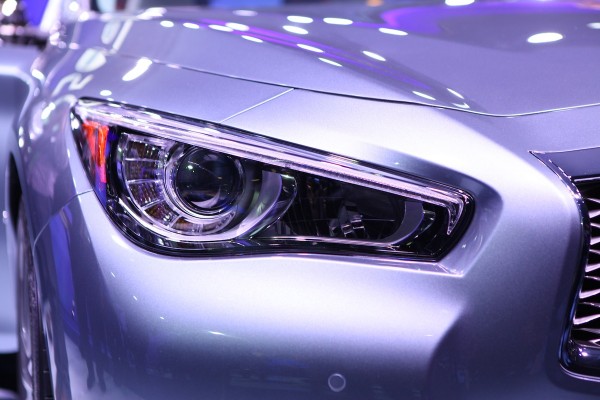 Powertrain options are either a 3.7-liter V6 rated at 328 horsepower with 269 lb-ft of torque or a hybrid mating a 3.5-liter V6 with an electric motor good for a combined 354 horsepower. Both gas engine and hybrid models are available as rear- and all-wheel drive, and come with Infiniti's seven-speed automatic transmission, with paddle shifters available as an option.
Inside, passenger space is plentiful and the offset instrument panel brings the cockpit in around the driver in a way that makes for a more engrossing experience. Infiniti's new Direct Adaptive Steering technology comes with four settings that alter the steering angle and response time depending on conditions. Also new for the 2014 Q50 is Active Lane Control; a new enhancement of the Lane Departure Prevention System that uses a rear-mirror-mounted camera to read the road ahead and works with Direct Adaptive Steering to make subtle adjustment when it senses the car veering slightly-off course.
The 2014 Infiniti Q50 goes on sale this summer; no word just yet on pricing, but we should find out as we get closer to its release.