According to the Bureau of Labor Statistics, women make up only 2 percent of the automotive industry. Women in automotive classes are an even smaller percentage, even though there has never been a better time for a woman to pursue a career in the automotive industry. My name is Julia Johnson and I am one of a handful of women automotive instructors in the nation and was one of the few female students at Skyline College's Auto Tech Department. I am very pleased to say that a lot has changed for women in both automotive education and the industry in the past few years.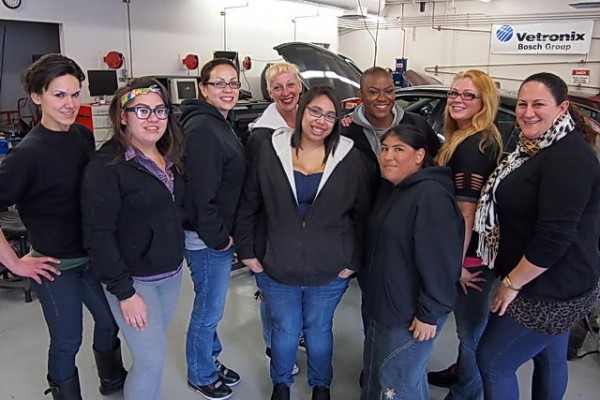 Three years ago, I won a grant to bring women to our programs and help them succeed. To that end, we started "The Heart Wrenchers" – a club for the female auto tech students. Our mission of the Heart Wrenchers is to support and promote women entering into the automotive industry, to work within the community to educate and empower women regarding automotive care and to create a social and mentor network for female car enthusiasts. The college now has 16 women enrolled in certificate programs, many of whom are working in repair shops while they attend school full time. Several club members are single mothers and most of the women have more than one job. In addition to their already full lives, each of these ladies finds a little more of themselves to give back to the community and use their skill and knowledge to help the people around them.
This year the Heart Wrenchers have several exciting projects coming up. Please see our Facebook page heartwrencherscc or our website www.wix.com/heartwrencherscc/skylinecollege for more details on how to contribute or participate.
"A Heart Wrenching Affair"
February 16, 2013
23 Club in Brisbane, CA
7:00pm – 12:30am

The Heart Wrenchers annual fundraiser. Live bands, raffle and vendors. Prizes are donated by local merchants and money raised supports the club's many community projects.

Expanding Your Horizons
March 16, 2013
Skyline College in San Bruno, CA
9:00-3:30pm

Expanding Your Horizons is an event that is offered at colleges around the country. It brings together girls, ages 12-18 and women who work in Science, Technology and Math (STEM) careers. Over 100 hands-on workshops lead by women in industries ranging from microbiology to rocket science. The Heart Wrenchers will represent the automotive industry and will present a hands-on workshop with real cars.

Lil' Wrenchers
June, 2013
Skyline College in San Bruno, CA
9:00-3:30pm

Partnering with the Boys and Girls Club, the Heart Wrenchers will offer a 1 day workshop for boys and girls ages 9-15. Students will learn how to perform a safety inspection, tire inspection, learn what dashboard warning lights are for and more about careers in the auto industry.