The final round of the Lucas Oil Off Road Racing Series season packed as much action into one weekend as anyone could have hoped. Not only did round 15 of the Lucas Off Road series happen but the crowd at Chandler, Arizona's Firebird International Raceway got to watch the whirlwind insanity of the Series' Challenge Cup race, where not only do Pro-4 and Pro-2 drivers get to tangle with one another, but even more trucks than usual hit the track to jockey for position.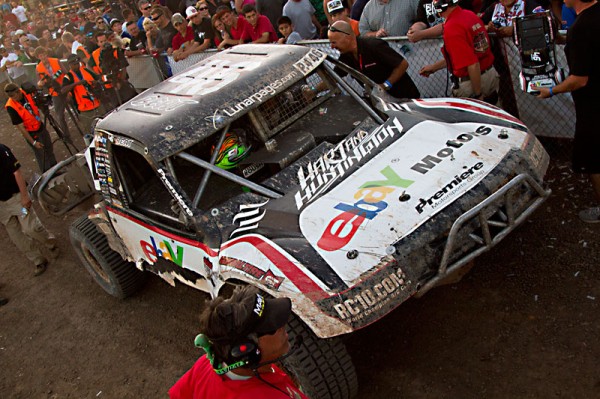 Amid the chaos of the weekend at Firebird, Hart and Huntington driver Ryan Beat rode a rollercoaster of highs and lows to emerge with some great results. Beat's ProLite podium finish streak was snapped as he and his #51 Lunarpages truck placed sixth in the ProLite round 15 race, but he nearly scored his first Pro-4 podium filling in for Carey Hart in the #46 eBay Motors truck, finishing fourth after being passed for third place in the final corner of the race's last lap. That fourth place finish is more impressive considering the eBay Motors truck had suffered a cracked radiator early in the race, which resulted in a blown head gasket, which in turn necessitated an engine change before the Challenge Cup race.
Round 15 at Firebird International Raceway in Chandler, Arizona

The Hart and Huntington team worked overnight to get that new engine in the #46, but two hours before Sunday's Challenge Cup the team discovered an issue in the transmission. With time running out, a hurried small rebuild was enough to put the eBay Motors truck on the grid for this unique event. Beat started the #46 next to teammate Josh Merrell's #22 MAVTV truck, leading the Pro-4 trucks behind the pack of Pro-2 trucks which for the Challenge Cup are given a half-lap head start. Beat spent much of the race jousting with Hart and Huntington's own veteran driver Robert Naughton in his Lunarpages Pro-2 truck. The four-wheel drive of Beat's truck proved too much however, and Beat managed to secure a surprise third place finish in the Challenge Cup. Overall, an exciting weekend of racing and some great signs for the future of Ryan Beat's career with Hart and Huntington Racing!
Challenge Cup Race at Firebird International Raceway