Lucas Oil Off Road Racing Series, Rounds 13 and 14
An exciting weekend at Las Vegas put Premiere Motorsports Group in the spotlight of the Lucas Oil Off-Road Racing Series. Rounds 13 and 14 of the Series saw PMG's Hart and Huntington drivers Ryan Beat, Rob Naughton, Josh Merrell, and Carey Hart each make plays to steal the show. Even in the face of series points losses and niggling mechanical issues, the Premiere Motorsports Group drivers performed well and managed to score a couple of podium finishes.
The weekend of racing action certainly went well for Rob Naughton. The Lunarpages Pro 2 driver showed up in Las Vegas with a freshly rebuilt #54 truck, which placed second during round 13 and third in round 14. Naughton's podium finishes are even more impressive considering his truck was so new there wasn't even time to test it out before the Lucas Oil Off-Road event in Vegas. With his rebuilt truck showing so well in its first outing, Naughton is excited for the rest of the season.
Luck wasn't on the side of Hart and Huntington's Josh Merrell, but a hard-working crew kept his weekend from being a complete loss. After a good week of testing and an appearance at the Lucas Oil Xperience with his MAVTV Pro-4 #22 truck, Merrell suffered a crash during Saturday's practice that kept him out of round 13. Undaunted, the #22 crew got to work and put the truck back together enough to not only allow Josh to drive in round 14, but to place fourth despite starting from the back row.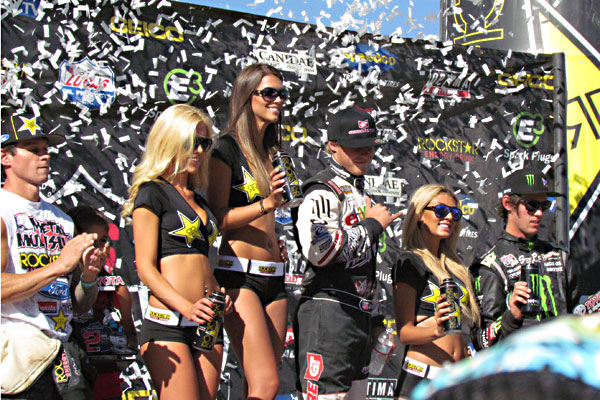 Carey Hart's Pro-4 eBay Motors truck started with a promising sixth place finish in round 13, but a big wreck sent the #46 upside-down during round 14, ending Hart's weekend in Las Vegas. Hart was frustrated by the short finish to his round 14 race, but the #46 team will press on with changes to the truck in anticipation of the Lucas Oil season finale at the end of October.
Ryan Beat, on the other hand, had a great weekend in Las Vegas. Coming off his first series win of the year during round 12 in Reno, Beat placed his #51 Lunarpages/eBay Motors Pro Lite truck third in rounds 13 and 14. With three consecutive podium finishes and five top five finishes in a row, Ryan Beat is on a roll going into the end of the Lucas Oil Off-Road Series finale.
Photo credit: Hart and Huntington / Premiere Motorsports Group
Las Vegas Round 13 Highlights

Las Vegas Round 14 Highlights