Carey Hart, with his Hart and Huntington Off Road Team, are looking to grab the spotlight and shine brightly at Glen Helen Night Race this weekend. With their focus concentrated on the podium, the Hart and Huntington Off Road Team and Premier Motorsports Group tirelessly prepare to accomplish their mission and win races in front of a home-town crowd.
Glen Helen Raceway, located in the foothills of San Bernardino, CA has natural terrain and obstacles that fit perfectly with the high-flying, non-stop, adrenaline-fueled action provided by the series' trucks. In years past, this event has produced big names, great racing, big wrecks, and sold out crowds.
Josh Merrell, Driver of the MAVTV / Hart and Huntington PRO-4 is sitting 4th in points with a close 3-way battle for 5th right behind him. Merrell is no doubt one of the most exciting drivers in the division and he will be pushing hard on the tight and short track to make his way into title contention. "We came out to Glen Helen and did some hard testing. Weismann has the gearing dialed for us. The truck is fast and I think we have the setup we need. Now it is important to stay consistent and finish both rounds while pushing the #22 MAVTV Truck towards victory."
Video: Josh Merrell Testing At Glen Helen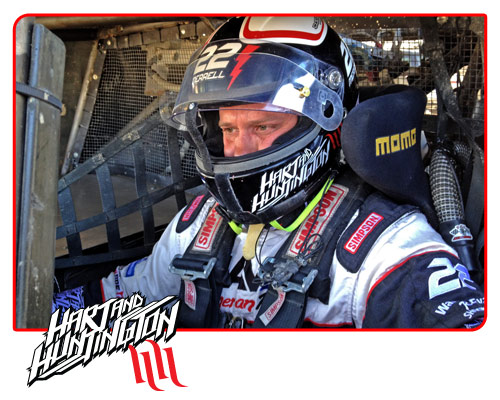 Hart and Huntington Off Road Teammate, Carey Hart has returned to pilot his eBay Motors #46 PRO-4 and will remain the primary driver through the rest of the season. Carey also participated during the PMG Test Session at Glen Helen running hard laps and getting back up to speed. "I am not going to hold any punches. We are going to get aggressive and do our best to get this eBay Motors Truck up front. Either way, it is going to be exciting for the fans."
Video: Carey Hart Testing at Glen Helen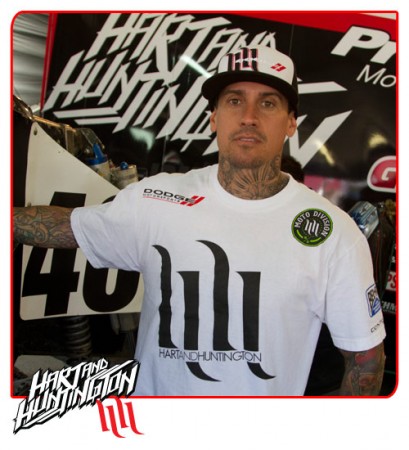 Premiere Motorsports Group's versatile young gun Ryan Beat, Driver of the eBay Motors ProLite, will have his focus dedicated on maintaining a points assault on the division. Beat is currently sitting 3rd in points and has proven that he is one of the top drivers in the class. Free of double duty for the rest of the season, Ryan is willing to push it that much further and will no doubt be looking to chase down a win at Glen Helen.
Video: Ryan Beat Testing At Glen Helen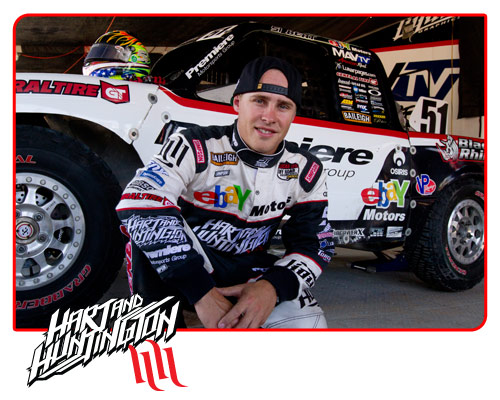 The short course off road track will present exciting racing and close competition and door-to-door contact leaving the crowds on their feet and cheering on their heroes. Find the Hart and Huntington Off Road Pit on the North end of the venue to meet the drivers. Autograph Signings will be held on both Saturday and Sunday at 4:00 PM. Get their early becuase the first 25 people in line will receive Hart and Huntington Off Road Team Shirts.
Follow the Hart and Huntington Off Road Team at the races on Facebook, Twitter and Youtube pages for updates all weekend long. For live timing and scoring, CLICK HERE or check out www.LucasOilOffRoad.com for more information.
facebook.com/HartandHuntingtonOffRoad
twitter.com/@HartOffRoadTeam
youtube.com/HartOffRoadTeam