The Volkswagen Type 1, also known as Kafer, Vocho, or Beetle, is quite a common car in many places around the world, especially south of the border in Mexico and South America where production outlasted even that of the car's original home. Production began officially in Germany in limited numbers in 1938, but WWII got in the way. Adolf Hitler commissioned the car, and Ferdinand Porsche, who later rose to fame as a sports car maker, designed it. After WWII the British Army took control of Wolfsburg where the Beetle was being produced, and later put the production facilities back into use. It wasn't terribly long before the exported Type 1 or Beetle models began to win favor amongst drivers who wanted a frugal, yet efficient car.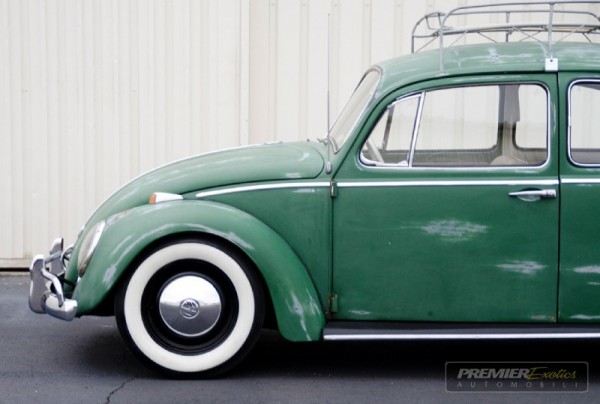 Today's 1965 Volkswagen Beetle bears a slight resemblance to the original 1938 concept with the same basic design but with a less utilitarian appearance. The Beetle's design constantly evolved and rarely changed dramatically to the untrained eye, but the rear window is an easy indicator of the year. From the earliest inception of the car the rear window was split down the middle in an oval shape. That split window design gave way to an oval window in the mid 1950's, and was later enlarged to close to the size of the rear window in the 1958-1967 models. U.S.A. Beetle production continued from 1968-1979 and in 1971 the Super Beetle came onto the U.S.A. market and stayed with us until 1979 in a convertible fashion.
What struck us most about this specific 1965 Beetle wasn't the year, or the rear window design. In fact Beetles from the 1960's and 1970's are relatively common even to this day given that they were produced in mass and were the bestselling car in the world. What caught our eye about this particular 1965 "Bug," was that it looks like it could've driven right out of the 1960's or 1970's due to its wonderful aged looking paintwork, its period correct accessories, its color, and especially its wide white wall tires. Sometimes cars just have that right look and this Bug definitely has it.
Classic classics are always hip with the young crowd and the Beetle is an affordable classis with a cool retro-flair. How can you pass on this classic Beetle without even looking at the eBay description? 1965 VW Beetle Classic