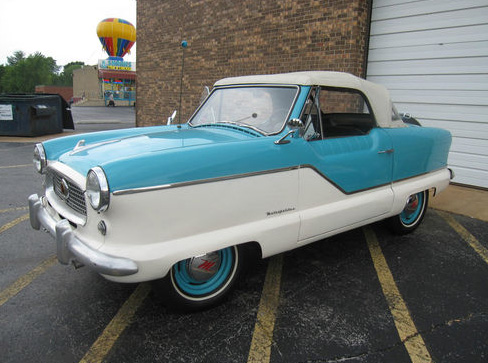 If you're looking to save money at the pumps, one of the smartest things you can do is to downsize. Keep this in mind: Buying a car that meets, but does not exceed, your need for size and power doesn't have to be an exercise in self-restraint. A little legroom and horsepower can be traded for a monumental amount of style—and a big increase in miles per gallon. That's true with new high-mpg models like the chic Fiat 500, fab Mini Cooper or geeky Scion iQ. But those cars will have trouble competing on style and efficiency with this absolutely dapper 1960 Nash Metropolitan. According to the seller, the micro-car delivers 50 miles per gallon.
None other than Steve Jobs, a man who knew a thing or two about design, owned a Nash Metropolitan, according to the best-selling biography of Jobs by Walter Isaacson.
The Nash Metropolitan was sold in the United States and Canada from 1954 to 1962—an era known more for boat-like sedans. But in the post-war period, Nash saw a need for a small economic car that could be sold as a second vehicle, mostly to women. In fact, the Metropolitan was the first American car marketed specifically to women. (The Dodge La Femme was introduced a year after the Met debuted.)
The company called upon famed Italian car designer Pininfarina to infuse the Metropolitan with stylish features, such as fully enclosed front wheels, notched "pillow" style door pressing, bar style grille.
It's no speed demon, with a 42 horsepower engine delivering zero-to-60 mph in around 30 seconds. But Road Test magazine, in 1954, praised the car for its "responsive handling" and "downright stinginess" when it comes to gasoline consumption. Contemporary auto writer Jack Nerad, currently at Kelly Blue Book, said, "The Metropolitan's staying power and its never-ending cuteness [have earned it] a place among the greatest cars of all time." He added that it "possesses an ageless, cuddly quality that has made it a perennial favorite of car lovers."
This car runs and drives like new, according to the seller. At the time of this writing, there are three days left on the eBay auction. After 15 bids, the high is $5,500, and the reserve has not been met.
Whether or not you end up with this beauty in your garage, the very existence of the 1960 Nash Metropolitan illustrates how personal transportation gets re-imagined over the decades to meet our changing needs. In an era where consumers are demanding fuel efficiency, it shows how much fun a small gas-sipping car can be.
Learn more about high-mpg gas-powered cars at eBay's Green Driving Center.