An electric SUV might seem like an environmental oxymoron. But using ultra-efficient and inexpensive electric fuel in a spacious sports utility could be the key to gaining wider acceptance of EVs among American consumers. This purely electric 2002 Toyota RAV4 EV, listed for $16,900 in a classified ad on eBay, is the prototype for this "have your cake and eat it too" strategy. Electric vehicle run on the equivalent of about a dollar a gallon, and have a fraction of the environmental impact of gas- or diesel-powered vehicles. The 2002 RAV4 EV on sale now is one of only 1,500 small electric SUVs made by Toyota from 1997 to 2003.
The seller still manages more than 100 miles on a single charge. On a recent trip, the vehicle traveled more than 110 miles on a charge—the first 75 on the highway driving between 55 and 65 mph, then 35 miles in a residential area with speeds between 0 and 35 mph.
The Rav4 EV was originally created as a fleet vehicle for businesses—and only became available for purchase by private car buyers in 2002. The EV, available at just 25 California dealerships, were quickly scooped up by eager electric car buyers. Eight months later, Toyota closed its EV program—having sold about 325 RAV4 EVs to individual buyers. The other 1,000-plus units, like General Motors's ill-fated EV1, were unfortunately crushed when Toyota claimed it couldn't sustain its electric vehicle program.
Ten years later, hundreds of those same RAV4 EVs continue to provide great service to their owners. The nickel-metal hydride battery packs proved more durable than anybody had suspected. Many drivers passed 100,000 miles on their original battery pack. Some drivers approached 150,000 miles before purchasing a "refurbished" battery pack to keep their cars operating like new. This one on sale via eBay is running on its original equipment—having just 67,000 miles put on by its first and only owner.
The $16,900 purchase price includes the wall-mounted charging equipment. And the zero-emissions vehicle white stickers, which allow solo-drivers to ride in California's HOV lanes.
Performance in the 2002 RAV4 is modest—proving a top speed of 80 miles per hour and a zero-to-60 time of 18 seconds.
Revenge of the RAV4 EV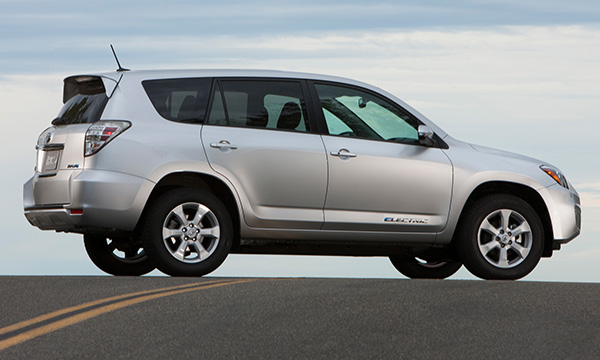 In May 2010, Toyota announced that it would partner with Tesla Motors, the Silicon Valley car company known for producing sporty powerful electric vehicles. Their first collaboration was to resurrect the RAV4 EV. The 2012 reincarnation of the electric RAV4, which goes on sale in late summer, has grown in size and speed.
The older version had a 50-kW motor. The new features a 115-kW motor, which allows the new RAV4 EV to travel from zero to 60 mph in almost one-third the time of the older model—just 7 seconds (while in sport mode). Top speed is 100 mph, and range supplied by its 41.8 kWh pack exceeds 120 miles on a regular basis.
The price of the Toyesla RAV4 EV has also grown, jumping to $49,800—although it qualifies for a $7,500 federal tax credit, and a $2,500 California rebate.
Toyota will only make 2,600 units of the new RAV4 EV through 2014—while the hybrid-leader assesses the potential of the EV market. The low volume will make the new RAV4 EV a limited edition vehicle—but not nearly as rare (or as affordable and cute) as this 2002 Toyota RAV4 EV.
For more information about fuel efficiency, visit eBay's Green Driving Center.