On Saturday Will Power of Team Penske grabbed pole position with a 1:17.2709 seconds around the 2.31-mile, 12-turn layout in qualifying driving his Chevrolet powered IndyCar. But it was Ryan Briscoe who brought home the big win on Sunday when Briscoe got past teammate Power out of a pit stop Sunday and held off the two-time defending Sonoma champion for his seventh career victory.
"We always get excited when we come to this race," Briscoe said. "For whatever reason, Team Penske cars are always strong. Will and I kind of dominated all weekend."
He barely failed to win his third straight race in Sonoma after starting his 100th IndyCar race from the pole at the track where he broke his back in 2009, yet Power clinched the Mario Andretti Road Trophy and left Sonoma in prime position to replace three-time defending champion Dario Franchitti as the championship winner.
The Pirelli World Challenge Race series had its 8th and final round of GT/GTS class racing at Sonoma on Saturday. Our sponsored driver, Justin Bell, had some unfortunate luck when the engine imploded due to a failed rod during practice on Thursday. With the team's resourcefulness, Justin was able to get back on the track in a new, red Mustang Boss 302S.
Prepping a car for a big race is a big job, so getting a new Mustang race-ready in less than one day is a major feat for the crew. Their hard work got the Mustang onto the track Friday afternoon and Justin was able to qualify 12th in his class.
Bell worked his way up from 12th on the GTS starting grid to third at the finish in the No. 50 eBay Motors Ford Mustang Boss 302S, taking the final podium spot on the final lap of the race. It was Bell's fourth podium result of the season and the performance earned him the Sunoco Hard Charger Award, as he improved eight overall positions from start to finish.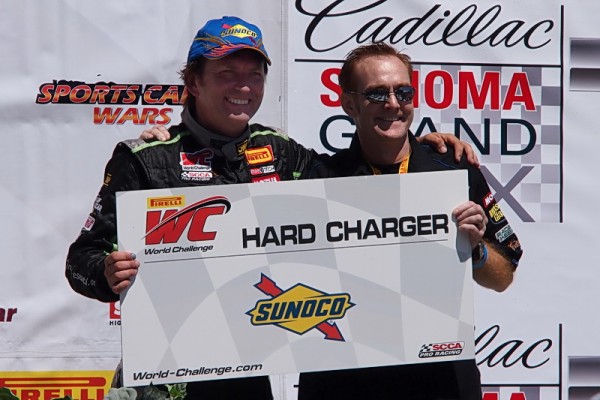 "It's a great way to end the year," Bell said. "We had a rough last couple of races, and that was as hard as I can drive that car. I used every bit of 25 years experience to get up there. Everyone raced fair, and that's where we ended up. It was fun."
Alex Figge, driving No. 9 K-PAX Racing Volvo S60, picked up his second career Pirelli World Challenge Championships victory and Andy Lee, behind the wheel of No. 3 Best IT Chevrolet Camaro, capped his rookie World Challenge season with a fourth GTS victory in Saturday's season-ending Cadillac Sonoma Grand Prix.
Our photo gallery covering the Cadillac Sonoma Grand Prix is HERE.