Ron Cizek's "Checkered Past" '40 Ford Wins Del Mar Street Rod d'Elegance Crown
Del Mar, CA – Ron Cizek's "Checkered Past" '40 Ford from Bennington, Nebraska recently won the Goodguys 2013 March Performance Street Rod d'Elegance Award. The Cranberry-hued '40 Ford was first introduced to the hot rodding world back in March when it won the prestigious Ridler Award at the Detroit Autorama. It gets its name from a decades-long dirt track lineage.
Although Cizek himself originally started the build three years ago as a "weekend project", it was finished and coach-built by his partner Andy Leach and the talented team at Cal Automotive Creations in Omaha, Nebraska. Leach apprenticed for six years under the watchful eye of Troy Trepanier prior to joining forces with Cizek.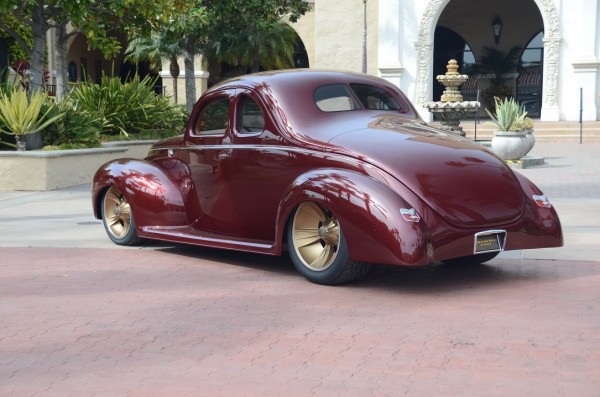 Checkered Past is the shop's first completed concept-to-finished-show-car project, stamping them as major players to keep an eye on going forward. Winning the Ridler then the Street Rod d'Elegance crown has been pulled off by only a select few over the years. Sitting on the ground, the car has a perfect profile. Like all big show cars, it's been hand crafted and reshaped while keeping a fair share of its factory lines. Leach and his team wedge-sectioned the car one inch from front to back then chopped the top 3/8" for the perfect hot rod rake. The hood and fenders have been reshaped as were the meticulously hand-shaped running boards. Finishing off the front end mods is a custom grille with thinned out headlamp rings.
The motor in "Checkered Past," assembled and prepped by Erik Hansen, accelerates the heart rate just looking at it. Atop the '53 Mercury flathead sits a 4.71 GMC blower – the entire package coated in a muted gold anodize to match the gold one-off Halibrand style wheels. The original chassis was boxed and beefed-up to accommodate the Tremec 6-speed transmission, independent rear suspension, custom A-arm front suspension and disc brakes on all four corners.
Boss Interiors of Iowa stitched the saddle brown English Leather upholstery with suede inserts. The stock '40 dashboard (found on E-Bay) features subtle modifications and custom gauges.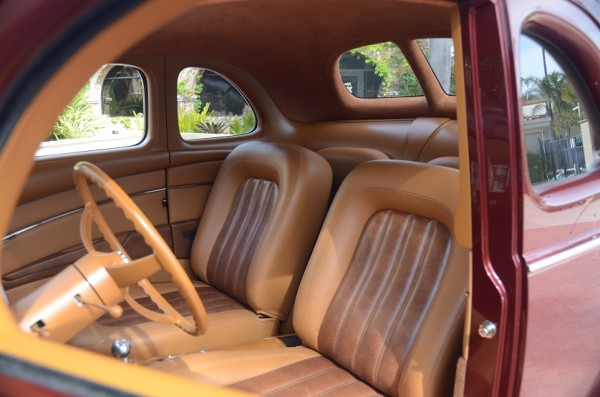 Tying the coupe together is an eye-pleasing cranberry red hue. Charlie Hutton's Color Studio painted the car in three stages, blending red, gold and brown. The gold & red combination works perfectly for the car.
For the '40 Coupe's big win, Cizek will receive a custom toolbox from Snap-on as well as travel accommodations to the Goodguys 16th Southwest Nationals November 15-17 in Scottsdale, Arizona to join the "Champion's Arena" display featuring Goodguys' Top 12 Cars of the Year. Fellow finalists for the Goodguys 2013 March Performance Street Rod d'Elegance award included Harold Chapman Jr ('33 Ford), Jerry Kjensrud ('39 Chevy), George Sepulveda ('38 Ford) and Roger Hill ('39 Chevy).
About Goodguys:
Based in Pleasanton, CA – Goodguys Rod & Custom Association promotes and produces the world's most dynamic automotive events. Founded by lifelong hot rodder Gary Meadors in 1983, Goodguys is the world's largest hot rodding association with over 70,000 active members worldwide. Goodguys events feature thousands of hot rods and customs, tricked out trucks, mighty muscle cars and classics sprawled throughout venues such as lush fairgrounds, super speedways and large outdoor stadiums. The cars, vendor exhibits, the Goodguys AutoCross, live entertainment and colorful people create a festive atmosphere charged with electricity. In 2013, Goodguys celebrates its 30th Anniversary staging 19 events across America. Goodguys events range from two-day affairs attended by 30,000 to 40,000 people to three day extravaganza's attracting over 100,000 auto enthusiasts. In addition to events Goodguys publishes the award winning Goodguys Gazette – a 250-page all-color monthly tabloid size magazine. For more, visit www.good-guys.com. To find us on Facebook, visit: http://www.facebook.com/#!/goodguysrodandcustom
About the Author: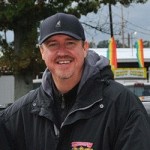 John Drummond, a Bay Area native and resident, serves as Communications Director for the Goodguys Rod & Custom Association. A 23-year veteran of the Goodguys team, Drummond has seen it all in the realm of modified American muscle and hot rods. Prior to his current position of Communications czar for all things Goodguys, he served as Editor of the monthly Goodguys Gazette Magazine. Over the last few decades, Drummond has contributed content and feature articles for various performance automotive industry magazines, books and television shows. His first hot rod was a lowered 1957 Plymouth Belvedere. He's a member of the National Auto Sport Association as well as an avid Mercedes Benz enthusiast, having owned and modded several AMG cars in his spare time.
---
| | |
| --- | --- |
| | Based in Pleasanton, California the Goodguys Rod & Custom Association promotes and produces some of the world's most dynamic automotive events. Founded by lifelong hot rodder Gary Meadors in 1983, Goodguys is the world's largest hot rodding association with over 70,000 active members worldwide. |