The Ford F-150 has been the number one selling truck for generations and is the number one selling truck on eBay Motors. This week at the North American International Auto Show in Detroit, Ford has unveiled the Ford Atlas which looks to be the next generation F-150 pickup truck.
Called the Atlas, the concept truck unveiled Tuesday is a preview of the 2015 model year F-150 that is expected to go on sale in 2014.
The Atlas concept, which made a dramatic arrival as it was lowered from the ceiling onto the floor of the Joe Louis arena Tuesday, is larger than the current F-150. The Atlas splits the difference in size between an F-150 and a Super Duty, while incorporating some lighter-weight elements, such as thinner concept seats.
The concept is bold, aggressive and loaded with new technology. But it's still overweight, in Ford's eyes. By the time it hits dealerships, the automaker wants its next F-150 to be lighter, to improve fuel efficiency. Ford is aiming to save approximately 700 pounds in its next-generation F-Series trucks.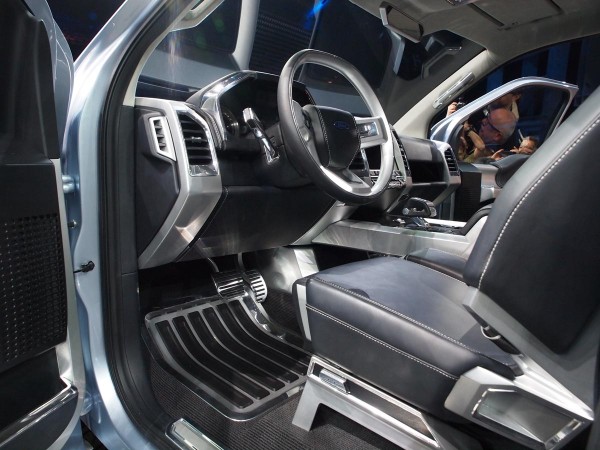 All three automakers, which make up a large chunk of the U.S. truck market, are looking for ways to improve fuel efficiency to meet new federal fuel efficiency standards of 34.1 miles per gallon by 2016 and 54.5 mpg by 2025.
The 2015 F-150 truck is expected to come with a new, smaller-displacement six-cylinder EcoBoost engine that will improve fuel efficiency and power above and beyond the current 3.5-liter EcoBoost V-6 offering. While this is still in concept mode, The Ford Atlas Concept is powered by a next-generation twin-turbocharged, direct injection EcoBoost engine striving to achieve better fuel efficiency with some added features like Auto Start-Stop engine shutoff technology in heavy traffic or stop-and-go conditions.
"The Ford Atlas Concept previews the innovations that will transform what people expect from their pickup," said Raj Nair, Ford group vice president, Global Product Development. "With 36 years as America's best-selling pickup, we are absolutely committed to setting the agenda in the truck market."