Likes:
Beautiful and alluring exterior design with perfect proportions and curves
Engaged driver dynamics connects with car
Driver focused cabin
Sport seats are supportive for spirited driving AND comfortable over long-hauls
Dislikes:
Extra money spent on optional premium Meridian audio system is lost over road noise
Leaving the Active Exhaust system "on" can be overwhelming if left on too long
You can bring along your spouse or golf clubs, but not both
When you look at the Jaguar E-Type, everyone agrees that this is probably one of the most beautiful cars ever designed. And we would imagine that many people still look back and think sports cars from the 60's were the best sports cars. The all-new Jaguar F-TYPE takes that sort of quintessential brilliance and triples it.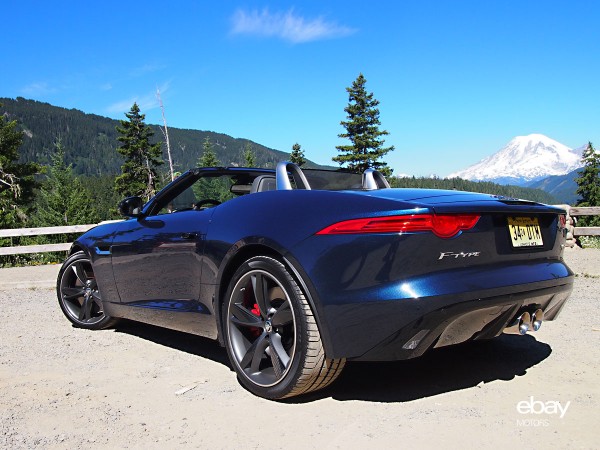 A 2-seater sports car has been missing from Jaguar's line-up for more than 40 years. Why come back to it now? Adrian Hallmark, Jaguar's global brand manager, stated "For Jaguar not to have a sports car in its portfolio is really unimaginable. It's like Porsche or Ferrari not selling sports cars, because we started out as a sports car company."
The F-TYPE is a two-seat convertible that's beautifully proportioned, and attains an elegant muscularity that borders, at times, on the predatory. For openers, there are the powerful shoulders emphasized by the headlamps. The center of the grille harbors a traditional "growler," Then there are the "shark gill" vents on each side of the grille.
Driving Impressions
Getting behind the wheel of the F-TYPE exposes you to more lovely design focused on the driver and connecting the driver with the best experience possible. It has been performance benchmarked against the Porsche 911, Audi R8, and Aston Martin Vantage; and beyond Jaguar's current performance king, the XKR-S.
Jaguar's philosophy with the F-TYPE was to grow the amount of performance as you move up the food chain. The base F-TYPE V6, which starts at $69,000, is powered by a supercharged, 3-liter V6 that develops 340 horses and gets you from a standing start to 60 in a rather sprightly 5.1 seconds. The F-TYPE V6 S ($81,000) uses a tweaked, 380-horse rendition of that 3-liter engine to shave another four-tenths of a second off the trip. The V8 S ($92,000), the big-mac daddy of the F-TYPE line-up, employs a 5-liter, supercharged V8 that takes you from rest to 60 in an excitingly scant 4.2 seconds, and then heads on up to 186 miles per hour.
Our impressions after spending a full day driving the roads outside of Seattle and flogging the F-TYPE at Ridge Motorsports Park, the V6 S was super-fun to drive with incredibly balanced handling and plenty of power to call upon. Paddle shifters and sport mode, coupled with a button to raise the volume of the throaty exhaust notes, provided multi-sensory exhilaration. The V8 S is even more of a hell-raiser, but has the gentlemanly manners that can fit in with the posh crowd at any high-brow event.
Part of the reason for the F-TYPE's performance is its relatively light weight. The V6 models weigh a mere 3,521 pounds, and the V8 is only 120 pounds heavier. The weight savings came largely from the fact the car is mostly aluminum. This includes the chassis, body panels, engine, and even the principal suspension pieces.
The car's aluminum structure is very strong as well as light. The F-TYPE is, in fact, the stiffest open car Jag has ever built, and that rigidity contributes to its superb handling. Another contributor to the car's dynamite dynamics is its exceptional balance. The V6 models have perfect, 50-50 fore-to-aft weight distribution. The V8 is a nearly perfect 52-48.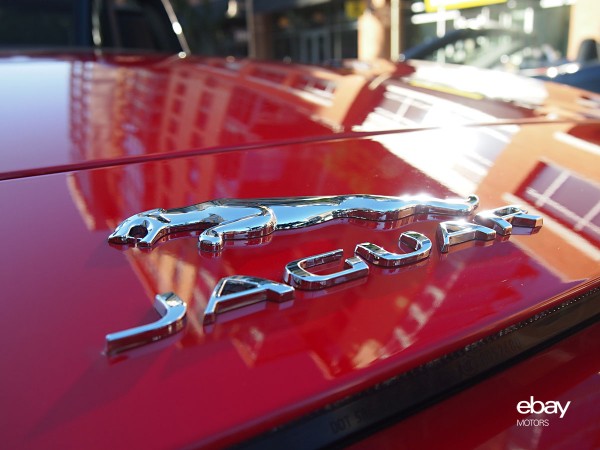 All F-TYPE trims comes with an eight speed automatic transmission from ZF Friedrichshafen that is also used by Mercedes-Benz and Maserati. This transmission shifts like lightning and is almost indistinguishable from a dual-clutch transmission. With 25 adaptive shift patterns that actively respond to your driving style and road conditions, you won't be missing a manual transmission for very long.
Drivers that need to grab something can reach for the traditional shifter and move it over into manual mode. The rotary gear selector used in other Jaguar models was replaced with a proper hand grip.
Suppressed teenage car freaks will love the "Active Exhaust" available on the V6 S and V8 S. Hit a button and you open valves in the exhaust system that turn a civil exhaust note into NASCAR noise. It's a great, guttural utterance that "backs off" loudly when you suddenly get off the gas, like muscle cars of yore. We advise using the Active Exhaust sparingly because it can get overwhelming fairly quick.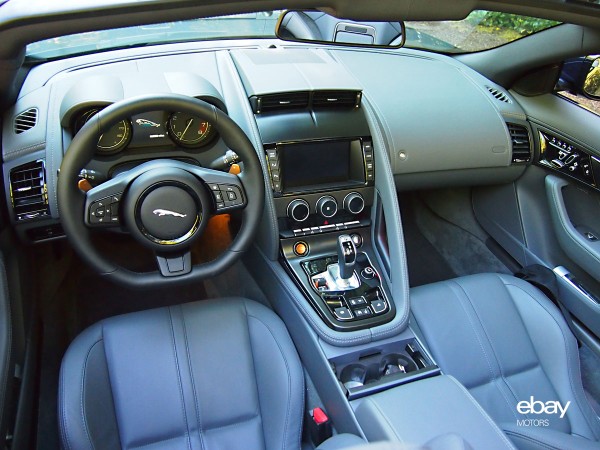 A True 2-Seater Sports Car for Jaguar
The new F-TYPE is rear-wheel drive, very fast, agile, and can turn more heads than Jessica Alba walking the red carpet. Simply put, the F-TYPE is a great extension of Jaguar's sports car roots and carries on the fine tradition of Jaguar.