12 Month Progress Report – September 5, 2014
It has been 1 year since we mounted a fresh set of Goodyear Eagle Sport All-Season tires on the Acura. Over the course of our 12-month test we logged 7,400 miles gallivanting all over the San Francisco Bay Area and then some. Granted, our annual mileage is below average but we were able to road test the tires in a variety of weather conditions excluding extreme cold and snowy weather. Unfortunately, our mild California climate and lack of cold temperatures below freezing level doesn't grant us the extreme weather conditions that occur in the Midwest and Eastern regions of the United States.
Performance
One year later and we are still enamored with the tire's performance on dry and wet roads. Our test car continues to have a smooth and responsive ride, and braking performance of the tires reveal the shortcomings of the RSX's factory brakes. Don't be fooled into thinking this is an all-season tire that was built with compromises. These tires put a smile on our face every time we push hard through a turn and give us more grip than expected — even when the road is slick with rain.
On the more mundane side, rolling resistance is still very good after 7,400 miles of wear. The car coasts almost effortlessly and overall mpg is stellar when we remember to be light on the go-pedal. Tire noise is not an issue except when on noisy asphalt or concrete. Our sound meter test measurements show no sign that the Eagle Sport A/S tires are getting noisier with age.
12-Month Goodyear Eagle Sport All-Season Tire Test
Mileage
Tread Depth

(front tires)

Tread Depth

(rear tires)

Noise Level

@65 mph**

New
0
10/32 inch
10/32 inch
64 db
3 months
2,500
10/32 inch
10/32 inch
No data
6 months
5,000
9/32 inch
9/32 inch
No data
12 months
7,400
8/32 inch
9/32 inch
64 db
Would We Buy Them?
If Goodyear asked for their tires back today, we would immediately go directly to our local Goodyear shop or buy a set online from Tire Rack. The value to performance ratio is excellent and our experience with the tires has been first class. We realize that the Eagle Sport All-Season tire may not fit everyone's needs, but we are confident few will be disappointed.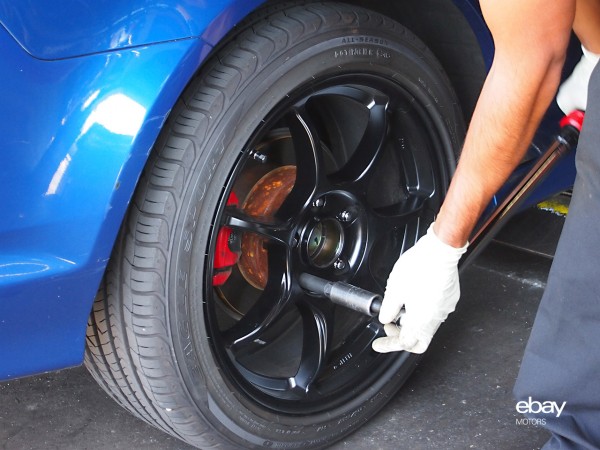 About Goodyear Eagle Sport All-Season (V-Speed Rated)
Goodyear's Eagle Sport All-Season tire line includes V-speed rated High Performance All-Season radials developed for the drivers of sports cars, coupes, sedans and performance-oriented light trucks looking to combine sporty handling with all-season traction. Eagle Sport All-Season tires are designed to offer drivers all-season versatility in dry and wet conditions with year-round traction, even in light snow.
The Eagle Sport All-Season features an innovative all-season tread compound molded into a large surface tread contact area asymmetric design to offer consistent performance across a broad range of vehicles. Linked outboard shoulder blocks backed by notched center ribs and connected inboard shoulder blocks enhance steering response, handling and wear. Circumferential grooves help evacuate water to increase traction in wet weather, while full-depth sipes preserve foul-weather traction as the tire wears.
The tire's internal structure includes twin steel belts reinforced by spirally wrapped polyamide to combine uniform ride quality with high-speed capability. One of the Eagle Sport All-Season tire line's highlights is its internal construction that features Goodyear's RaceWrap Construction Technology developed for the Eagle Race tires used in NASCAR competition. RaceWrap Construction Technology brings a polyester cord casing ply down the sidewall at a slight angle, wraps around the bead and returns it all the way up the sidewall until it ends under the edge of the steel belts. This slightly angled, two-ply sidewall enhances steering response and handling stability.
TireRack.com consumer reviews of the Goodyear Eagle Sport A/S tires.
[fsg_gallery id="1″ size="600″]
Continue to next page to read our 6 month progress report of the Eagle Sport All-Season tires