A 23 year old woman's 18 year racing career has a pointed perspective on Sir Stirling Moss' opinion that women don't have the mental aptitude to race.
I remember back when I raced USAC Midgets (a 900 pound, 400 horsepower beast of a machine), and someone told my dad "she looks and acts like a girl, but drives like a boy". That was a huge compliment to me (as it was intended to be), and quite frankly, it still is.
Why? Well, because there is a stereotype out there that says, "girls can't drive" and a mindset that in sports, doing anything "…like a girl", is weak and incompetent.  So, I felt like I had in some ways on that day, squashed that mindset.
Yes, I'm going to touch on the subject that is hot in the motorsports world right now, for people who argue that women can or cannot compete (AND WIN) at the top levels of racing.
I've been happy to see so many rebuttals (even from male racecar drivers) to Sir Stirling Moss' recent opinion, in which he stated ,"I think they have the strength, but I don't know if they've got the mental aptitude to race hard, wheel-to-wheel."
I had to take a few days to take this in, and gather my thoughts in order to put some words down on this personal topic.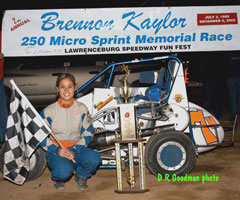 At eleven years old, I entered into my sixth year of racing, and at probably 4'11" and less than 100 pounds, I began "racing hard, wheel to wheel" on dirt tracks in the Midwest – with adult men (as the only girl)- in cars called Micro Sprints. Micros Sprints are a scaled down version of a Sprint Car that use 250cc dirt bike engines with methanol fuel and still reach speeds in excess of 100mph. Over the next two years, I was winning and beating those adult men, and no, it wasn't a matter of weight difference.
I did not know that being a girl was a "big deal", and my parents never made it one. In fact, I distinctly remember getting so much entertainment out of going from our trailer to the concession stand with my mom (while Dad would be working on the car for the next session) and laughing about the stares and finger pointing I would get. I thought it was so cool and quite frankly, I felt like a badass racing against burly, muscular men. Maybe it was just that there were a few in their 20's and 30's that I had a crush on. (Don't forget that visual of a little GIRL at eleven years old and a tiny 4'11.)
Our mind is the most powerful thing in our bodies. It does what we tell it to, and we live as we think. Forget "you are what you eat" because before you are what you eat, you are what you think.
Our minds, like our bodies, do need exercise. I was reminded of this recently as I've been "conditioning my mind" on the phone (selling my brand) much, much more than I have in the past year or so and it took me a while to get into the groove again. As an "unemployed" driver, acquiring monetary partnerships to get back into a racecar requires relationships, communication, and working with people day in and day out, to find that person who believes and gets behind you.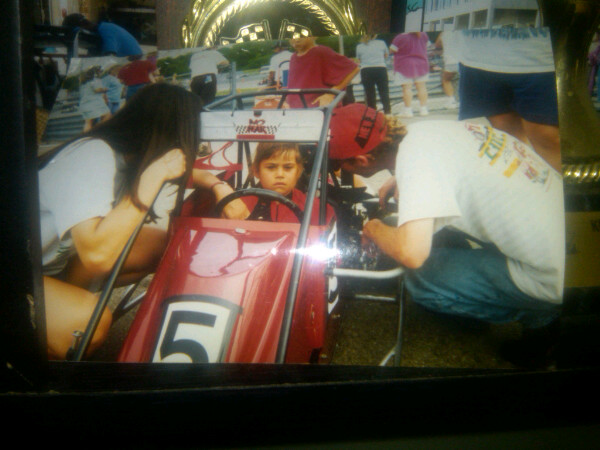 That said, in my situation, being out of a racecar will require some time and practice (or exercise) to get back into the groove. As I aim to get back on the path to NASCAR (a type of racing and style of driving haven't been immersed in for over two years), I must prepare a plan to "exercise" my mindset in order to get that "mental aptitude" I will need to "race hard, wheel to wheel".
This exact scenario is what brings me to this, Sir: Women always have and may always will, be outnumbered in motorsports. Their opportunities are slim, and when or if someone does believe and get behind in a woman in motorsports, a lot of times (not always) their budget and equipment is (more times than not) less than the best. In motorsports, even if the driver is talented, the equipment, development and team must be the best in order for the driver to be the best.
To all of you loyal eBay Motors Blog readers who may not be motorsports fans, lets compare women in motorsports to a Top Gear episode comparing a 2013 fully loaded Porsche Turbo (MAN) to a hypothetical 1966 Porsche 911 (an impressive 158hp) with bald tires that Sir Stirling Moss used as his daily driver from the time he bought it new when he was just 36 years old until today (woMAN)…OKAY, maybe I'm being a bit dramatic (dang, the GIRL is coming out in me). But my exaggerated example is to say just this; women have historically upheld a statistic that proves; their resources, opportunities and amount of track time have been limited, and don't match up to those of men. Hence why there hasn't been a woman at the top of F1, or any other form of motorsports, and dominating.
At the end of the day, I decided, these statements are derived from misogyny and assumptions. (I also just read about another recent comment made by Moss that upset gay rights campaigners.)
Old-fashioned, to say the least, at 86, Moss believes that because it hasn't been done, it can't be. I wonder what would have happened if someone like Albert Einstein would have thought this way.  Maybe Sir Stirling Moss' entire racing career would have relied on the recruitment of extremely fast and strong men who could push start his car the fastest. Better yet, who even needs an engine?
In all seriousness, though, my opinion is simple. First of all, I believe that if anything, women would be outweighed in the competition of "natural" physical strength…definitely not mental. Second, as soon as more women get consistent, equal opportunities (no, I'm not joining the feminist movement, I'm just saying – good equipment and proper support/development and funding), you will see things change. When the percentage of women racers is slim to begin with (albeit, growing), it's hard to measure them statistically.
can't decide if comments like these from Moss make me simply laugh because I am confident in what my future holds, or go into my shark mode with motivation to prove these mindsets wrong…I guess it just depends what day of the month it is. J
# # #
Shannon is a tour de force and has mad skills as a pro driver. She loves yoga, staying fit, and traveling abroad when not strapped in the cockpit of a race car. Read all of Shannon's blog posts HERE
Shannon was named as one of five "Pretty Amazing" Real Cover girls by SEVENTEEN magazine. Tech giant Mashable listed her among an impressive group of seven "Must-Follow Athletes on Social Media."
Keep up with Shannon on her website: www.ShannonMcIntosh.com
On Facebook: www.facebook.com/shannmcintosh
and Twitter: www.twitter.com/shannon_mac