Story and photos by Alan Cesar | Grassroots Motorsports Magazine
Cheap cars break down. Some break more dramatically than others. This gets especially exciting when you're dealing with a bunch of $2,012 race cars in competition. One of these occurs at every Grassroots Motorsports challenges, always on track, and usually it's "just" someone's wheel coming off. No big deal.
This year was different. The Mickler Motorsports team fielded a 1980 Ford Fiesta for the second time, but it was the first time it turned a wheel under power. The team is eponymous, containing the husband, wife and son crew of Phil, Pat and John Mickler, but family friends Pete D'Amour, Rachel Haw and Amy Riley also participate.
Their car isn't a standard Fiesta, which explains the difficulty with getting it to go in 2011. The Ford engine and drivetrain are gone, replaced by units from a front-wheel drive 1987 Dodge Daytona. That running gear is mounted where the Fiesta's rear seats used to be, and it drives the rear wheels.
On the first day of the $2012 Challenge, the Mickler Motorsports Fiesta was doing its duties in a problem-free fashion. It looked fast and composed on the autocross track, and the build looked clean enough to earn ninth place under concours judging. But on the morning of the drag races, problems arose.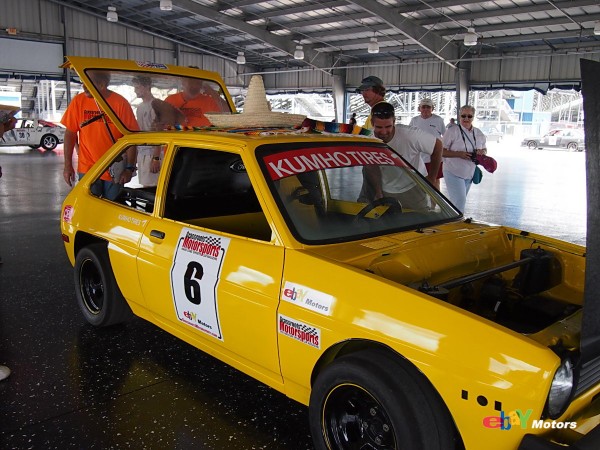 Phil and John raised up the nose of the car and set to work aligning the wheels to provide the best autocross times. Then they disappeared, taking the car for a spin on the local roads to test their settings.
The test didn't end well. One of the rear brakes failed, sending the car sideways and into a ditch. And then over onto its roof. The driver escaped unscathed, but was understandably shaken up.
The tenths of a second they might have picked up from adjusting their suspension were immediately negated; they couldn't run the drag races at all. Despite their high efforts, their weekend ended on a sour note. The editors at Grassroots Motorsports attempted to soften the blow by gracing them with a trophy: the Most Spectacular Failure.
The Grassroots Motorsports $2012 Challenge is presented by Kumho Tire, powered by eBay Motors, and supported by CRC Industries.