It's a sound all motorcyclists are familiar with: the chest-vibrating thump at idle followed by the howl of a Ducati Desmodromic L-twin at full tilt; it sends shivers down the spine. Today, we're extremely proud to bring that experience to eBay with the introduction of Ducati USA to the eBay family of sellers!
"Ducati is excited about the launch of the new store and to provide eBay customers a source for authentic Ducati apparel and accessories"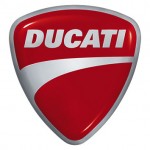 As we are constantly expanding eBay stores offering products direct from premium brands, it makes sense to partner with Ducati as the brand is in that upper echelon of premier motorcycle manufacturers. Founded in 1926, Ducati brings a history of innovative design, avant-garde technology and motorsports success to the table. From the street prowling Diavel and the adventure conquering Multistrada to the ground-breaking flagship 1199 Panigale, Ducati really has a bike to fit all riding styles.
Ok, back to what this new arrangement means for you, the Ducati enthusiast. With the Ducati USA eBay Store, you have direct access to authentic Ducati merchandise, as the new store is the source for genuine Ducati products. You will find everything from vintage-style Ducati t-shirts to aluminum gas tanks for the 1199 Panigale. And the best part of this arrangement with us? All new products purchased through the Ducati USA store are backed by a two-year limited manufacturers warranty. Not only are you guaranteed to get genuine Ducati parts sold direct from Ducati USA, you also get that peace of mind with the warranty.
If you're in need of parts for your Diavel with factory backing or apparel to show your enthusiasm for the brand, head on over to the Ducati USA store HERE and start your shopping today!