"We had a silver 1969 Corvette with chrome side pipes and red leather interior that I got to help 'pick out' when I was in the 5th grade. I helped take care of it, and I got to use it some during high school, including driving it to prom. We sold it when I went to college, but I became somewhat obsessed with finding it again years later, with no luck." These are the words of Gene Cook, but all too many of us share a similar tale. We all have a 'one that got away', but it's the cars that were part of our families that sting the most. Gene Cook's story turned out a little differently than the rest of ours, however.
Gene's story is being featured in our "eBay Thanks You" campaign, where we're sharing stories sent to us by you, our amazing eBay community. Gene had saved a search for silver 1969 Corvettes, occasionally opening emails only to find disappointment. One day, clicking through a saved search notice in an email, something wonderful happened: "The actual car then came up…and I was lucky enough to get it." Cook says he knew immediately from the thumbnail picture that he'd found the right car and bought it. Cook's instincts proved right: "It still had my dad's registration card and a letter about him in the glove compartment, along with an owner's manual for the radio with my mom's handwriting."
Now that he had the car back, Gene offered it back to his father, but "…he wanted (Gene's son) Dylan and me to take care of it, which we do." For other great stories from all over the eBay community, keep checking out the "Thank you eBay" YouTube channel for additional videos of users and their experiences.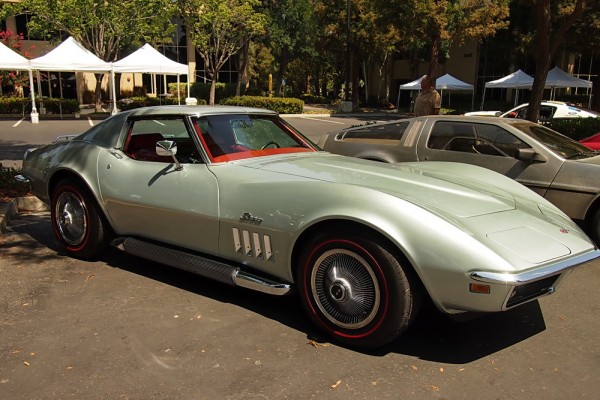 Here's more of Gene Cook's story in his own words shortly after finding his Corvette:
Short story…
So I'm from a small town in Western Kentucky. "Cars" are a big deal. So are corn and cows. I had a Camaro (say what you want).
My dad and I bonded over a car. He's a doctor but had worked in a service station during high school, where he had fallen in love with American cars from what I think was the heyday of American automotive design. He particularly fell for Corvettes. He always wanted one.
He finally found his dream car when I was twelve. It was a silver, 1969 Corvette, with red leather interior and chrome side pipes. It was in great shape and had mainly been shown. I remember going with him to pick it up. He pretended that I got to choose it, and we had a great time talking and driving it the two hours back home.
Over the next few years, I'd wash and wax it and drive it around a circle in our driveway. When I was sixteen, I took my driver's test in my mom's tank of an Oldsmobile. When I got home, my dad handed me the keys to his car and told me to go have fun. It was a big deal. A couple of years later, I drove it to prom.
We sold it when I went to college to help w/tuition, and we lost track of it. We'd heard that it had changed hands a few times and ended up somewhere in Illinois or Indiana.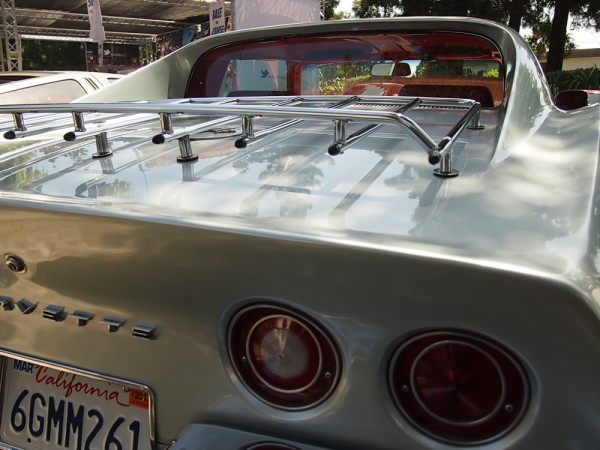 After school, I decided that I eventually wanted that car back. I started looking casually, not really in a position to do anything about it if I found it. Every now and then, I'd make a phone call or two and check out various registries and other Web sites. It was kind of a way to clear my head; then it was an occasional hobby. I started searching on eBay. I hired someone to run a VIN search in a few states, but no luck.
Last Friday, at 4pm, I opened an eBay saved search email that I've had running for the past few years. I'd been receiving them for so long, that I only opened them about half of the time. But I opened this one, and I could tell immediately that it was the car. Not one just like it, but the same car. It had a good BIN price, and the bids were piling up, so I bought it. It turns out that the seller was from Indiana and wanted to split the proceeds with his son, who would use his half for part of a down-payment on a house. He'd heard that the previous Kentucky owner was a dentist, which was pretty close.
The whole point of this is just to say thanks. You may remember the ad we ran a couple of years ago about the man who found on eBay his favorite toy boat that he'd lost as a kid. This is my boat. I called my dad, and my mom says he hasn't stopped smiling. We'll figure out how to split it. One day, I'll give it to my son, Dylan.
Thanks to everyone who played a part. You do a very cool thing. I'm grateful and one very happy customer.
Take care,
Gene
###
If you've got a tale to tell, visit http://ebaymotorsblog.com/motors/blog/submissions/ to share it with us. Keep an eye out on the blog as well as on our Facebook and Twitter accounts for these great stories and your chance to win great prizes. And of course, a great many thanks to all of you!