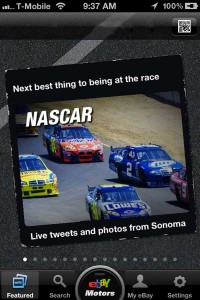 In kicking off our race this weekend at Sonoma Raceway for the NASCAR Toyota/Save Mart 350 event, we held a private media event last night by our Motors and Mobile teams that focused on how we are driving our Motors business through unique and innovative approaches in the mobile space with our eBay Motors Mobile app. We're very excited about our app, specifically the capabilities we continue to integrate into it from the engaging content to a personalized shopping experience as part of My Vehicles which offers the ability to save your vehicles in a virtual garage so that sharing your car with your friends and finding parts for your car becomes a snap!
Those in attendance at the event last night had a first hand experience to hear Steve Yankovich, our Vice President of eBay Mobile and Gregory Boutte, Vice President of eBay Motors and Electronics talk about the experiences and overall features available in our Mobile app, but that's not all. Our attendees also had an opportunity to participate in a sneak peak of a new Dream Vehicles green screen experience that we'll be unveiling this weekend at the race that those lucky enough to be in attendance, will surely be excited about! We rounded out the event with live demonstrations of a nice addition to our Socialcasting site that is now also part of our app! The Socialcasting feature displays photos taken from real-time tweets and other updates from eBay-sponsored races so you can get an online feel for what is happening right on the track, wherever you are!
Follow the action taking place at Sonoma Raceway on our eBay Racing Socialcasting site. Tweet updates and photos using #ebayracing to add your experience along with other race fans. View the live real-time feed at http://ebayracing.bumebox.com/
As we arrive on track today to deliver some truly unique content from our perspective with some nice "surprises", expect to learn more about how we're moving the needle on the mobile experience, and please continue to follow us here as well as on our app while you are on the go!