Image credit: NASA/JPL-Caltech
Fans of space exploration all over the world are buzzing about the landing of NASA's Mars Curiosity Rover, including us here at eBay Motors. Our love of cool vehicles and engineering isn't limited to road-going cars; we love a good off-roader, and in many ways Curiosity is the ultimate ATV. The 10-foot long Rover is larger than the average ATV (at just under 2,000 pounds, it's closer in size to a MINI Cooper, to give some perspective) and its top speed of 300 feet per hour isn't going to set any records. On the other hand, Curiosity can scale obstacles up to 30 inches high while carrying nearly 200 pounds of scientific equipment on a planet millions of miles from here. Granted, the gravity of Mars being some 38 percent of that of Earth helps a bit, but we digress.

The Mars Curiosity Rover and its array of onboard equipment are powered by a radioisotope thermoelectric generator. You think your hybrid's neat? Try converting the heat of the radioactive decay of plutonium-238 into electricity. Curiosity's generator does this to the tune of 110 watts that should power the Rover for at least one Martian year (687 Earth days) – and possibly longer.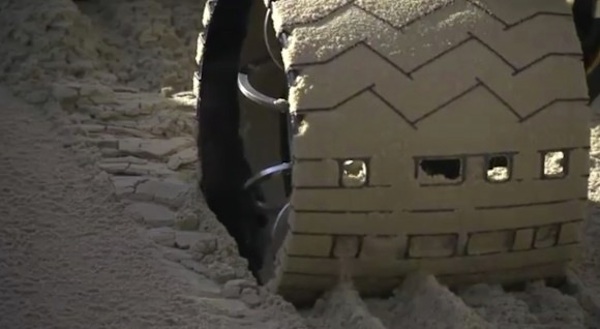 One of our favorite features of the Curiosity Rover is easy to miss. By tracking a series of patterns cut into the tread of its wheels, Curiosity can tell if its treading ground already covered, call for help if it gets stuck, or even possibly avoid getting stuck altogether. This tech bit alone is very cool, but a close look at the pattern reveals the Morse code for the letters "JPL," for NASA's Jet Propulsion Laboratory. Sending an astounding piece of technology to another planet to collect data and possibly find evidence of life is pretty cool; 'tagging' the surface of that planet while doing so is just taking things to a whole other level. Well-played, NASA.