We are now bringing the eBay Motors shopping experience to Android!
Release Notification for the Official eBay Android App v2.0.1
Fans have been raving about the eBay Motors iPhone app, which puts all of eBay Motors right in the palm of their hands, since it launched last year. Now, with the latest update of the official eBay Android app, Android users can also enjoy the eBay Motors experience anytime, anywhere from their mobile devices.
With the eBay Motors experience that has now been integrated into the updated eBay Android App, users can easily browse and shop for the vehicles they want and the parts they need, whether they're in their garage, at an auto event, or on the go – whenever and wherever inspiration strikes. The eBay Motors experience in the updated eBay Android App is designed specifically for the auto enthusiast, with great features every gearhead can use: it's easy to find parts and accessories for fit your car, truck, or motorcycle. Or if you're in the market for a new ride, you can search by make, model, and/or year to easily find exactly what you're looking for from the thousands of new and pre-owned cars listed on eBay. Curious about a listing? You can contact a seller for more information or even make a purchase directly through the app.
The eBay Motors features integrated into the eBay Android app also include VIN scanning capabilities that enable you to quickly upload information about your rides into your "My Vehicles," profile, a virtual garage that helps you to easily search for and purchase parts and accessories that fit your specific vehicles. Once saved, simply visit your "garage" in the app and conduct a search for parts tailored specifically to the vehicles you own.
On top of those great features, you can access and watch episodes of eBay Motors' original video series right from your mobile device, including The World's Fastest Car Show; modJobs; BUILT from eBay, and more.
We're really excited about the launch of the updated eBay Android app with eBay Motors functionality integrated within and we hope the Android-using members of our community are too. As great as these initial eBay Motors features within the Android app are, we're only going to be refining and adding to them over time, so if you're looking to keep up with eBay Motors on-the-go, you've got to get in on the app now. We hope you enjoy it as much as we do!
If you don't already have the Official eBay Android App, you can download it here: eBay Android App
What's New:
With the latest update of the Official eBay Android app, the eBay Motors marketplace is now available in your pocket. You can easily browse and shop for the vehicles you want and the vehicle parts and accessories you need, all within an optimized buying experience for the Motors enthusiast. Highlights include:
Quickly scan the VIN on your vehicle to prefill the details about the make, model and year and add it to a "My Vehicles" profile
Easily find compatible parts and accessories for cars you own
Search by Make, Model and Year to find your dream car, truck or motorcycle
Contact sellers to get more information or to arrange a vehicle purchase
Check out weekly video episodes of unique motors-inspired video series including modJobs, BUILT by eBay, The World's Fastest Car Show and more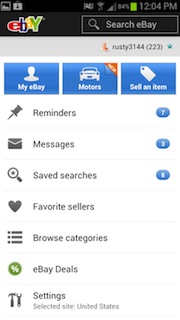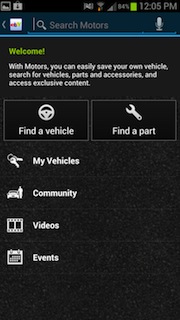 Sample screen shots of new features: