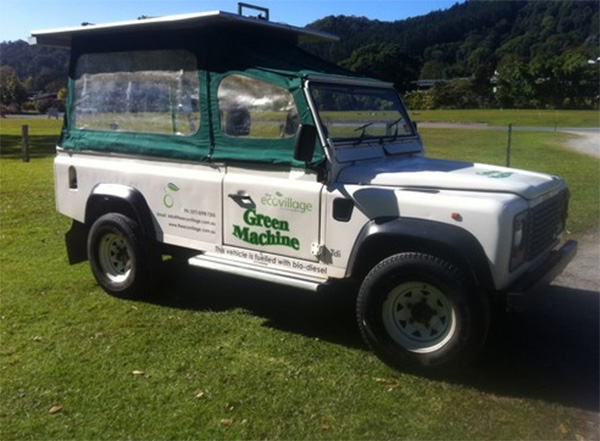 The Land Rover Defender is a British four-wheel-drive off-road utility vehicle developed from the original Land Rover Series launched in 1948. First called the Land Rover Ninety and Land Rover One Ten—names referring to the number of inches in its wheelbase—it became the Defender in 1990. That name derives, at least in part, to the vehicle's role in military actions, such as the first Gulf War.
This 1996 model on sale is stationed in Australia, where a previous generation of Land Rovers was adapted for military use. The adaptability of the vehicle is also evidenced by a Y2K special edition, built to celebrate the role of the vehicle in the Tomb Raider film series. That one was equipped with additional spotlights, a snorkel, and a V8 petrol engine.
This Defender model now available on eBay, instead, runs on biodiesel, and is thus defending the environment. Its steel roll cage is painted green, and its side panels are emblazoned with vinyl letters that read, "Green Machine."
Biodiesel is a fuel made entirely from plant materials. It is widely considered to greatly reduce tailpipe emissions, including hydrocarbons, carbon monoxide, and particulate matter. According to the U.S. Department of Energy, biodiesel can also decrease output of carbon dioxide—a major contributor to climate change—by close to 80 percent, compared to conventional diesel fuel. Yet, the jury is still out concerning the net impact of biodiesel production and use on oxides of nitrogen, a key component of smog.
Smog is not a problem in the locations where this model has been put into service in a sustainable living residential estate in the Gold Coast of Australia. It was converted into a safari-style convertible four-wheel-drive 11-seat tour bus. The vehicle is weatherproofed all round with canvas and acrylic window panel roll-down awnings.
The 178,283 miles reading on the odometer is a testament to the ruggedness and longevity of diesel engines—and the lasting legacy of Land Rover vehicles.
For more information about fuel efficient cars, visit eBay's Green Driving Center.